Assessing Call Center Customer Service Practices
Many companies have moved beyond competing on products and prices and are now trying to differentiate based on delivering great customer service. In most cases, companies rely on the call center to provide an outstanding customer experience. SQM Group's research shows that 95% of customers will continue to do business with the organization when their call center provides First Call Resolution (FCR). Furthermore, every 1% improvement in FCR increases transactional NPS by 1.4 points for the average call center. Therefore, if a company wants to differentiate itself from its competitors based on its customer service delivery, it's imperative to have a high FCR rate that is 80% or greater.
​SQM's view is that a call center should assess its operating people, processes, and technology practices to determine the effectiveness and then develop a plan of action to improve customer service. Unfortunately, there is no call center cookie-cutter approach to achieving world-class voice of the customer (VoC) service. Therefore, before you implement a best practice, assess your customer service practices by asking the below questions:
Are you FCR obsessed with delivering great customer service?
Do you measure, benchmark, and track FCR, call resolution, and Csat?
Do you recognize and reward employees for FCR, call resolution, and Csat?
Does your call center use a VoC closed-loop FCR and Csat improvement team?
What are good customer service metrics and performance targets?
Are your agents and managers hired based on being a customer-centric fit?
Does your performance management system incorporate VoC data?
Are your desktop applications effective for helping agents achieve great CX?
Can your agents contact subject matter experts who can help them deliver FCR?
Are your supervisors trained on coaching agents for high FCR and Csat?
Do your QA evaluations include customer surveys and call compliance data?
Do your call handling standards help agents deliver great customer service?
Is your agent training program effective for helping them deliver FCR and Csat?
Does your call center use the right agent performance metrics?
Is your call center service recovery effective for Csat and retention?
Top 15 Proven Call Center Best Practices
It is important to emphasize that high FCR and Csat are the critical metrics for determining if a call center delivers great customer service. Here are the top 15 proven call center best practices for delivering great customer service.

5. Good Customer Service Metrics Performance Targets
Many senior call center managers ask SQM the following customer service questions, "What key performance indicators (KPIs) are most important, what are the world-call targets, and what is the best customer service employee accountability KPIs?" SQM's view is that only a few of the below world-class customer service targets used for KPIs should be used to create accountability from the agent to the senior VP level.
The typical VoC service metrics used to create accountability from the agent to the senior VP call center level are 'FCR,' 'call resolution,' and 'overall customer satisfaction with the call center or the agent.' Any of these three metrics meets all seven characteristics of an effective KPI. The transactional Net Promoter Score and Net Retention Index metric are also common metrics used but less so.
The other customer service metrics and targets are worth pursuing and creating accountability. However, they should have less importance for employee accountability at all levels because they have fewer characteristics of an effective KPI. Below are the world-class customer service targets for commonly used KPIs.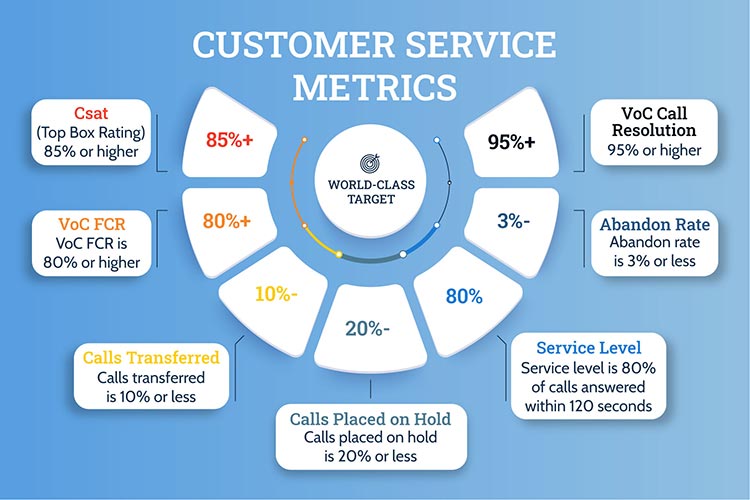 12. Call Handling Standards that Help Agents Deliver FCR and Csat
The Moments of Truth (MoT) concept was developed by Jan Carlzon1 when he was CEO of Scandinavian Airlines in 1986. In his book, Moments of Truth, Jan Carlzon defines Moments of Truth as, "Anytime a customer comes into contact with any aspect of a business, however remote, is an opportunity to form an impression."
To help agents gain effective call handling practices, SQM has developed a Call Resolution Delivery Model that defines the customer service standards an agent should follow to successfully resolve customer calls at the world-class level of 95%. Therefore, at SQM, we developed call handling standards-based MoT that customers experience using a call center to help them resolve an inquiry or problem. The call handling MoT is based on understanding, helping, caring, and resolving a customer interaction.
Understand Me – The agent determines and confirms the reason(s) for the customer's call by actively listening, probing, and clarifying in order to ensure understanding as well as acknowledging call history and documenting the conversation.
Help Me – The agent expresses and demonstrates a willingness to help a customer by letting them know that they can help them, providing accurate and complete information, keeping them focused on the inquiry, taking the necessary time to help the customer, and educate them with solution options.
Care About Me – Agent uses a friendly, enthusiastic, and warm voice tone, builds rapport shows empathy for the customer's situation, is patient and honest, and expresses appreciation for the customer's business.
Resolve Me – The agent resolves the customer's inquiry or problem by answering questions, solving problems, using authority and taking ownership, providing fair treatment summarizes call, communicates next steps, and confirms that the call is resolved.
Call Resolution Delivery MoT Standards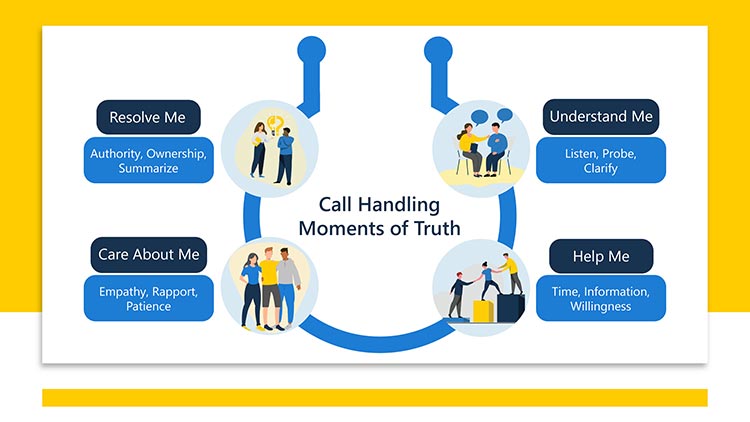 We define call handling standards, share associated behaviors, and we provide word choices and phrases for agents to deliver great customer service. Download now.