Call Center Agent Coaching
Call center agent coaching refers to enhancing their knowledge, skills, and abilities to ensure quality assurance and customer satisfaction standards are achieved. In addition, the coaching of the agent will provide feedback on how to improve performance and increase customer satisfaction.
Call center agent coaching can improve performance and increase customer satisfaction (Csat). However, many supervisors struggle to coach their agents to improve their call resolution and Csat performance.

Furthermore, many agents quit their jobs when they feel they are not being coached to achieve success or not developing new knowledge, skills, and abilities. Therefore, agents value coaching and personal development to improve their Csat performance and to have more career advancement opportunities.
Furthermore, SQM agent research shows that the number two reason agents quit is the lack of career opportunities. In fact, 61% of agents want their company to improve their agent development and career opportunity practices. In addition, call centers that are effective at coaching agents have significantly higher agent retention.
Coaching call center agents can be time-consuming, a significant investment, and challenging to be successful at improving agent performance and Csat, but necessary for ensuring customer service success at the call center.
Agent coaching empowers them to gain new knowledge, skills, and abilities to resolve calls and deliver high Csat. Moreover, call center agent coaching allows them to train in 1:1 coaching sessions face-to-face or remotely. The benefits of using call center agent coaching are:
Higher customer satisfaction scores and FCR
Increase in agent retention
Higher agent productivity
Agent development and more career opportunities
Higher agent satisfaction and engagement
10 Tips for Improving Agent Coaching to Deliver Customer Satisfaction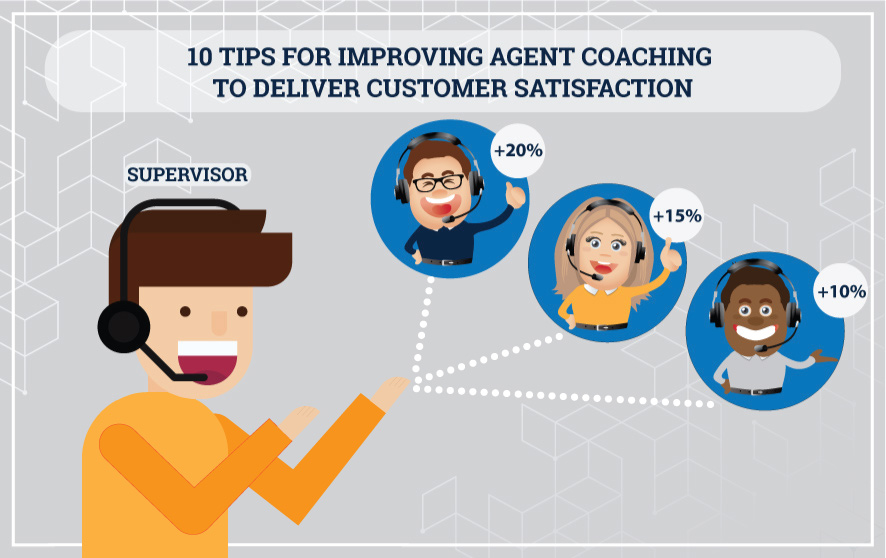 SQM believes agent coaching has helped call centers achieve their call compliance goals more than delivering excellent customer service. Therefore, we thought it would be helpful to share call center agent coaching eight tips for improving and providing great customer experience (CX). So let's get started with the 10 tips for call center agent coaching for improving their performance and increasing customer satisfaction:
1. Agent Coaching Session Preparation
Before a one-on-one agent coaching session begins, the supervisor must be prepared to ensure a successful coaching session. However, SQM Group's research data shows that 47% of the supervisor coaching time is for prepping to coach agents, and only 23% is for coaching an agent.
2. Understand Performance Trends
Coaching an agent on a specific issue on how they handled a call is helpful. However, in many cases, understanding performance trends based on call type can be more helpful in coaching an agent to improve performance or increase Csat. For example, understand the agent's performance by call type (e.g., order, service, technical, billing, and claims). In addition, understanding trends for repeat call disposition codes such as customer needed to verify or check status, unsatisfactory solution, request not done, and lack of knowledge to fix the problem. SQM research shows that 54% of call center managers say they use five or more evaluated calls to coach their agents.
Analyzing call type and repeat call disposition codes will give the supervisor a more holistic understanding of performance trends so that they can provide more targeted coaching to help the agent improve performance and increase Csat. In addition, understanding performance trends can be more credible for identifying a performance issue because it is a trending issue versus a one-time problem. Put differently, it is ideal for analyzing more calls rather than just one call to identify an agent coaching opportunity.
3. Use a Positive-Negative-Positive Feedback Approach
Don't start the coaching session with negative feedback, even if it is constructive feedback. Instead, using a positive-negative-positive approach, sometimes described as the sandwich, is an effective way to ensure agents are emotionally ready to receive the supervisor's feedback for improving performance and increasing Csat.
It is essential to start the coaching session with positive feedback about something that went well on the customer's call. Starting with positive feedback will put the agent at ease to receive negative or constructive feedback. Then, at the end of the coaching session, provide more positive feedback about the areas they have improved on and how far they have come. Focusing on what the agents are good at recognizes their accomplishments. In addition, closing on positive feedback will help keep the agents motivated to improve their performance.
4. Use Customer Feeback to do the Coaching
One of the most powerful ways to conduct agent coaching is to use customer feedback so they can learn directly from the customer's perspective. At a coaching session, a supervisor should use compiled CX data from a post-call survey, such as ratings, verbatim text feedback from the customer satisfaction surveys, and call recordings.
During a coaching session, the supervisor must share positive CX feedback in addition to negative CX feedback. Sharing positive and negative CX feedback ensures that an agent will be more open to learning from a customer's perspective versus focusing on only the negative feedback.
5. Use 360-Degree Feeback to do the Coaching
360-Degree Feedback lets agents and supervisors get a fuller picture of a CX interacting with a call center. Furthermore, 360-Degree Feedback widens the lens and reduces supervisor bias, providing a clearer picture of an agent's strengths and weaknesses for the supervisor coaching agents to improve CX.
In addition, 360-Degree Feedback is a method for conducting a customer service QA review for agents to understand their strengths and weaknesses based on evaluating a specific call from multi-raters (e.g., customers, QA evaluators, and artificial intelligence) feedback.
For 360-Degree Feedback using multi-raters to be effective, all raters and technology need to assess the same call from different perspectives. For example, multi-rater feedback assessment of the same call includes conducting post-call surveys to receive customer rater feedback about their CX, artificial intelligence for sentiment analysis, and QA evaluator rater to assess call compliance captured in a CX management software.
At SQM, we define 360-Degree Feedback as the Customer Quality Assurance (CQA) approach due to using post-call surveys and call compliance data to assess an agent's performance and ability to satisfy customers.
6. 1:1 Coaching
Conducting one-on-one (1:1) agent coaching sessions on a consistent basis is one of the best ways to improve performance and increase Csat. Regular coaching sessions not only help agents improve their performance but also can create a stronger relationship between that agent and the supervisor. However, SQM's research shows that it is very common for 1:1 coaching sessions to be canceled.
A supervisor must conduct the agent coaching one-on-one and in a private setting to avoid embarrassment and ensure confidentiality. Also, coach all agents and not just the agents who have poor performance. In addition, coach the coach on how they can provide better 1:1 coaching sessions.
7. Conduct Role Playing
Agent role-playing is a customer service exercise where agents practice call-handling techniques for specific call reasons, with a fellow agent or supervisor acting as the customer. In addition, role-playing with other agents or the supervisor for call handling certain call types in a safe, learning environment – makes it much easier to put new skills into practice before doing it with customers.
Agent role-playing is often used in training or when implementing new pricing, products, services, and policies, but it also can be an effective quality assurance (QA) coaching technique.
8. Actively Listening
It is often said that great coaches are great listeners. For a supervisor to be a great coach, they need to be an active listener (e.g., pay attention, probe, clarify, and confirm) to ensure understanding of what an agent said and respond to what was said. Repeating some mentioned keywords conveys that you understand what they have expressed.
Active listening keeps both agent and supervisor actively engaged in the conversation. Furthermore, asking an agent to self-assess how they handled a specific call helps ensure productive coaching sessions. Doing so allows the supervisor to actively listen and collaborate with an agent to develop ways to improve their QA and customer satisfaction scores.
9. Scorecard Goal Setting
Agent scorecard goal setting should be a collaborative approach. If the agent is not engaged in scorecard goal setting, they are less likely not to be committed to achieving the CQA scorecard target. In addition, the CQA improvement scorecard goal must be attainable.
For example, based on 100 available points, a conservative CQA improvement scorecard goal is 5 points, a reasonable CQA improvement scorecard goal is 5 to 10 points, and an aggressive CQA improvement scorecard goal would be 10 points or more. Unfortunately, only 5% of call centers achieve 10 points or more increase in the overall CQA scorecard annually. Once the agent goal is agreed upon, you can discuss and develop an action plan to achieve the CQA scorecard goal.
A call center agent dashboard can help track, benchmark, and improve scorecard goal delivery. The agent dashboard and reports provide insights from analyzing CX data over a period of time and can help an agent self-coach to improve their CQA performance. Typical agent CQA dashboard metrics include:
Total Customer Service QA score
Customer Satisfaction Score
First Call Resolution
Call Resolution
Positive CX Journey Rating
Call Compliance Critical Error
10. Develop an Improvement Action Plan
After providing the agent feedback about CQA evaluation, collaborate with them to develop an improvement action plan to address performance and Csat opportunities. For example, the below SMART action plan includes the following:
Specific Action: Tie your feedback to a specific performance or Csat issue and ensure the agent knows how to improve performance. Develop a collaborative action plan that includes: completing e-learning modules, reading training and knowledge management library materials, learning from other agents, reviewing other call recordings, and receiving more intensive coaching sessions to target opportunities for Csat improvement.
Measurable Goal: Make sure your goal is measurable. For example, the agent improvement goal is a 5% or more increase in customer satisfaction score and a 5 points or more increase in the overall CQA scorecard.
Attainable Goal: Ensure the goal is achievable. For example, last year, over 80% of agents performing at the benchmark Csat average or lower increased their Csat by 5% and by 5 points for their overall CQA scorecard.
Relevant: Ensure that the agent understands the business case for improving performance and increasing Csat. For example, when the agent improves their Csat and CQA scores, it improves operating costs, brand reputation, and customer retention.
Time-Based: Assess agent progress right after the coaching session. The target date for determining Csat and CQA score improvement will be at the end of the year but checked every month.
Quick Related Links
First Call Resolution Comprehensive Guide Customer Satisfaction Comprehensive Guide 360-Degree Feedback Customer Service QA Good to Great Customer Service