Call Handling Behaviors that Work for Improving CX
Date Published: 5/16/19, 1:33 PM

At the heart of world class customer experience (CX) is the way in which CSRs handle calls. Contact center managers know very well that CSRs must have the necessary product, service, and technology knowledge, but just as important is their ability to handle calls so that they resolve the call and the customer has a great experience.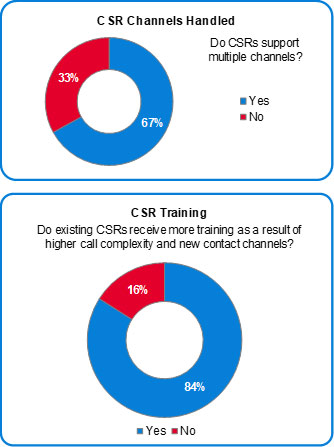 92% of SQM's clients agree that calls have become more complex, with AHT significantly increasing over the last two years. In addition, 67% of organizations have their CSRs support multiple contact channels, such as voice, email, and chat instead of handling only one contact channel, which can add complexity for the CSR.
Resolving calls and having very satisfied customers requires CSRs to be highly skilled at call handling. Historically, the annual additional CSR training has been four days. The yearly average for the number of training days an existing CSR receives to handle calls is approximately nine days. The doubling of additional CSR training days is reflective of the increases in call complexity.
Additional training focused on handling specific call types that are more complex is essential for resolving difficult calls. CSRs tell us that they value additional training for handling calls coming from other contact channels and for dealing with those complex call types. When the additional training does not take place, it has a substantial negative impact on employee satisfaction for working in the call center because CSRs feel they have not been trained to handle specific call types for which they are responsible.
In addition, CSRs are not always effective with the soft skills aspect of call handling. To help CSRs gain effective call handling practices, SQM determined the CX standards a CSR should follow in order to be successful at resolving customer calls at the world class level. Specifically, these standards are based on listening to customer feedback and determining what makes the customer very satisfied and resolves their call on the first call.
Key Moments of Truth (MoT)
SQM has developed a call resolution delivery model that CSRs can use to deliver on each MoT. Unlike the usual call flow models, which are developed to minimize handle time or are developed from an organization perspective, the Call Resolution Delivery Model is modeled from key MoT that a customer wants to experience when resolving their call.
SQM's Call Resolution Delivery Model covers four basic MoT that a customer wants a CSR to demonstrate on every call – Understand Me, Help Me, Care About Me, and Resolve Me. These are the four key MoT that matter the most to customers are having the CSR understand the reason for the customer's call, show a willingness to help the customer, care about the customer's inquiry, and resolve the customer's inquiry.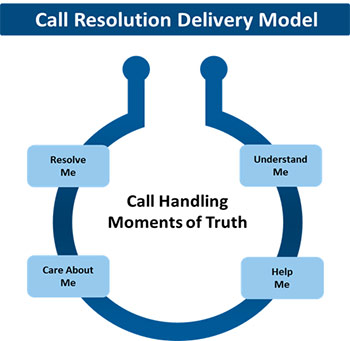 Call Resolution Delivery Model Descriptions:
Understand Me – CSR determines and confirms the reason(s) for the customer's call by actively listening, probing, and clarifying to ensure understanding, as well as acknowledging call history and documenting the conversation. Great CSR communicators ensure that they truly understand the customer and that the customer truly understands the CSR.

Help Me – CSR expresses and demonstrates a willingness to help the customer by letting them know that they can help them, providing accurate and complete information, keeping them focused on the inquiry, taking the necessary time to help the customer, and educating them on solution option areas.

Care About Me – CSR is friendly, uses an enthusiastic and warm voice tone, builds rapport, shows empathy for customer's situation, is patient and honest, expresses appreciation for the customer's business, and has a positive emotional connection with the customer.

Resolve Me – CSR resolves customer's inquiry or problem by answering questions, solving problems, using authority and taking ownership, providing fair treatment, summarizing the call, communicating next steps, and confirming that the call is resolved. Creating CSR call resolution awareness and accountability has consistently been the quickest and most reliable way for improving CX performance.
Concierge Service
Interestingly, providing contact center concierge service is a great opportunity for CSRs to resolve customer calls that would otherwise go unresolved. The way the call center concierge service works is a CSR assists a customer by contacting other departments or organizations in order to resolve the customer's call. Specifically, the concierge CSR tells the customer that they will call the necessary department or organization, either on their behalf or with them on the line, to get a reference code, information, or authorization needed to resolve the call. In most cases, a concierge CSR calls other departments or organizations while the customer is on the phone and a three-way conversation takes place.
Concierge service makes the customer feel like the organization has taken complete ownership of resolving their inquiry or problem. Also, the contact center concierge service creates high CX performance for first contact resolution (FCR) and customer satisfaction (Csat) because the customer does not have to call or contact third parties such as a doctor's office, head office, bank or retail store. The customer also feels that their problem or inquiry is resolved in one call.
Shifting from Service Level to CX Focus
The contact center industry has traditionally used service level and average speed of answer (ASA) as the key metrics for defining customer service. While these metrics speak to speed of answer, they do little to shed light on the customer's Csat, or more importantly, the number of calls a customer makes to resolve their inquiry.
SQM's research shows that there is no impact on Csat for the first 120 seconds of a call. In other words, if a CSR answers the call within 120 seconds, there is neither a positive nor a negative impact on Csat. What customers really want is to have their call resolved and therefore are tolerant with the speed of answer. Proper execution in shifting from a service level focus to a CX focus can be challenging for contact centers that have an ingrained culture of defining customer service success through service levels and ASA. For contact centers to be successful in the transition to a CX focus, there needs to be a paradigm shift in thinking that OCR and FCR are the keys to great CX.
Although keeping track of these metrics remains important, it is not considered a best practice to focus on service level and ASA metrics as the key indicators of customer service. A best practice is to use OCR and FCR, not service level metrics, as the measure of CX performance.
Intelligent Skill-Based Routing
Intelligent skill-based routing is a call assignment practice used in call centers to assign incoming calls to the most suitable CSR rather than simply the next available CSR. The most suitable CSR is determined by utilizing information about who is calling and why they are calling in order to match them up with an available CSR who has the necessary skill level to resolve the customer's call. Many call centers use a generalist CSR call handling business practice resulting in having a large queue of generalist CSRs to handle calls, but they are not specifically matched to customer needs.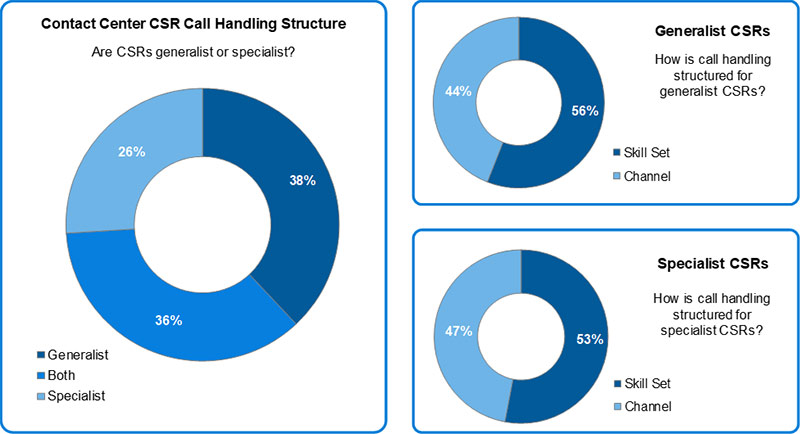 SQM's research shows that, in most cases, the specialized CSR's skill set to handle specific call types has higher CX performance for FCR than the generalist CSR who has a skill set to handle most or all call types. SQM does have clients performing at the world class level of 80% or higher FCR and 85% or higher Csat (top box response) who use a generalist CSR call handling structure, but in most cases, those organizations tend to have a lower call complexity level.
Assess Your Call Handling Practices
Here is a short list of some key questions to help you assess your call handling practices for driving the desired CSR behaviors for improving CX performance:
Do you have a CSR call handling model for resolving calls?
Do you know if your call handling practices have a positive impact on CX?
Are your CSRs good listeners?
Do your CSRs use clear verbal communication?
Do your CSRs show empathy with customers when appropriate?
Are your CSRs experts at understanding your organization's products, pricing, and services?
At the end of the call, do your CSRs ask the customer if they resolved the reason for their call?
Do your CSRs follow through on their promises and commitments to their customers?
Do your CSRs stay upbeat during the entire call?
Do your CSRs have good data entry and computer skills?
Are your CSRs skilled at handling customer complaints?
Do you know who the best and worst CSRs are for resolving calls?
Do your CSRs sound confident on the phone?
Do your CSRs work well under pressure, stay calm, and have patience?
Do your CSRs receive soft skills training?
Are your supervisors skilled at coaching CSRs on resolving calls?
To learn how SQM can help you improve your organizations' CX performance, view our upcoming and on-demand webinars at any time, or contact us today!
SQM provides consulting services to help improve customer and employee experience. SQM's CX consulting service is based on capturing, validating, and sharing the best practices required to improve CX. SQM can validate if your contact center operating practices are best practices. SQM's operating best practices are founded upon our award-winning contact centers' operating best practice standards. A practice must have a positive impact on CX to be validated as a best practice. Our understanding of people, process, and technology best practices for improving CX are unsurpassed in the contact center industry. SQM's consulting services also include CX journey mapping and CX improvement cycle (e.g., identify, develop, check and act) solutions to assist companies in developing and executing a CX improvement plan.