The Great Resignation and Quiet Quitting
The great resignation and quiet quitting in 2022 have brought us a seemingly-endless onslaught of call center issues, such as poor call center customer experience (CX) and higher operating costs. Furthermore, recent SQM Group research shows that 47% of managers feel their biggest problem operating a call center effectively and efficiently is high agent turnover, job burnout, and absenteeism.
Furthermore, SQM's CX research shows that Customer Satisfaction (Csat) and First Call Resolution (FCR) for the call center industry significantly decreased in 2022. SQM also believes that the number one problem in 2022 to achieving a high call center Csat and FCR rate is the historically high agent turnover rate of 38%. Also, according to many industry experts, there are no signs of slowing down the employee turnover rate any time soon.
Agent engagement remains low for the call center industry and has been an Achilles heel for the 25 years SQM has measured it. SQM's agent engagement research shows that only 27% of agents are highly engaged, 10% are engaged, 57% are indifferent to working in the call center, and 5% are highly disengaged. Agents with an indifferent or disengaged engagement rating are likely to be part of the great resignation and quiet quitting employees working at the call center.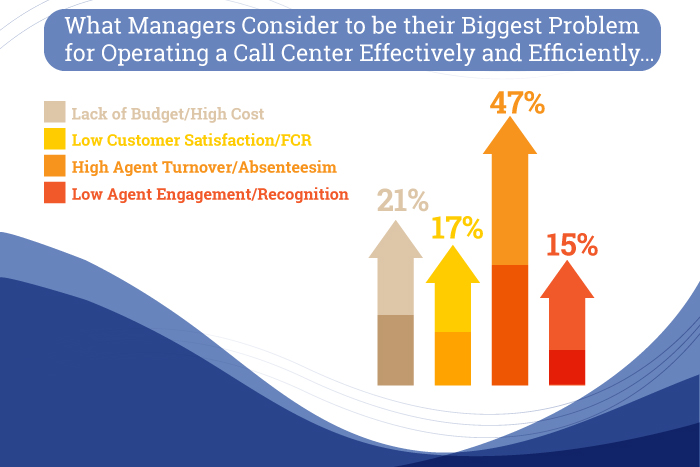 So you hired enough agents to replace the agents that you lost. Now you need your new agents to help you deliver great customer service and get them to stick around to the historical industry length of service agent tenure is 42 months.
For most agents, compensation and benefits are viewed as important, and if not competitive or perceived as fair, they will likely result in the resignation or quiet quitting of agents. However, compensation and benefits are not on the top of the list for agent motivating factors. 75% of call center managers view encouragement and recognition as the top motivating factors for agents to improve their performance.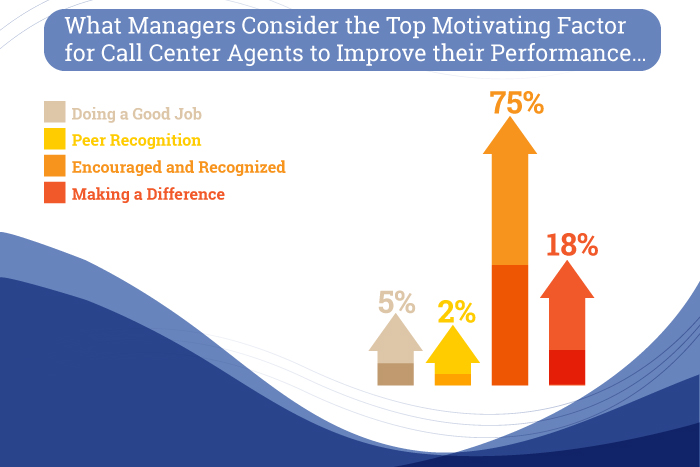 Interestingly, the number one reason agents leave a company is due to a lack of recognition. In the call center, an agent's recognition needs can be met by customers, peers, and management, showing appreciation and recognition for the customer service provided. Agent recognition should not only be carried out by senior management but also by the peers they work with and, most importantly, by the customers they serve.
Maslow's hierarchy of needs can best describe the psychology of recognition. Josh Bersin (2012) noted that "two of the most valuable psychological needs we have as human beings are the need to be 'appreciated' and the need to 'belong." As Bersin stated, and SQM agrees, "compensation and benefits support basic human safety needs; however, recognition and career advancement support agent higher-level psychological needs."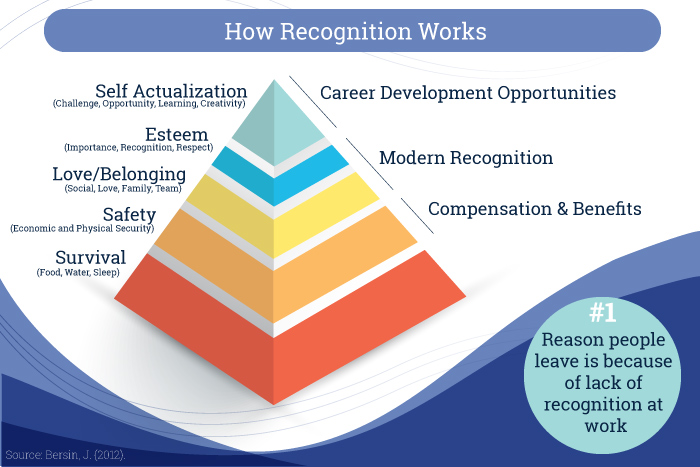 Motivating agents to use the desired customer service behaviors to achieve great Csat and FCR performance and retaining agents are huge challenges. An effective recognition program greatly helps motivate agents to excel at providing customer service at a world-class level and for retaining agents.
It is important to note that 46% of customers whose issue was not resolved felt the agent could have done more to help them resolve their inquiry or problem. In many of those cases, the agents were not motivated to use the desired customer service behaviors to resolve customer inquiries or problems. Put differently, from a customer's point of view; it was a will issue rather than a skill issue.
Agent recognition needs to be provided in a frequent, descriptive, and impactful manner so that agents know why they are being recognized. In turn, agents are motivated to continue using the behaviors that helped them achieve results.
Quick Related Links
First Call Resolution Comprehensive Guide Customer Satisfaction Comprehensive Guide 360-Degree Feedback Customer Service QA Good to Great Customer Service