What is First Contact Resolution Definition?
It is common for First Contact Resolution and First Call Resolution to be used interchangeably, but there is a distinction between them. First Contact Resolution is defined as a customer's inquiry or problem is resolved in their first attempt, regardless of the contact channel (e.g., email, web, phone, chat, etc.) used. First Call Resolution is very similar to First Contact Resolution in that it focuses on a customer's inquiry or problem is resolved on the first attempt, but the contact channel is specifically the phone channel (i.e., call center).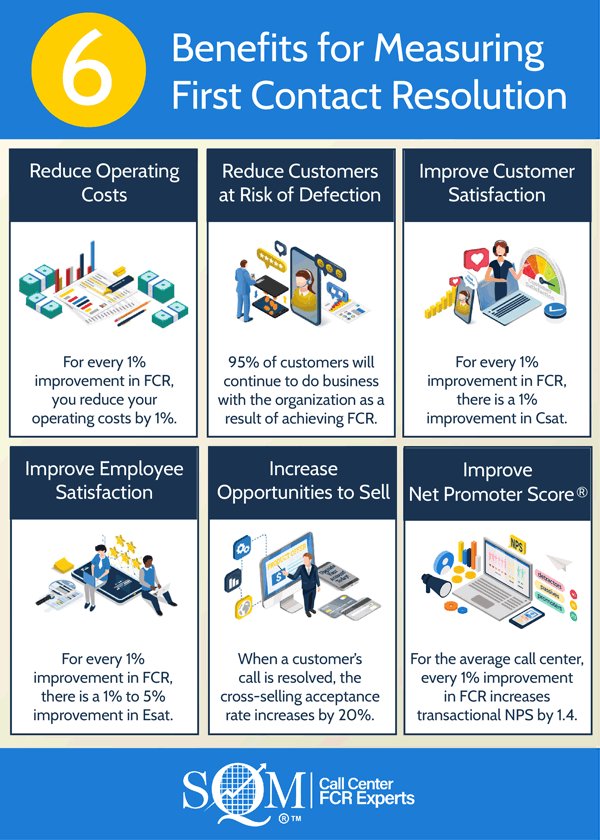 20 - First Contact Resolution Tips
SQM's experience shows that an FCR best practice importance will vary depending on the contact center's performance and needs. Therefore, the 20 First Contact Resolution tips listed are not ranked for importance.

How SQM Can Help Your Organization Improve FCR
​Since 1996, SQM has been a contact center First Contact Resolution expert specializing in measuring, benchmarking, tracking, and improving FCR. At the heart of our services is mySQM™ Customer Service QA Software, FCR research, best practices consulting, and awarding for FCR performance. We are passionate about helping contact centers improve FCR, deliver a great customer experience, reduce operating costs and customer defections, and increase NPS.
​SQM clients use our proven survey questions in real-time or near-time of the transaction with their customers to provide FCR rate and improvement opportunities. SQM provides Agents and managers FCR data immediately after the survey takes place. The FCR data is actionable, and Agents and Managers can make quick improvements. SQM is simply the best contact center industry SaaS CX firm in North America for measuring, benchmarking, tracking, and improving First Contact Resolution. Give SQM a call or email to see how we can help you with your FCR efforts.
Quick Related Links
FCR Measurement Case Study Repeat Contact Reasons Action Plan FCR BenchmarkAgent Career Aspirations Standard Operating Procedures FCR Operating StrategiesOmni-Channel Practice FCR Software First Call Resolution