10 Indispensable Tips for Increasing First Call Resolution
The 10 Indispensable Agent Tips for Improving Customer Service and the First Call Resolution (FCR) rate come from Voice of the customer (VoC) research conducted by SQM Group. Based on FCR Award-Winning North American call centers, we identified best practices and tips they have used to help them deliver world-class or significantly improved customer service and FCR performance.
In addition, to our call center customer service and FCR research, SQM conducted site visits with most of the call centers used in this blog. The site visit validated that their practices have a proven track record for increasing First Call Resolution or maintaining world-class FCR performance.
The 10 Indispensable Agent Tips for Improving Customer Service and Increasing the First Call Resolution Rate are: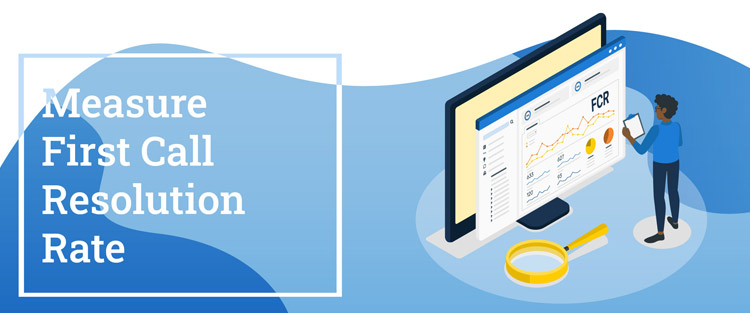 1. Measure First Call Resolution Rate
At Blue Cross Blue Shield of Massachusetts, they use an external (e.g., VoC) measurement of FCR and have done so since 2008. A survey is conducted within one business day of a customer's call for the external post-call survey measurement method calculation. FCR rate is based on two survey questions. A call is considered FCR if a customer answers 'yes' to the question, "Was your call resolved?", and in 'one call' to the question, "How many calls did you make to resolve your call? Here's a look at their current customer service surveying suite and how those surveys are used:
Phone Surveying Method - Benchmarking
The phone survey method is used to benchmark FCR across all BCBS Plans. The sample size quota is 2,000 per year and is conducted daily. The BCBS Association requires this FCR data.
Phone Surveying Method - Tracking
The phone survey method is used to track FCR across all business units within their organization. The sample size quota is 1,000 per month and is conducted daily. The FCR data is used for trending and process improvement opportunities.
IVR (Outbound) Surveying Method
IVR (outbound) survey method is used to track agent call resolution and customer satisfaction (Csat). The sample size quota is 4 surveys per agent per month, and surveying is conducted daily. The data is used for holding agents accountable for call resolution and Csat performance, coaching, and recognition purposes, along with mid-year and annual performance reviews.
Action Alerts
Action alerts are based on survey results. An action alert occurs when a customer rates their call center experience as dissatisfied and the call as unresolved. Action Alerts surveys are always a top priority. They ask their leaders to handle these surveys as soon as possible, provide feedback and coaching to the agent, follow up with the customer and provide service recovery if necessary.
Agent Recognition
Agent recognition is based on survey results, we recognize all agents certified by SQM as World Class FCR/CX Performers each year. Every month, they recognize agents who have achieved 100% call resolution and use customer's direct 'Agent Verbatim Feedback' to highlight great customer experiences to keep the agents motivated.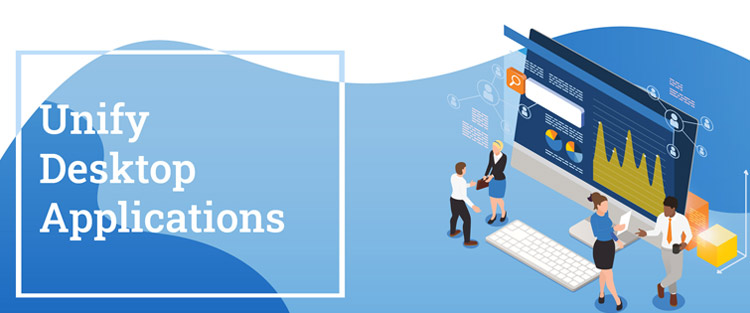 2. Unify Desktop Applications
At Comcast corporation, they contemplated business objectives, requirements and vetted existing applications from well-known vendors. They determined it would have been far easier to buy an existing application versus build a custom application nearly from scratch. Still, in the end, all of the off-the-shelf applications they evaluated would have needed significant customization to meet their objectives.
So, they decided to build their own application called Einstein. At the core of Einstein is the concept that all of the information they present to their employees should be context-driven to the greatest extent possible to be relevant to their employees and customers. This means that, unlike traditional desktop applications that tend to silo functionality into different applications (e.g., a sales application vs. service application vs. knowledge base), they integrate all functions an agent needs to do their job in one universal application. For example, they deliberately do not have a standalone knowledge base.
​Instead, it is integrated with customer account information and other tools and information to support customer inquiries. They have expanded the concept of "knowledge" to include ANY information an agent needs to support a customer – not just a help article. And, they firmly believe that with the right solution, a "search" will hopefully be the last thing an employee needs to do because they have effectively presented the information they need when they need it. In this way, they use their knowledge base strategically to save time for both employees and customers.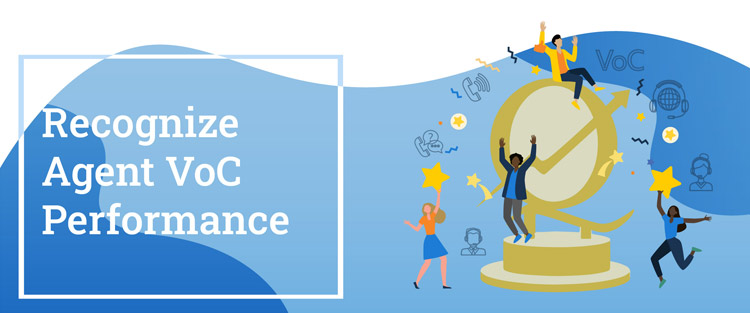 3. Recognize Agent VoC Performance
At Regence BlueCross BlueShield, their agent Service Hero program is the most successful and longest-running Agent Recognition in their organization. It not only recognizes the agents that provide exemplary service, but it also provides a way to highlight the barriers their customers face every day to their most senior executives. Any call can be nominated to be a winning agent Service Hero interaction. An agent can be nominated for Service Hero interaction by a supervisor, peer, or the agent themself.
Each service location celebrates the quarterly winners during an all-employee meeting, and one of the winning calls is played to allow the entire customer service team to hear an example of excellent customer service to inspire them to be an agent Service Hero. The winners are recognized in front of peers with an enlarged check personally signed by our CEO for five hundred dollars and a personally engraved gold star statue. All runners-up who make it to the executive level receive a gold star and one hundred dollars.
All quarterly winners are highlighted on their intranet site with their inspiring stories. The article includes the recorded call, and every employee in the company can hear the call and read the article highlighting the agent. This engages all departments to work towards enhancing the customer experience by resolving behind-the-scenes issues.
At the year's end, the twelve quarterly Service Hero winners are flown to Portland for a two-day trip. The first day shows appreciation with a fun activity day, gifts, and dinner. The winners can share their successes and build a stronger camaraderie with different locations. On the second day, the executive leadership team hosts a luncheon in the executive boardroom, where the winners hear admiration directly from the CEO, VPs, and Plan Presidents. Before the annual event, the executive team listens to the twelve quarterly calls again to select the annual agent Service Hero winner, and it is announced during the luncheon. The annual winner is awarded a prize of four thousand dollars, and their story is showcased on their company intranet site.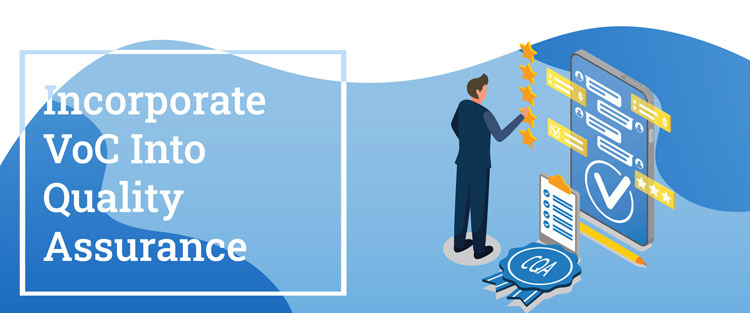 4. Incorporate VoC into Quality Assurance
At 407 ETR, they send a call list of customers who have called the call center to SQM daily. Customers are surveyed within one day of their call to the call center by SQM. The SQM call quality evaluator reviews customer survey ratings, listens to the customer feedback and the recording of the interaction between the agent and customer, and reviews screen captures to assess call compliance.
The customer quality assurance (CQA) evaluation form embeds customer survey results, customer audio feedback, and call compliance results. An agent has access to view VoC feedback, call compliance metrics, and links to the audio. Comments provided by the evaluator are very detailed. This is viewed positively both from a team manager's perspective, as it helps them prepare for coaching sessions, and from the agent's perspective, who views the evaluator comments in mySQM™ FCR Insights reporting tool.
A new evaluation form was created internally with the 407 ETR Customer Service team and SQM Group. The CQA evaluation form has 60 of the possible 100 points based on 3 parts of the customer surveys conducted by SQM to generate the score (30 for call resolution, 15 for Agent Csat, 15 for customer Continue to Use). The other 40 points are allocated for the call compliance metrics (broken down as 65% customer focus and 35% organization focus).
There are critical components of customer interactions that significantly impact their customers and organization and, in turn, FCR, such as failure to adhere to policies and workflows. The new CQA process includes a critical component section, and should a critical component be missed, the CQA evaluation receives a score of zero. This integral piece of the evaluation provides them with common themes where opportunities for improvement have been successfully identified.
Agents have online access to results immediately once a call quality evaluation is complete. The customer survey is conducted and then reviewed by a dedicated CQA evaluator. Once evaluated, it is available in the mySQM™ FCR Insights online reporting tool and can be viewed by the agent. Having the ability to view feedback right away encourages the agents to continue the behavior that is helping them and continue to learn what they can do differently in the future to create that memorable customer experience while following appropriate policies and procedures.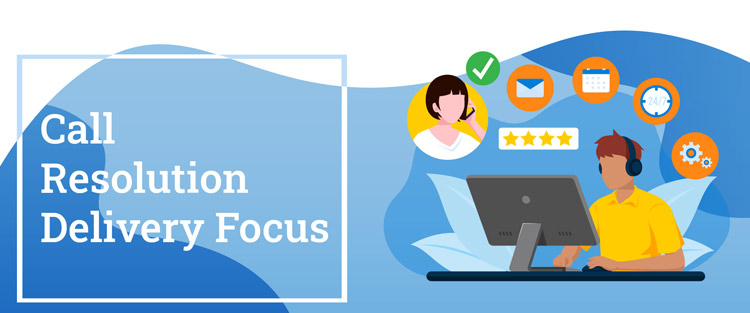 5. Call Resolution Delivery Focus
At Canadian Tire, their call resolution delivery focuses on having exceptional call handling practices. The majority of agents are certified by SQM as world-class call resolution delivery performers. Canadian Tire has a sophisticated telephone system to support call routing and an enhanced technology system equipped to securely store all of our customer information. Canadian Tire also has a great team of employees who go through extensive, state-of-the-art training and coaching on soft skills to learn how to acknowledge, question, confirm and respond appropriately in every customer situation.
There are dedicated teams to handle account retention, insurance retention, disputed transactions, fraud, collections, and customer escalations. The exceptional staffing and technology make it very easy to resolve our customer concerns on the first call.
Canadian Tire uses Chordiant, TSYS technology systems, and skill-based routing to ensure that calls are routed to the right agents. Our agent's average tenure is 12 years, and the majority of them are certified as world-class FCR performers. The Interactive Voice Response system (IVR) takes care of most customer inquiries without transferring to the agent, such as account balance inquiry, minimum payment due, and card activation. Canadian Tire has a proven 70% customer fulfillment rate within the IVR.
Agents can use the CISCO phone system to warm transfer customers in real-time to any department. Agents are highly trained and capable of resolving a customer's inquiry or problem on the first call. Dedicated teams are in place to handle account retention, insurance retention, loyalty, disputes, fraud, and collections. Their agents can complete a three-way conference call for a dispute call type, where they connect their customers with the merchant for immediate cancellation.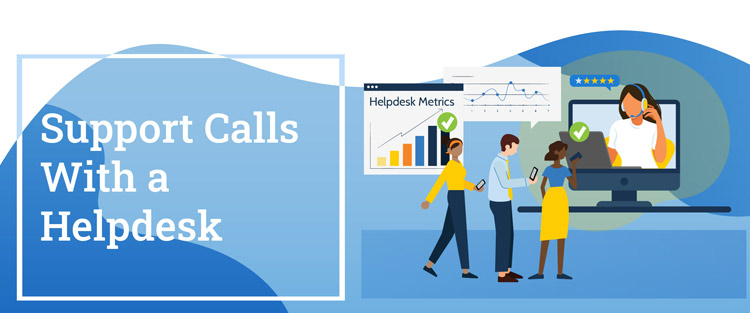 6. Support Calls with a Helpdesk
At Blue Cross Blue Shield of Massachusetts, agents can reach the Service Solutions Line (SSL) by calling in and selecting the prompt for the type of team they are on. Once on the line, Business Experts (BE) will use various methods to help the agent, including screen sharing and even instant messaging after the call is over to provide extra help. In addition to this, the BE can take the call over. Whether it is an Escalated Request for a supervisor or otherwise, any call that is taken over is warm transferred from the agent to the BE. Moreover, any call that the BE takes on is owned by that BE. Any research and follow-up needed to arrive at a resolution is the BE's responsibility once the call is transferred.
BEs are stationed both in a central group in our call center as well as a part of our remote workforce. This allows the team to work closely together while remaining relatable to office-based and remote agents.
They have a rule on the SSL: Track every interaction. They adhere to this rule because they understand that our data integrity is the foundation that allows them to build upward. They have several levels of reporting and analysis. These reports show trends for the previous month, overall numbers, challenges, training, and coaching opportunities at the aggregate level, by a team and agent.
The BEs themselves develop much more personalized and team-tailored reporting for the leaders of the teams for which they are assigned. This reporting is generated weekly and supplies leaders with a snapshot of the types of issues prompting questions within their teams. While they track the usage, trends, and even behaviors of the agents calling in, they do not hold that information against them, nor does it negatively impact their metric goals.
They are using the SSL information to identify trends and coaching opportunities at every level. This supports their mission to empower their service center staff by sharing knowledge and building confidence. Their goal is to use hard data to get out in front of those challenges and give their agents the tools and confidence they need to get the job done.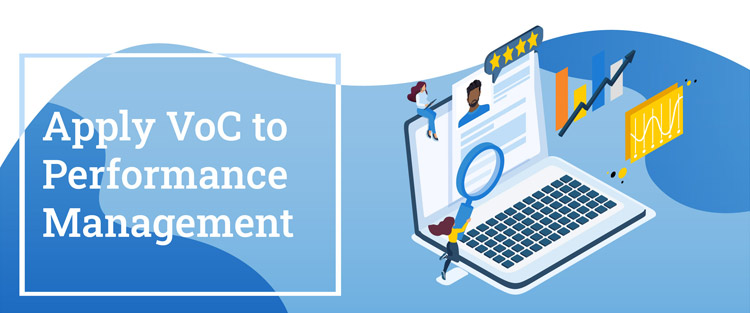 7. Apply VoC to Performance Management
At Scotia iTRADE, the Voice of the Customer (VoC) Performance Management system is used as their primary measure of success throughout the call center, from agents to senior leadership. VoC feedback is their primary means of measuring performance at all levels throughout the call center. Csat, FCR, World Class Call (i.e., Csat & call resolved), and Scotia iTRADE's Client Loyalty Index comprise individual customer KPIs.
Scotia iTRADE has refined its VoC reporting by providing greater access and more frequent discussions around results and action plans. Reporting these KPIs has also been woven into team meetings and one-on-one coaching sessions to continually reinforce this focus. VoC results are shared with all employees to ensure commitment and transparency. These reports also form the backbone of coaching discussions with agents and managers.
To align with the primary objective of assessing performance is based on VoC feedback, Scotia iTRADE has the following steps for agent improvement:
Assess (Rank)
Observe and Coach
Document and Action Plan
Suspension, Demotion, or Termination
Agents who fall under the "Average" or "Low Performers" categories are given the additional focus on VoC measures during one-on-one and observational coaching. Managers will use their 3-month WCC rolling average to assess trends, identify progress, and set clearly defined achievable targets and timeframes. All non-World Class surveys and Action Alert calls where there is a risk of client attrition are reviewed by managers and listened to with the agents to coach for future success regarding Csat and FCR.
If an agent continued to show an inability to move up to an acceptable tier, they would be placed in our "Performance Improvement Program" (PIP). This is a formal process whereupon agents receive a written Notice to Improve that would identify specific gaps in their VoC results and require them to complete an action plan on how and in what timeframe they will improve their results. If performance does not improve in the agreed-upon timeframe, consequences may include suspension, demotion, or termination.
Performance metrics (as previously outlined) are provided to all employees (agents, managers, senior managers) at the beginning of each fiscal year to be reviewed, discussed, and signed off on. These measures are continuously reinforced throughout the year in team meetings and, most importantly, individual coaching sessions. Managers have three bi-weekly coaching sessions with each agent (side-by-side observational, individual touch base, and SQM call reviews). At each of these touchpoints, performance measures are discussed and reviewed. Agents are also provided with regular updates on how they are trending towards SQM World Class Certification and the number of WCC surveys they will require to achieve this status.
Year-end bonus compensation is tied directly to performance appraisals. Scotiabank sets parameters for base salary increases and bonuses based on a weighted scorecard of bank-wide performance, business-level performance, and individual employee rating. As FCR, WCC, and Csat form a significant portion of an agent's and team manager's performance rating, they directly impact agent compensation. They have also introduced several Rewards and Recognition programs, such as our annual Best of the Best and Quarterly iCare winners, where additional rewards (gift cards, merchandise, etc.) can be won based on outstanding contributions from employees.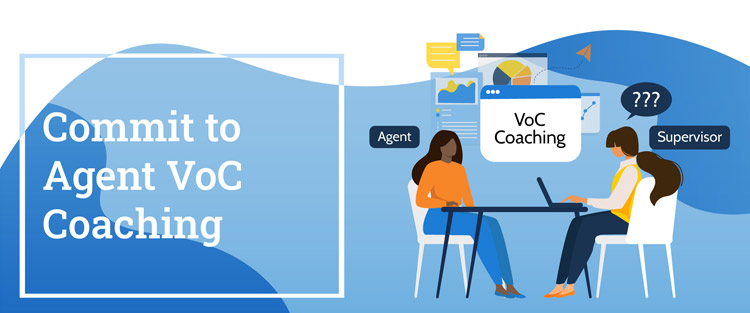 8. Commit to Agent VoC Coaching
At Mr. Cooper, their company's coaching culture has never been stronger, and it's become a way of life for them. The amount of time that they have their supervisors, AVPs, and VPs in coaching sessions or call listening sessions has increased over the past two years, which helps them have a consistent coaching process from the top down.
Coach-the-coach focus. They use a coaching feedback grading form to evaluate and score their coaches' effectiveness by rating them on specific criteria. The coaches are observed by their VP weekly and given a score of 0%-100%. The following are the steps that must be followed in every coaching session, and the VP checks Yes or No for each one: 1. The facilitator was prepared for coaching, 2. The stated purpose of the discussion, 3. Recapped the previous session and updated on the progress of the action plan, 4. Played the call and then let the agent summarize the call, 5. Determined strengths, 6. Reinforced strengths, 7. Reassessed opportunities from the previous session, 8. Identified areas for improvement (new or same), 9. Shared customer feedback (using SQM Surveys/Verbatims), 10. Gathered assessment of possible results of the behavior, 11. Formulated action, 12. Facilitated identification of needed resources and/or support, 13. Checked for understanding and confidence, 14. A determined measure of success, 15. Facilitated identification of follow-up dates and immediate next steps, 16. Documented agreed action plan
Once the agent coaching has been completed, the VP and supervisor walk through the form and agree on the session's final score. During this discussion, opportunities from the prior session will be revisited, and updated action plans will be decided upon. The coach is always held accountable to improve their technique, no matter how good they are.
These activities are logged into a database, and reporting is used by the leadership, which details the scores, strengths, weaknesses, and action plans for each supervisor/coach. The coaching score combined with the manager's overall SQM Csat determines their ranking (i.e., The supervisor with the best SQM results and the highest Coaching Effectiveness rating is considered their most valuable supervisor).
For Coaching Sessions, their agents are scheduled to meet with their supervisor for a 1-on-1 coaching session for one hour per week. The supervisor does the following in each session:
Prepare – Reviews the Coaching Tracker for previous notes and listens to previous calls if needed. Makes sure that before the agent enters the room, they are up to speed on their strengths/weaknesses. They have a call prepared to play. They have taken time to preview and have a clear understanding of precisely what they're going to be listening for and what they want to accomplish. The Coaching Tracker is an internally designed online tool that the supervisors use to track all coaching activity. This online tracker is a great tool to ensure any part of the management team has knowledge of the coaching and could pick up where the previous supervisor left off.
Coach – They listen to the call together and grade it using the Call Listening Sessions formula. Instead of telling the agent how they did, they ask the agent questions about their performance, letting them tell us how they think they did. They lead them to specific topics if they don't address them on their own and always spend extra time on whatever opportunity was identified in the previous session to decide together if it's improved, worsened, or stayed the same.
Follow Up – Once a final score has been settled on, the supervisor asks themselves, "Is there follow-up needed with a customer?" if poor information was given. If so, they call the customer with the agent to set things right, document the call's strengths/weaknesses, and the agreed-upon action plan for improving the agent's performance in the Coaching Tracker. This will be referenced in the follow-up sessions, and the process repeats as there are always going to be coaching opportunities, no matter how good the supervisor or agent thinks they are.
For Performance Scorecards, employees at all levels (agents, supervisors, trainers, AVPs, VPs, SVPs, etc.) are given a scorecard and held accountable for their metrics individually (SQM Metrics, AHT, attendance, adherence, sales leads, QA, etc.). Just like with their Coaching Sessions, everyone is expected to know their strengths and weaknesses, and they must commit to an action plan to constantly improve their performance. These performance reviews are held weekly, and if metrics don't meet expectations, no matter what level they are at, they will be coached up to meet expectations, or they will be coached out.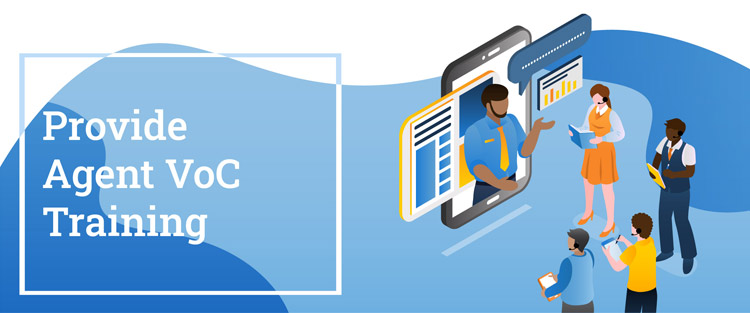 9. Provide Agent VoC Training
At Premera Blue Cross, their agent three-day agent training workshop provide agents with increased dedicated time with a Team Leader and a Call Coach to focus on call resolution and the customer experience.
Day One
Each agent receives a report that consolidates every comment a member has ever given them that is broken up into three sections:
Satisfied
Not Satisfied
Repeat Call Reason
Every agent receives this feedback as surveys happen throughout the year; however, it is a powerful exercise to consolidate all the comments, allowing agents to identify trends in behaviors. After each agent reviews their comments, they get together as a group to discuss what each person has learned from their report. This turns into a great conversation.
In the afternoon, call calibration is conducted. Typically, the group listens to random calls from an agent that is in another location. Each agent is given a sheet of paper to write down from their perspective:
Was the call resolved?
Was it a World Class Call?
What did the agent do well?
What could the agent have done better?
Day Two
In the morning's first activity, each agent listens to three of their calls picked randomly. The agent is then asked to fill out the "Knowledge / Confidence Self-Check" form for each call to score the call from the customer's perception.
After the exercise is completed, they are brought to a room where they can share their findings in a group setting. We will often play one or two of the group's calls to see if the agent's form matches the rest of the group's opinion. This activity seems to be the most eye-opening for the agents, and the feedback received is that this is their favorite activity.
Day Three
On the last day of the workshop, the group continues through more call calibrations throughout the morning. In the afternoon, lunch is provided, and managers meet with each group to get feedback about what worked well, what didn't, and the most impactful / best activity. We've received great feedback from these sessions and have incorporated numerous suggestions into the following week's workshop.
During the afternoon, agents complete one last activity to write down an action plan they can use to improve their call resolution and customer satisfaction performance. Each agent completes a final survey about their experience, where they are asked: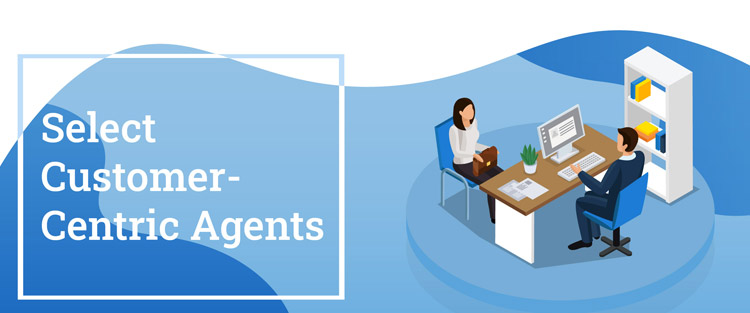 10. Select Customer-Centric Agents
At Canadian Tire, they hire the best people who will see Canadian Tire as a career destination. It is evident when newly hired employees complete their training and begin their new role to notice that everyone around them has worked there for 10 plus years.
They hold approximately three to four job fairs throughout the year, soliciting candidates for all positions within the call centers. The majority of our job fairs are explicitly held to solicit friends and family from their current employees who know their culture, understand our values, and live by them every day.
Their employees know the different roles at Canadian Tire and what it takes to be successful in that role. They consistently look to their employees to refer candidates for job opportunities. If their preferred candidate is successfully hired, the employee will receive a referral payout bonus anywhere from $500-$1,000.
Their job fairs are announced through local media and newspaper advertisements. Resumes are accepted through an online website, through referrals from existing Canadian Tire employees, and the mail.
They attract thousands of interested candidates and have the utmost respect for their time. Their job fairs are structured to efficiently screen and interview a large number of candidates over the shortest amount of time. They accomplish this by having their human resource team pre-screen candidates prior to the job fair and provide them with a time slot to appear for a personal interview. This method has proven to be very effective and ensures that their potential candidates receive a response quickly.
The interviewing team consists of managers and supervisors from each hiring department. Their human resource department organizes all the necessary documentation and provides training to the interviewing team in advance. The team will gather an hour before the job fair begins and are given details on what businesses are hiring, what roles they are hiring for, what availability they expect, and the procedure when you feel the candidate should move on to the next level. The team is given the opportunity to ask questions and clarify information.
A supervisor's first interview candidates, and if deemed a good fit, are immediately sent to the manager for the next level of interviewing. Their strategy places the candidate where they best fit for the business hiring (i.e., a credit service manager may recommend a candidate for the sales team based on their experience, responses to the questions, or disposition).
Their bilingual candidates must complete a French assessment before being considered bilingual hires. They have a French professional on hand to complete the assessment right at the job fair.
At the end of the job fair, all managers gather to debrief. Managers select candidates that are best suited for their business. Selected candidates are notified after their interview and given a start date. They pride themselves on hiring the best candidates that fit within their culture and have the ability to provide excellent customer service. Cultural fit is key to the candidate's success, and the effect on Csat can be directly linked to this fit.
Related Links
Blue Cross Blue Shield of Massachusetts Comcast Regence BlueCross BlueShield 407 ETR Canadian Tire Financial Services Scotia iTRADE Mr. Cooper Premera Blue Cross