Due to the COVID-19 outbreak, SQM will post all updates to our conference and provide client information here.
UPDATE: Staying Connected Through COVID-19
Updated: April 17, 2020
Deliver Great
Contact Center Customer Experience
using mySQM™ CX Insights Software Platform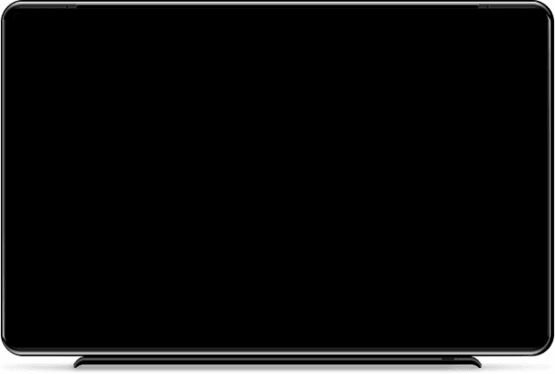 mySQM™ CX Insights Software - A Powerful Tool Built Specifically for Contact Centers
Since 1996, SQM has been a leading provider of CXM software. mySQM™ CX Insights software is specifically designed for contact centers to help them deliver great customer and employee experiences. Our cloud-based subscription platform captures, benchmarks, and reports customer experiences, helping drive improvement from individual agents to the organization as a whole.
The standard features of mySQM™ CX Insights software are designed to help contact centers capture, analyze, benchmark, report, and action customer and employee experience data based on conducting customer and employee surveys. The Personalized Intelligence features of mySQM™ CX Insights software are designed to provide individualized insights at a CSR level to help them with their CXM efforts. The combination of standard and Personalized Intelligence features is a powerful approach to assist front-line employees, analysts, and business managers to improve their CX.

Is your CX Software Helping You Improve?
Learn how mySQM™ CX Insights is specifically designed for helping contact centers to improve the experience of customers doing business with your organization and employees working in your organization.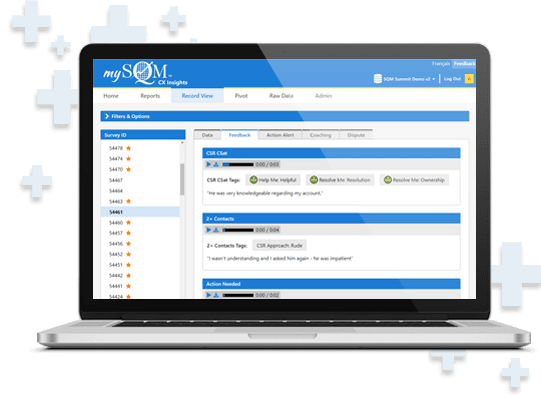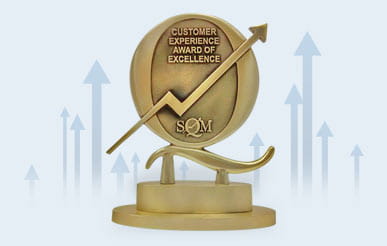 Motivate Your Staff to Greatness
The mySQM™ Rewards and Recognition program puts accountability for improving CX performance into the hands of each of your frontline employees, and provides meaningful perks for them to aim for.
e-Learning to Improve CX – One CSR at a Time
SQM offers virtual, on-demand e-learning for CX soft skills modules delivered through our mySQM™ CX Insights software. What makes our CX Soft Skills e-Learning so effective is that we use VoC survey data to train and to validate CX improvement.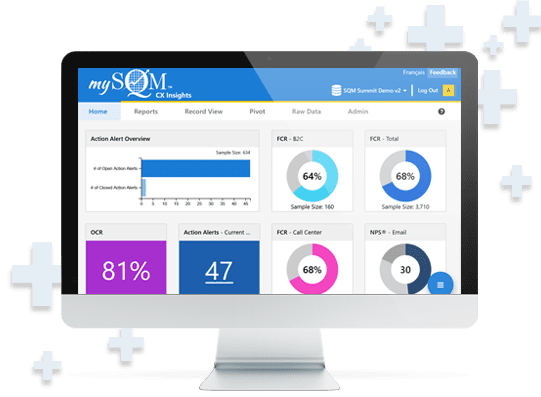 Standard Software Features
Highly Customizable
Easily customize many features including: home page, reporting, data filters, access levels, real-time notifications, and metrics.
Real-Time Notifications
Can be customized so that you can act quickly to improve CX. Receive real-time notifications about world class interactions and service recovery opportunities.
Recorded Customer Feedback
Listen to the actual voice of the customer from their experience using your contact center.
Exportable Raw Data
Raw data can be easily exported through the scheduled and customizable feature of the software.
Centralized Data Storage
Collect, store, and access customer and employee survey data from any survey methodology or internal data source.
Flexible Reports
The software has pre-configured and customizable reports that deliver powerful actionable data.
Personalized Intelligence Features
Rewards & Recognition
Award points based on CSR CX performance that is captured in mySQM™ software and can be redeemed using an SQM debit card, gift cards, corporate merchandise, etc.
CX Essentials Coaching
Our software uses VoC survey feedback to provide CSR CX performance tracking, and individualized coaching opportunities.
Benchmarking & Ranking
CX benchmarking and ranking data is captured and reported in real-time through mySQM™ CX Insights software.
Knowledge Builder
A searchable library of CX Essentials soft skills, social styles, and validated best practices for improving and providing great CX.
CX Soft Skills e-Learning
Virtual, on-demand and instructor-lead e-learning for CX soft skills modules delivered through our mySQM™ CX Insights software.
Customer Quality Assurance
A holistic approach to call quality monitoring that uses both the voice of the customer and call compliance information.
VSP Testimonial
Find out more about best practices for customer experience in the contact center industry from SQM's collection of case studies.
"One of the great components of SQM's offerings is the surveying at the agent level. What a motivator it can be to have first call resolution and customer satisfaction at the agent level." VSP has consistently achieved world class FCR and CX performance and has been the contact center of the year winner.