Recognition Changes Behavior
A best practice is to recognize CSR behavior and reward voice of customer (VoC) results in a frequent, descriptive, and impactful manner, so that CSRs know what they are being recognized for and because it motivates them to continue to use the behaviors that helped them achieve the VoC results.
Interestingly, the number one reason people leave an organization is due to lack of recognition. In the contact center, these needs can be met by customers, peers, and management showing appreciation and recognition for the customer service provided. CSR recognition should not only be carried out by senior management, but it should be primarily performed by the peers they work with and by the customers they serve.
The psychology of recognition can best be described by Maslow's hierarchy of needs. Josh Bersin (2012) noted that "two of the most valuable psychological needs we have as human beings are the need to be 'appreciated' and the need to 'belong'." As Bersin (2012) stated, and SQM agrees, "compensation and benefits support basic human needs; however, recognition and career advancement support our higher level psychological needs."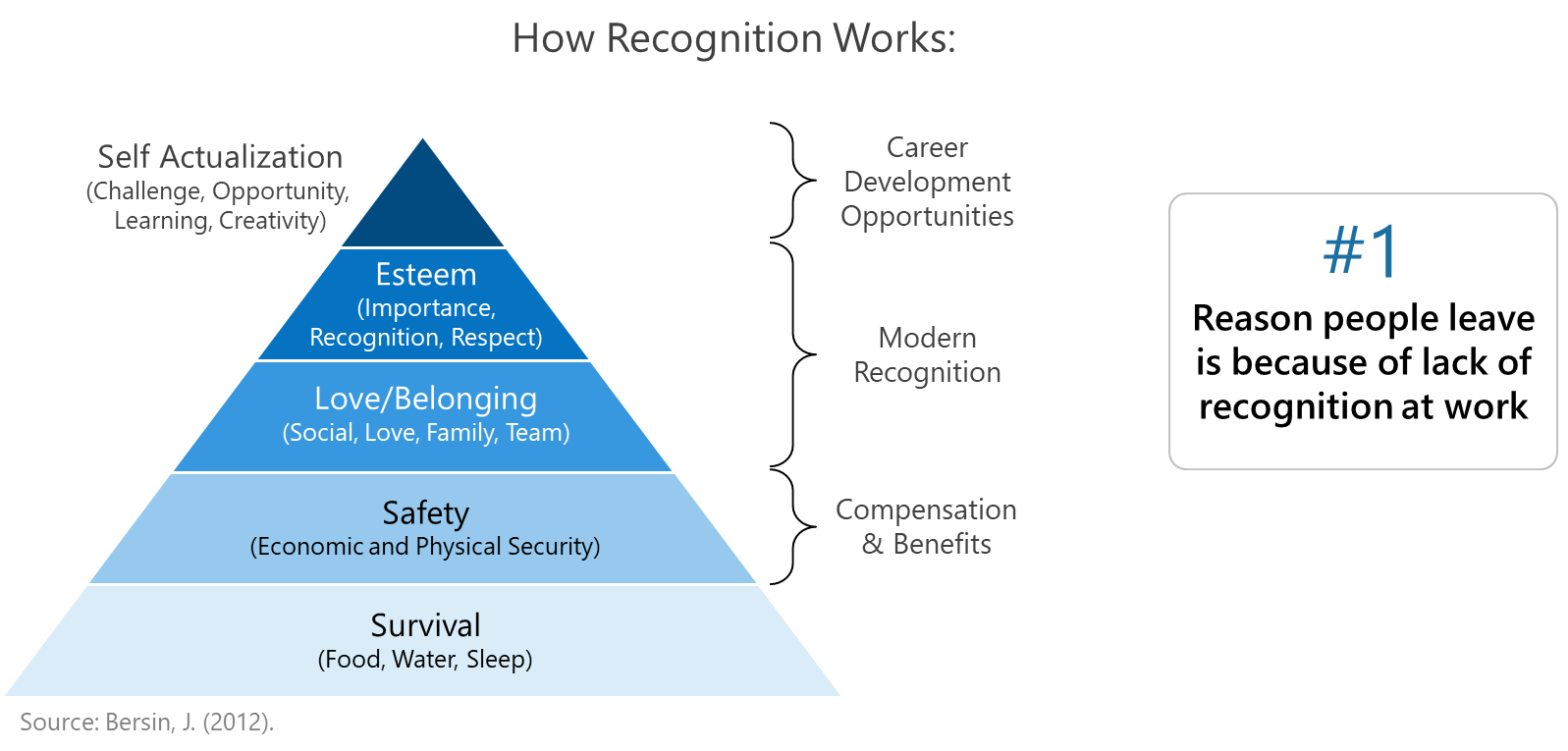 Motivating CSRs to use the desired customer service behaviors to achieve world class call resolution performance and retaining the best CSRs are great challenges. An effective recognition program greatly helps motivate CSRs to excel at providing call resolution at the world class level and for the organization to retain the top call resolution performing CSRs. It is important to note that 46% of customers whose call was not resolved felt the CSR could have done more to resolve their call. In many of those cases, the CSRs were not motivated to use the desired customer service behaviors to resolve customer calls. In other words, from a customer point of view, it was a will issue rather than a skill issue.
As mentioned, recognition needs to be provided in a frequent, descriptive and impactful manner so that CSRs know what they are being recognized for, and in turn, CSRs are motivated to continue using the behaviors that helped them achieve results.
SQM clients that are performing at the world class First Contact Resolution (FCR) level use the following recognition best practices, or a variation thereof, for recognizing CSRs:
Recognize CSRs daily, weekly, monthly, quarterly and annually. The more timely, consistent and frequent, the better.
Recognize CSRs for specific behaviors that they used to resolve a call or provide great customer experience. The more descriptive the feedback is, the more the CSR will feel it is sincere.
Focus CSR recognition on behaviors that have a positive impact on FCR, Csat and call resolution performance. These are the behaviors you want the CSR to repeat.
Know that each CSR is motivated by recognition differently. Do they prefer private, or public recognition? Are they motivated by money, time off, or recognition by leadership?
A best practice for recognition investment is to spend 1% of a CSR's annual pay, or about $400 per CSR, per year.
Types of CSR Recognition Programs:
There are several different recognition programs that have saturated the contact center industry making it difficult to know which one will help towards improving a customers' experience when contacting your organization.
SQM has several award-winning clients who use a customer service wide, peer-to-peer recognition program that shows proven increases in their FCR and customer satisfaction (Csat) results. We welcome you to read their case studies showing examples of their recognition program to inspire you!
Here is a list of some examples of the types of recognition programs that some of SQM's world-class clients use as methods for providing frequent, descriptive, and impactful feedback.
Call Kudos Recognition:
This program is used by all employees within a contact center to recognize each other for something that a peer felt was worthy of their recognition.
Santa in a Box:
All employees get the same gift, whether a CSR or an SVP. Gifts are determined by a contact center social committee. The gifts are kept in complete secrecy until the employee opens it up. What employees really like about the Santa in a Box Recognition Program is that it is a tradition; it happens every year.
Service Hero Recognition:
CSRs are recognized as Service Heroes for providing exemplary customer service. This program has been used for many years and has long legacy capabilities, which is a hallmark of an effective recognition program.
Voice of Customer Certification Recognition:
Of all the recognition practices used for CSRs and supervisors, the one that has been the most effective at helping contact centers improve or maintain their FCR and Csat performance is a CX certification program based on the voice of the customer.
For more details about these recognition program examples, or to learn how SQM can help you improve your CSR Recognition Program to improve CX, view our upcoming and on-demand webinars at any time, or contact us today!
References:
Bersin, Josh. "New Research Unlocks the Secret of Employee Recognition." Forbes. Forbes Magazine, 13 June 2012. Web. 29 Apr. 2015.