Voice of the Customer Definition
Voice of Customer (VoC) is a term that describes a customer's feedback to understand their expectations and experiences doing business with an organization and to identify service delivery improvement opportunities. The VoC practice lets the customer be the judge of their experiences. VoC uses listening posts (e.g., phone surveys, email surveys, call monitoring, CRM, social media, and employees) to understand customer needs, wants, expectations, experiences, and service improvement opportunities.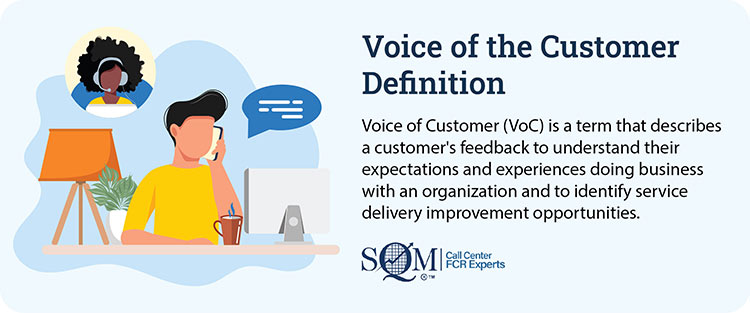 Why is VoC Important?
VoC programs provide call centers with insights to understand what is important to customers and how effective they were in delivering their service, so they know how to improve service and identify gaps in the customer journey experiences.
In a recent call center benchmarking study, SQM Group research showed that as compared to VoC laggards (i.e., 4th quartile customer service performing call centers), VoC leaders (i.e., world-class customer service performing call centers) have…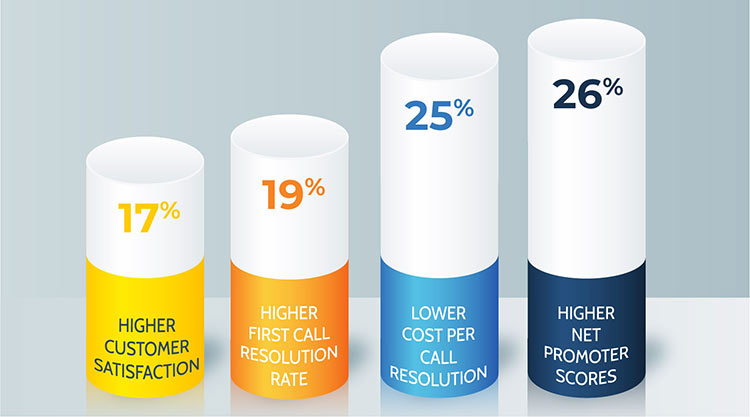 Listening Posts and Call Centers
When the mission is to deliver world-class call center customer service using the voice of the customer listening posts is a must.
Call centers that deliver world class customer service have one thing in common, they use VoC listening posts to measure and improve First Call Resolution (FCR) and customer service. They understand the best way to provide outstanding customer service is to tap into VoC listening posts. Furthermore, they know if you are willing to listen, customers will tell you just about everything you need to know to improve your FCR and customer service. Most importantly, VoC leaders action customer feedback opportunities to improve customer service.
For a call center VoC program or customer service management, a listening post captures and analyzes customers' expectations and experiences using a call center. Many managers tend to assume they understand the call center customer service they deliver. Listening posts, such as post-call phone or email surveys, are great external measurement methods to confirm or dispel their assumptions by letting the customer judge their call center expectations and experiences.
Listening posts provide customer feedback for insights into FCR, customer satisfaction (Csat), cost per call resolution, transactional Net Promoter Score, and areas to improve customer service. Post-call phone and email surveys are the best VoC listening posts to measure, benchmark, track and improve call center FCR and customer service.
It is a best practice to use VoC structured listening posts like post-call phone or email Csat surveys and unstructured listening posts such as social media, product reviews, and online communities. Many studies indicate that 80 to 90% of the information a business handles is unstructured (e.g., primarily text). In most cases, because of the challenges of capturing, analyzing, reporting, and benchmarking this text data, the unstructured VoC information is not making its way into actionable insights for improving call center customer service.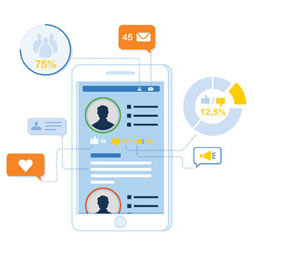 Another VoC best practice is to tie call center experiential data (e.g., Csat surveys) to operational data (e.g., the average speed of answer). For example, SQM research shows that the average speed of answer has no impact on Csat for the first 120 seconds of a call. In other words, if an agent answers the call within 120 seconds, there is neither a positive nor a negative impact on Csat. What customers want is to have their call resolved and preferably on the first call. "Every 1% improvement in FCR, there is a 1% improvement in customer satisfaction." Therefore, there needs to be a shift from an average speed of answer to an FCR focus.
Successful VoC Programs use VoC Software

To keep up with customer expectations, understand performance, and improve FCR and customer service, call center VoC programs employ VoC software. VoC service management software is an excellent tool for capturing, analyzing, and reporting customer feedback. However, before choosing a VoC service management software vendor, you need to understand how it fits your call center VoC program. Listed below are a few questions to consider:
What are your call center objectives? Higher First Call Resolution and Customer Satisfaction? Lower cost? Improve transactional NPS? You need to understand your goals and objectives before you start your VoC Program.

Does your call center need a VoC closed-loop process at the agent level? For example, can agents follow up on customer feedback one-to-one to close the loop?

What is the survey quota size? Will the quota be at the agent, line of business (LoB), or call center level? What will be the survey methods used (e.g., phone, email, IVR, website pop-up, or a mixture of different methods)?

Who will be accountable for customer service results (e.g., agent to CEO)?

Do you want to capture, analyze, and report internal and external data in the same software platform?

Do you want the VoC software capabilities to include agent coaching, recognition, or soft skills e-learning?

What customer insight data is already available, and by what function or department (e.g., research, workforce management, QA)?

How are existing internal and external data being used? For example, is the data used by agents, supervisors, or leaders, and are the accountability metrics based on FCR or Csat performance targets?

Where are the gaps in customer service understanding? Consider all contact channels (e.g., phone, email, chat, IVR, website), job levels (e.g., agent to CEO), segments (e.g., LoB, products, services), and call types (e.g., claims, service, sales, billing, technical, complaint).

How will the information be analyzed? Will you use internal and external data for the same calls? Will you use structured data (e.g., Csat rating, QA score) and unstructured information (e.g., open-ended survey questions, call recording text)? Will analysts need to be fully trained on how to analyze and report the VoC data?

How will the information be reported? Will agents, supervisors, or leaders have access to dashboard reporting? What VoC data needs to be shared? How often will the VoC data be shared, and who needs to see it? Will you share it with customers?

How will you action the customer feedback? Will you use a VoC closed-loop process (e.g., to go from identifying to actioning people, processes, and technology improvement opportunities)? Do your VoC software requirements need VoC closed-loop capabilities?
Customer-centric Call Centers are Employing a VoC Closed-Loop Process
According to Gartner stat: 95% of companies collect customer feedback. Yet only 10% use the feedback to improve, and only 5% tell customers what they are doing in response to what they heard. If customers take the time to provide feedback to help call centers improve service, organizations should close the loop with customers. Put simply, after receiving the customer feedback, action it.
A VoC closed-loop process starts with identifying service gaps by capturing customer survey feedback and ends with actioning customer feedback. What is important is that people, processes, policy, and technology improvements made to improve customer service are verified by the customer that they improved their customer journey. The VoC closed-loop process can be applied at the agent or call center level.
Call center leaders are increasing investments in VoC programs and software that employ a VoC closed-loop process. ​At SQM, our VoC closed-loop process consists of four steps – Identify, Develop, Check, and Act (IDCA) to improve FCR and customer service performance. The four ongoing sequential steps of our IDCA VoC closed-loop process are:
1. Identify - repeat call reasons to improve by measuring FCR and Csat performance
2. Develop - a solution and implement a test pilot to reduce repeat call reasons
3. Check - to see if the test pilot was successful by measuring changes in FCR
4. Act - on customer feedback by implementing a standardized improvement plan for reducing repeat call reasons for the entire call center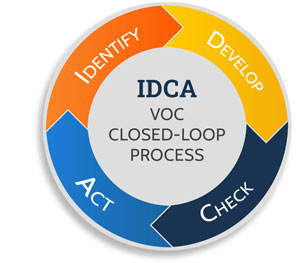 mySQM™ FCR Insights Software
Find out why over 500 leading North American call centers trust mySQM™ FCR Insights Software as a best practice to measure and improve First Call Resolution. Our software provides First Call Resolution insights by capturing and reporting external (e.g., post-call surveys) and internal (e.g., call data, quality assurance) data, all in one powerful First Call Resolution software platform. Our high-value software is specifically built to help call centers improve their operating costs. Our client's average ROI is 450%, and the payback period is less than 3 months.
Quick Related Links
First Call Resolution Definition First Call Resolution PPT First Call Resolution Benefits
First Call Resolution Strategies First Call Resolution Operating Philosophy
Survey data Call Center VoC What is a Good FCR Rate? VoC Closed-loop Top 10 CX Metrics