Has Your Traditional QA Program Improved FCR?
Many call center managers believe their quality assurance (QA) program improves their First Call Resolution (FCR) and Customer Experience (CX). For most organizations, the primary objective of their QA program is to improve FCR and CX, yet, very few call centers can substantiate improvements as a result of their traditional QA practices.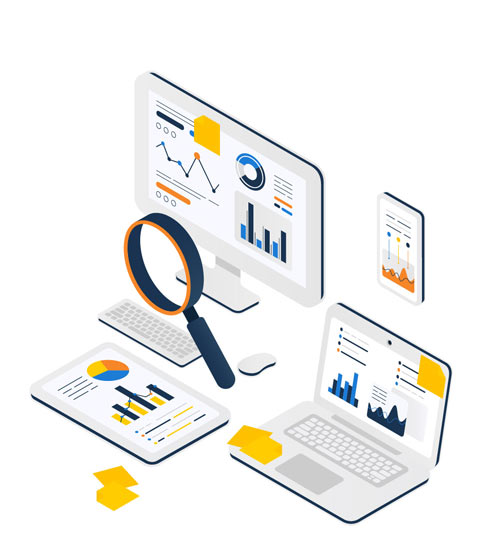 How is CQA Different from Traditional QA?
With traditional QA, a supervisor or QA evaluator listens to the calls and evaluates the customer's experience. Regardless of the metrics used or the person who conducts the QA evaluation, what remains clear is that a contact center employee is judging the customer's experience for resolving an inquiry or problem, not the customer.
Conversely, Customer Quality Assurance (CQA) combines call compliance metrics, judged by a QA evaluator, and service quality metrics, judged by a customer via a post-call or email customer survey. CQA is based on the premise of letting the customer be the judge of their own experience when contacting an organization and is one of the best practices for driving improvements in the FCR rate.
Traditional Quality Assurance

Traditional QA is based on the premise of letting the QA evaluator be the judge of the customer's experience. When the typical metrics are used with internal QA evaluators, there is very little correlation between traditional QA ratings and FCR ratings. SQM's customer research shows for Traditional Quality Assurance, 81% of Agents evaluations do not positively impact First Call Resolution ratings. The low correlation between traditional QA and FCR ratings is because the customer is not the judge of whether FCR or call resolution took place. Moreover, the traditional QA evaluation process is not primarily focused on FCR and call resolution metrics.
What makes Customer Quality Assurance More Important?
​SQM's research shows that what is most important to a customer using a contact center is to resolve their inquiry or problem, and 93% of customers expect to be able to resolve their call on the first call. CQA is a best practice for improving the impact of call monitoring on the contact center's FCR performance as it allows the customer, not the organization, to determine whether FCR has taken place.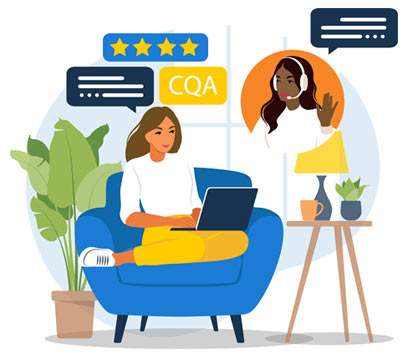 If CQA is properly implemented, a contact center can expect up to a 10% improvement in FCR. That means for an average contact center that is performing at a 70% FCR rate, if they improved by a 10% FCR rate, they would be performing at the world class FCR rate of 80%. Only 5% of the 500 leading North American contact centers we benchmark on an annual basis can achieve the world class FCR rate of 80% or higher when the customer is the judge for determining whether FCR is achieved.
When traditional QA evaluators assess FCR, SQM research shows the FCR rate to be overstated by up to 20% over the Voice of the Customer (VoC) FCR rate, which can cause contact center leaders to not focus on improving FCR. Furthermore, in most cases, traditional QA evaluations have not positively impacted the FCR rate.
How Customer Quality Assurance Works
Put simply, for the same call, the CQA program evaluates a call using both customer survey and call compliance metrics to assess call quality. By combining customer survey and call compliance metrics, the CQA evaluation provides a holistic view of quality assurance because it represents both the customer and the organization's perspective.
​CQA uses VoC data to judge call quality to enhance, not replace, the established call monitoring process. The customer survey information alone cannot replace the entire existing QA process because there are some contact center metrics that the customer simply cannot judge (e.g., compliance, the accuracy of information). Thus, it is still necessary for the contact center monitoring team to evaluate these metrics or use analytical tools to determine call compliance.
The most effective CQA program for the contact center is a two-part process that blends external VoC evaluation with internal call evaluations. Each Agent receives a CQA evaluation report that consists of both the customer survey and the call compliance results for the same call. As shown by the below figure 1, the CQA evaluation scoring is a total of 100 points, comprised of:
60 points available based on customer survey results and 40 points available based on call compliance metrics.

Of the 60 points allocated for customer survey results, 40 points are for call resolution, and 20 points are for customer satisfaction.

Of the 40 points allocated for call compliance metrics, 30 points are customer-focused, and 10 points are organization-focused.

CQA point allocation is 90% skewed towards customer metrics (i.e., 60 points from the customer survey metrics and 30 points from call compliance metrics).

Having 90% of the CQA evaluation form allocated towards the customer's experience sends the message to Agents that the customer's experience (e.g., call resolution, Csat) is what really matters in the CQA evaluation program and to the organization.
FIGURE 1: CUSTOMER QUALITY ASSURANCE EVALUATION SCORING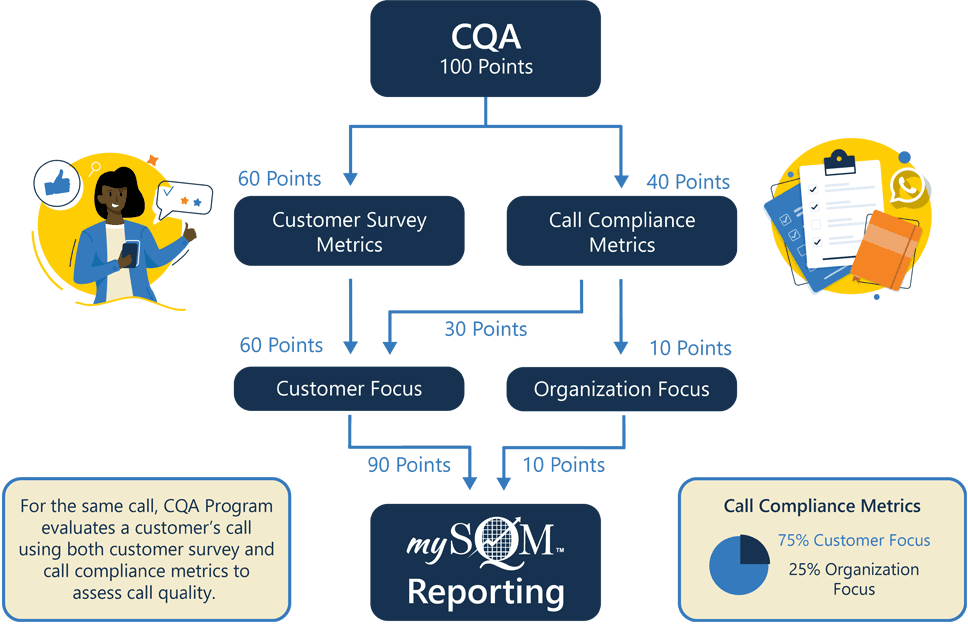 The CQA metrics and point allocation should be used as a guide for developing a CQA evaluation form appropriate for your call center. The CQA form consists of a customer survey and call compliance section with corresponding sub-sections. The CQA form total points available is 100 points and has a five-level CQA scoring range (i.e., great to unacceptable). The CQA evaluation form can be downloaded here: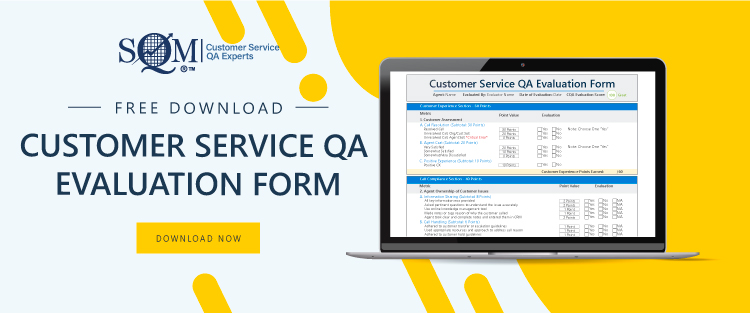 Why CQA Positively Impacts FCR More than Traditional QA
It is important to mention that in approximately 40% of calls that are non-FCR, the Agent was the source of error, and in over 40% of non-FCR calls, the customer felt the Agent could have done more to resolve their call. Put differently, in many cases, for non-FCR calls, there was an Agent will issue. However, there is an opportunity to improve FCR by focusing on Agent will and skill issues. Furthermore, SQM's experience is that improving Agent will and skills is one of the fastest ways to improve FCR.
The top 5 reasons why CQA positively impacts FCR so much more than traditional QA are the following:
The customer determines whether FCR took place, and their opinion matters the most.

The CQA form places more emphasis (e.g., points) on the customer viewpoint, with the highest points allocated to call resolution and customer satisfaction.

The high point allocation on-call resolution and customer satisfaction metrics motivates Agents to improve FCR.

The customer feedback on why the call was not resolved on the first call provides excellent insights for coaching an Agent on how to improve FCR.

Based on customer feedback, non-FCR repeat call reasons are tagged for identifying opportunities for improving FCR and are actionable.