Why Does Traditional Call Center Quality Assurance Not Improve FCR and Customer Service?
Traditional Quality Assurance

Since 1996, SQM has been helping call centers improve their Quality Assurance (QA) program. For over 25 years, we have been combining customer surveys and compliance data to provide a holistic view of the customer's experience. The name of this program is called Customer Quality Assurance (CQA). Our CQA evaluation form embeds customer survey results, audio, video feedback, and call compliance results.
An agent can view post-call survey feedback, call compliance metrics, and audio and video links. In addition, the comments provided by the evaluator are very detailed. This is viewed positively from a team manager's perspective, as it helps them prepare for coaching sessions, and from the agent's perspective, who views the evaluator comments in mySQM™ FCR Insights reporting tool. A great example to understand how our CQA program works is from the 407 ETR organization's call center case study.
Most call center QA programs' primary objective is to improve the customer's experience (CX) for resolving an inquiry or problem. Yet, very few can say or factually prove that their First Call Resolution (FCR), customer satisfaction (Csat), or overall customer service has improved due to their QA practices.
In fact, most call center managers mistakenly assume that their QA program is helping the call center achieve or improve FCR, Csat, and customer service performance. The reality, in many cases, is customers do not view the call in the same light as the person who is evaluating the call.
Most QA practices typically focus on metrics important to the call center, such as caller verification, adherence to script, the accuracy of information provided to a customer, screen navigation, policy compliance, tracking of sales initiatives, and customer treatment.
In many cases, QA metrics are weighted higher importance towards areas that are more important to the organization than the customer. Moreover, the QA form can use a lot of metrics to assess the call that meets the organization's needs more than the customer's needs. As a result, the traditional QA program has effectively ensured that their agents comply with organizational need metrics, but has little or no impact on improving FCR and Csat.
Based on conducting hundreds of QA case studies with leading North American call centers, SQM's research shows that a whopping 81% of agents' had no Csat, FCR, or call resolution improvement resulting from traditional QA evaluations. The low correlation between traditional QA and FCR ratings is because the customer is not the judge of whether FCR or call resolution took place.
The primary reason for the low QA and FCR correlation and little or no positive impact on FCR and Csat is the traditional QA practice is based on the premise of letting the QA evaluator be the judge of the CX. As a result, in most cases, the traditional QA evaluation process does not incorporate FCR, call resolution, and Csat metrics judged by the customer as part of the assessment.

How is Customer Quality Assurance (CQA) Different from Traditional QA?

One of the strongest reasons to use CQA is that it uses a 360-Degree Feedback multi-rater approach (e.g., customers, QA evaluators, and artificial intelligence) to provide agent feedback. Conversely, traditional QA uses only one rater approach to provide agent feedback. In addition, the most effective CQA 360-Degree Feedback approach provides agents with insights based on behaviors they demonstrated on a call that multi-raters could see better than just one rater.
With traditional QA, a supervisor or QA evaluator listens to the calls and evaluates the customer's experience. Regardless of the metrics used or the person who conducts the QA evaluation, what remains clear is that a contact center employee is judging the customer's experience for resolving an inquiry or problem, not the customer.
Conversely, Customer Quality Assurance (CQA) combines call compliance metrics, judged by a QA evaluator, and service quality metrics, judged by a customer via a post-call or email customer survey. CQA is based on the premise of letting the customer be the judge of their own experience when contacting an organization and is one of the best practices for driving improvements in the FCR rate and customer service.
What makes CQA More Effective than Traditional QA for Improving FCR and Csat?
​SQM's research shows that what is most important to a customer using a contact center is to resolve their inquiry or problem, and 93% of customers expect to be able to resolve their call on the first call. Therefore, CQA is a best practice for improving the impact of call monitoring on the call center's FCR performance as it allows the customer, not the organization, to determine whether FCR has taken place.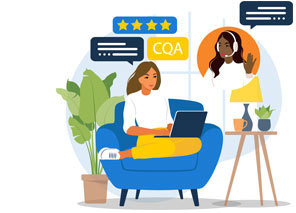 If CQA is properly implemented, a contact center can expect up to a 10% improvement in FCR. That means for an average call center performing at a 70% FCR rate, if they improved by a 10% FCR rate, they would be performing at the world-class FCR rate of 80%. Unfortunately, only 5% of the 500 leading North American call centers we benchmark on an annual basis can achieve the world-class FCR rate of 80% or higher when the customer is the judge for determining whether FCR is achieved.
When traditional QA evaluators assess FCR, SQM research shows the FCR rate to be overstated by up to 20% over the Voice of the Customer (VoC) FCR rate, which can cause contact center leaders to not focus on improving FCR. Furthermore, in most cases, traditional QA evaluations have not positively impacted the FCR rate.
The benefits of FCR for driving customer service improvement are immense. For example, SQM Group's research shows for "every 1% improvement in FCR, there is a 1% improvement in customer satisfaction." In addition, the First Call Resolution and customer satisfaction connection is among one of the highest correlations of call center KPIs.
How Does the Customer Quality Assurance Process Work?
Put simply, for the same call, the CQA program evaluates a call using both customer survey and call compliance metrics to assess call quality.
What is CQA?

CQA or Customer Quality Assurance is a holistic view of quality assurance that represents both the customer and the organization's perspective by combining customer survey and call compliance metrics.
CQA uses VoC data to judge call quality to enhance, not replace, the established call monitoring process. The customer survey information alone cannot replace the entire QA process because there are some call center metrics that the customer simply cannot judge (e.g., compliance, the accuracy of information). Thus, it is still necessary for the call center monitoring team to evaluate the­­se metrics or use analytical tools to determine call compliance.
The most effective CQA program for the call center is a two-part process that blends external VoC evaluation with internal call evaluations. First, each agent receives a CQA evaluation report that consists of both the customer survey and the call compliance results for the same call. As shown by the below figure 1, the CQA evaluation scoring is a total of 100 points, comprised of:
Evaluation Scoring Breakdown
60 points available based on customer survey results and 40 points available based on call compliance metrics.
Of the 60 points allocated for customer survey results, 40 points for call resolution, and 20 for customer satisfaction.
Of the 40 points allocated for call compliance metrics, 30 are customer-focused, and 10 are organization-focused.
CQA point allocation is 90% skewed towards customer metrics (i.e., 60 points from the customer survey metrics and 30 points from call compliance metrics).

Having 90% of the CQA evaluation form allocated towards the customer's experience sends the message to agents that the customer's experience (e.g., call resolution, Csat) is what really matters in the CQA evaluation program and to the organization.
Figure 1: Customer Quality Assurance Evaluation Scoring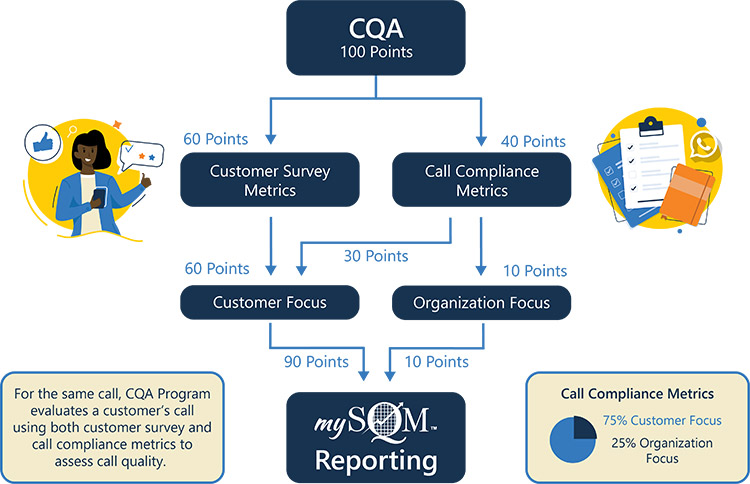 Internal CQA Evaluation
The internal evaluation aspect determines whether the organization's needs are met and is judged by the call center's monitoring team through a slimmed-down version of the industry's current call monitoring practices. The organization focuses on metrics that the customer cannot judge, such as caller identification, screen navigation, policy compliance, and call handling (e.g., the accuracy of the information, using knowledge management tool, note-taking, and wrap-up).
External CQA Evaluation
The external evaluation aspect determines whether the inquires or problems are resolved and is judged by the customer. CQA uses a post-call phone or email customer survey feedback from an independent third-party survey vendor or in-house surveys to determine whether the call was resolved and whether FCR and customer satisfaction were achieved. The CQA evaluation process is based on customers who called the call center and completed a survey.
CQA Evaluation Form Metrics and Point Allocation
Below are the standard CQA evaluation metrics and point allocation from a high-level perspective that we use with our clients. The CQA metrics and point allocation should be used as a guide for developing a CQA evaluation form appropriate for your call center.
The CQA form consists of a customer survey and call compliance section with corresponding sub-sections. The CQA form total points available is 100 points and has a five-level CQA scoring range (i.e., great to unacceptable). The CQA evaluation form is comprised of the following metrics, point allocation, and scoring range: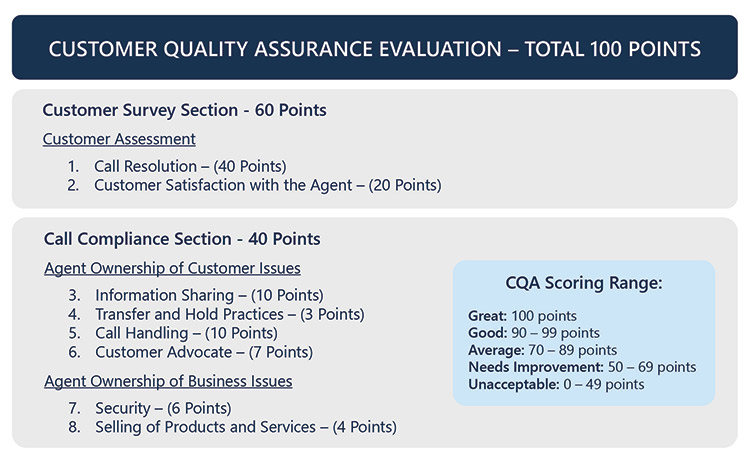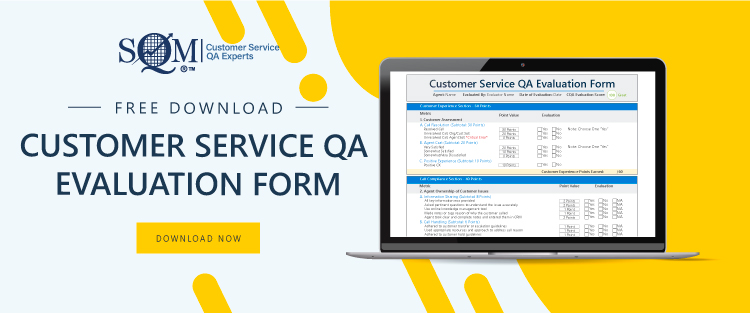 Why Does CQA Positively Impacts FCR More than Traditional QA?
It is important to mention that in approximately 40% of calls that are non-FCR, the agent was the source of error, and in over 40% of non-FCR calls, the customer felt the agent could have done more to resolve their call. Put differently, in many cases, for non-FCR calls, there was an agent will issue. However, there is an opportunity to improve FCR by focusing on agent will and skill issues. CQA is one of the best practices for addressing agent will and skill issues hindering FCR and customer service.
The top 5 reasons why CQA positively impacts FCR more than traditional QA:
The customer determines whether FCR took place, and their opinion matters the most.
The CQA form places more emphasis (e.g., points) on the customer viewpoint, with the highest points allocated to call resolution and customer satisfaction.
The high point allocation for call resolution and customer satisfaction metrics motivate agents to improve FCR and customer service.
The customer feedback on why the call was not resolved on the first call provides excellent insights for coaching an agent on how to improve FCR.
Based on customer feedback, non-FCR repeat call reasons are tagged to identify opportunities for improving FCR and actionable.
Things to Consider when Implementing a Call Center Quality Assurance Program
​The post-call or email survey should focus on quality metrics that the customer can judge, such as their satisfaction with the agent and whether their call was resolved. A CQA program should collect surveys randomly, with equal distribution of surveys throughout the month. A minimum of 5 surveys per agent per month is collected and is used to conduct a CQA evaluation.
​When creating the CQA form, the evaluation should not include soft skills attributes such as agent communication style, the right tone, and expressing empathy. Instead, the customer provides an agent satisfaction rating and feedback which represents soft skills attributes. Soft skills are very subjective and difficult to measure from a QA evaluator's perspective. As a result, it is better to let the customer judge agent soft skills via their agent satisfaction rating and corresponding feedback.
​There may be metrics within the call compliance section required by your organization or government regulations that must be done within every call. If an agent fails in demonstrating that requirement, it should be viewed as a critical error and receive a zero for their entire call. Furthermore, if the agent's behavior puts the organization at financial risk, the appropriate consequences should be tied to the agent's misbehavior.
The call compliance metrics that have been identified as critical error metrics send a clear message to agents that they need to meet those standards. As a result, an agent will not get high CQA points for achieving these metrics but instead be severely penalized for not achieving these metrics. Furthermore, to earn high CQA points, an agent must comply with all call compliance metrics associated with critical errors, resolve the customer call, and deliver great customer service.
Implement a pilot project and run your current QA program alongside the new CQA program to calibrate and review. Make any necessary changes before rolling out to the entire call center. Determine your FCR baseline rate before implementing the CQA program to the entire call center. After three months, assess FCR and customer satisfaction to determine whether improvement from the FCR baseline rate. Use CQA data to help develop ongoing action plans for improving people, policies, and technology practices.