Working from Home Impact on FCR and Agent Experience
Due to the COVID-19 pandemic, most SQM clients decided to have their Agents Work from Home (WFH). Our 2020 call center research shows that 82% of Agents currently WFH versus 2019, where less than 20% of Agents worked from home. As most people know, organizations have transitioned agents to a WFH model for their safety and to ensure that they can resolve customer inquiries and problems to the same level, or better, before the COVID-19 pandemic.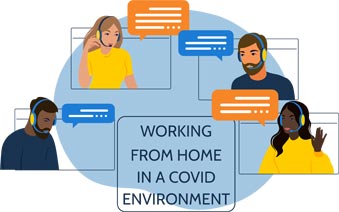 Agent Job Satisfaction Working From Home
It is impressive to think that our client call centers have increased the percentage of Agents working from home in 2020 by over 60% and that 79% of WFH Agents had the same or higher job satisfaction than working at their call center in 2019. Most Agents working from home are grateful to have a job and work in a safe environment. They value the work-life balance that WFH provides because they spend less time commuting to work and more time with their family and friends.
In most cases, the Agent WFH transition took place in 30 days or less for small to large call centers. The transition of employees from the call center to WFH meant that many Agents had to quickly adapt to working in their homes, such as working in a bedroom, living room, basement, den, kitchen table, etc.
Many organizations accommodated Agents to meet their individual needs. This would include internet setup, sit/stand desks, chairs, computers, displays, software, support, online training, coaching, chat, video conferencing, etc. Technical support is available online and to their homes, if necessary, to help Agents set up their working area or fix technical issues.
The bottom line is that Agent Job Satisfaction being higher in the WFH model is a result of Agents valuing how their organization handled the transition from working in the call center to working from home. Furthermore, the Agent WFH model creates higher job satisfaction for most Agents because of the work-life balance. If you are interested in tips for motivating Agents to improve FCR, click on the below link.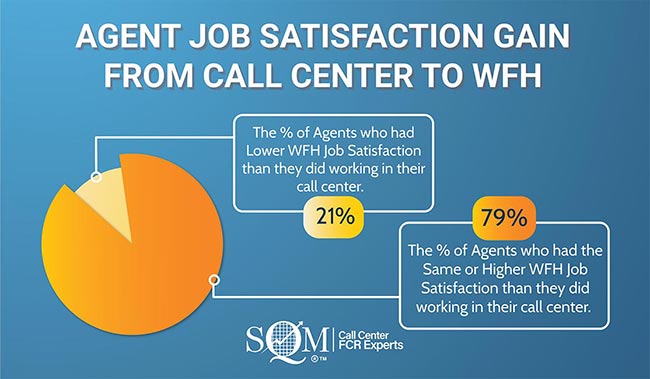 WFH Agent Impact on Esat, Csat, and FCR
In 2020, Agents WFH Employee Satisfaction (Esat), Customer Satisfaction (Csat), and First Call Resolution (FCR) ratings were performing at the same level or better when they were working at the call center in 2019. It was a surprise to see Esat, Csat, and FCR performance at the same level or better when you consider that most Agents now WFH, how quickly the transition took place, and how call center people, processes, and technologies were not designed to support an Agent WFH model that consisted of an 80% or higher workforce.
The transition from going from an agent working in a call center to the WFH model has been successful (e.g., Esat, Csat, FCR) because it is not about the place the agent works, it's the agent themselves. Clearly, what also made the transition successful was strong leadership and the necessary resources (e.g., people, processed, and technology) to assist the agents in working from home.
Agent job satisfaction (top box response rating) increased by 5% percentage points in 2020 from the previous year. Common employee survey feedback that we have received from WFH Agents is that since COVID hit, many of them have had depression, loneliness, isolation, and lack of motivation. So you would think Agent job satisfaction would be lower.
Many organizations have overcome these issues by providing emotional support through video conferencing, chat, and email technology. Some other common feedback that we received from WFH Agents is that their supervisors were empathetic, compassionate, encouraging, and this approach helped them handle the COVID issues they were feeling.
Many organizations placed less emphasis on traditional call center metrics such as service level, average handle time, wrap-up, and productivity during the first few months of the transition to a WFH model.
Our research results from benchmarking over 500 leading North American call centers show that in 2020, Agent FCR and Csat ratings were similar to the previous year's ratings. Specifically, the research shows that Csat ratings increased 1% (top box response rating), and FCR was the same compared to the previous year.
Again, given that call centers transitioned to a WFH Agent model with little people, processes, and technology preparedness, the 2020 FCR, and Csat ratings are something to be proud of and celebrated. If you are interested in tips for improving FCR with Agents WFH, click on the below link.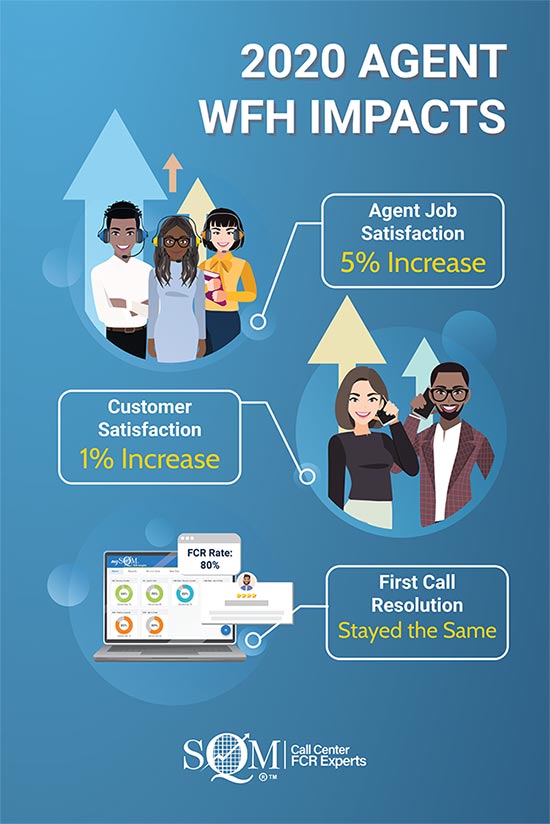 WFH Agent Model Is Here to Stay and Getting Bigger
Many organizations will continue to have the WFH model as the primary method for handling customer calls after COVID-19 subsides. SQM clients tell us that for servicing their customers after COVID-19 subsides, the WFH model will be at the 50% level or higher, with many of them using a 100% WFH approach.
Making the WFH model the primary approach for servicing customers is not surprising when you consider FCR, Csat, Esat, cost, and traditional metrics (e.g., service level, AHT, wrap-up, etc.) performed at the same level or better in comparison to the call center working environment.
Furthermore, we have received a lot of feedback from clients about the operational savings from the WFH model, the ability to hire Agents outside the typical geographical area for hiring and retaining Agents. If you are interested in First Call Resolution Reimagined, download our newest Whitepaper.