Call Calibration Comprehensive Guide
It can be very challenging to improve all your agents' ability to provide great customer service consistently. Moreover, this is especially true when you consider the amount of knowledge about products and services they need to retain, comply with the company's policies and processes, and interact with different customer personalities and expectations.
In addition, the need for agents to use 10 or more software applications (e.g., knowledge management tool, customer relationship management) to navigate through to handle customer calls and document the interaction. Therefore, it's a tail order to improve all your agents' ability to provide consistent customer service, but worth pursuing.
SQM Group's research shows that 30% of calls are not resolved on the first call, and 22% of customers are not very satisfied with their call center experience. These numbers suggest inconsistent customer experiences (CX) and improvement opportunities for most call centers. If you want your call center to deliver great customer service consistently, Customer Quality Assurance (CQA) is one of the best practices to achieve that goal.
So the logical question you should ask is how you improve in delivering consistent customer service no matter which agent handles the interaction. The answer is that call calibration is a crucial business practice for helping agents provide a consistent CX. This blog provides a comprehensive guide for sharing insights on what call calibration is, its importance, defining a calibration session, and tips on conducting calibration sessions needed for helping agents to improve in delivering consistent customer service. So let's get started.

What Is Call Calibration?
Call calibration is a meeting with stakeholders, such as QA evaluators, supervisors, and agents, to rate and discuss customer service calls. Furthermore, the call calibration meeting, in many cases, includes a facilitator to manage the session. During the call calibration session, all stakeholders will listen to the same recorded call and rate it using their quality assurance form.
Call calibration is an essential business practice to ensure managers, supervisors, and QA evaluators can consistently assess agents' customer quality assurance performance. Put differently, call calibration's purpose is to make sure all QA evaluators are using the same standards and interpretation of them for determining agent CQA score performance.
One of the bi-products of the call calibration session is that it might turn out that QA metrics or standards need to be changed to improve QA evaluations. Furthermore, call calibration is a way to define expectations of how an agent should handle a call. In addition, call calibration sessions can help ensure that QA scores are consistent even when QA metrics and standards change.
We recommend that a call calibration session be conducted on a minimum monthly basis. Preferably, call calibration sessions should take place weekly or anytime there are changes to QA metrics or standards. The primary goal of call calibration is to ensure that the actual QA scores remain within a 5% variance.
Why Is Call Calibration Important?
Call calibration is important business practice for multiple reasons. So let's look at the five ways call calibration can help agents provide great customer service, high Csat, and be more satisfied with QA score fairness.
Consistent Rating Scores: Calibrating calls helps provide more consistency in rating QA scores among all evaluators. In addition, call calibration can help reduce QA evaluator bias and provide more fairness in scoring. Finally, regularly conducting call calibrations sessions reduces having tough and easier QA evaluator graders.
360-Degree Holistic Rating: Call calibration insights from a customer survey rating, QA evaluator, and supervisor rating. In addition, it's also helpful to have an agent rate the call. A 360-degree rating approach is a holistic approach to understanding CX and enhancing QA consistency rating.
Define Quality Standards: Call calibration uses the same standards to evaluate calls. Furthermore, call calibration helps improve that customer interactions are handled similarly and aligned to quality standards. When agents, supervisors, and QA evaluators understand the standards, there are more accurate and consistent QA scores, and they buy into the results to improve CX.
Coaching and Training Improvements: Call calibration helps QA evaluators objectively assess calls and helps identify gaps in coaching and training to improve the agent's ability to provide great CX. In addition, call calibration sessions can help give the agents actionable feedback.
Higher Awareness of Expectations: Call calibration creates a higher understanding of the delivery of standards expectations. Furthermore, call calibration sessions can help ensure that all stakeholders are up to date on current standard expectations.
What Is a Call Calibration Session?
A call calibration session is where agents, supervisors, and QA evaluators discuss their ratings based on evaluating the same call using their predetermined quality standards. At the call calibration session, agents, supervisors, and QA evaluators examine their inconsistencies in QA scoring by discussing why they rated the call based on their understanding of the following:
Call Recording
Quality Standards
Policies and Procedures
Technology
How To Conduct Call Calibration Sessions?
Below are some tips for call center QA evaluators to better understand how to conduct a successful call calibration session to help agents provide consistent great CX.

1. Call Calibration Process
For call calibration sessions to be successful, there needs to be a process. Below are call calibration process tips for call centers to use to improve to consistency and effectiveness of QA evaluations for assisting agents in providing great customer service:
Determine who should participate in the call calibration sessions. We recommend that QA evaluators, supervisors, and agents participate in the call calibration session.
Each participant evaluates the same calls on their own before the scheduled call calibration session.
Establish a QA score baseline to use for understanding the differences in QA evaluator ratings. Again, the primary goal of call calibration is to ensure that the actual QA scores remain within a 5% variance.
Use a facilitator to lead call calibration meetings and be responsible for coordinating the efforts to ensure the sessions are successful.
Decide on the session ground rules, such as the time required for the session, criteria (e.g., agent disputed call, complex calls) used to determine what calls that will be evaluated, and when calls will be graded (e.g., before or during the session).
Participants need to be focused on achieving consistency in QA ratings versus being wrong or right on QA ratings.
The focus of the call calibration session should be on why there is a variance in the ratings.
Moreover, participants need to be open-minded in discussing the QA variance ratings and actively listen to other participants and be respectful of their opinions.
All QA ratings should be captured in a centralized database for use in other sessions and for reporting QA score evaluation ratings.
Perform call calibrations regularly to determine inconsistencies in QA scores quicker and to be able to identify opportunities to improve QA evaluation accuracy.
2. 360-Degree Feedback
One of the best practices for conducting call calibration meetings to improve QA consistency is incorporating post-call survey ratings into the sessions. A 360-degree feedback call calibration session uses a customer, agent, supervisor, and QA evaluator ratings of the call. From a Customer Quality Assurance (CQA) perspective, 360-degree feedback lets agents and supervisors get a fuller picture of a CX interacting with a call center. Furthermore, 360-degree feedback widens the lens and reduces QA evaluator bias, providing a clearer picture of an agent's strengths and weaknesses for the supervisor coaching agents to improve CX. Furthermore, customer ratings are one of the best ways to reduce QA discrepancies. After all, the customer's opinion of the call is what matter's the most. Below is the gold-standard 360-degree feedback CQA form.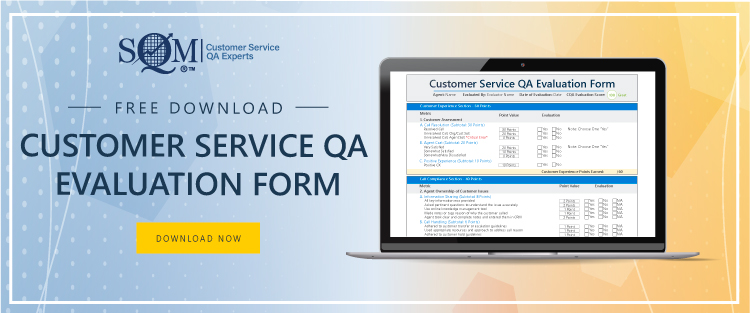 3. Session Led By a Facilitator
The call calibration session is led by a facilitator. It is common for a call calibration session to use a facilitator (e.g., QA manager, QA evaluator, HR representative) to manage the meeting to ensure it's productive. For example, the facilitator encourages all participants to ask why specific ratings were given. Also, a facilitator should focus on ratings where significant discrepancies exist. In most cases, a facilitator will document the ratings from the call calibration session that can be used in other sessions.
4. Quality Assurance Standards
Regularly calibrating quality assurance standards reduces discrepancies between easy and tough QA evaluators. Furthermore, one of the benefits of conducting call calibration sessions is to review the definitions of the quality assurance standards. Any recommendations to be made to the QA standards can be documented by the facilitator and reviewed by the call center management team if any changes to the QA standards are required. When QA evaluators assess agents' calls, it is common for them to give different QA scores for subjective customer journey experiences metrics such as caring, politeness, helpfulness, and friendliness. It is a best practice to use a post-call survey and let the customer rate these quality assurance metrics.
5. Questions and Answers Focus
At a call calibration meeting, participants should focus on the below questions and address them to ensure that the session was successful.
Was the overall QA score rating variance less than 5% for the participants of the call calibration session?
Were the individual metrics rated accurately? If not, why not?
Did the participants focus on QA metrics with the highest differences in QA ratings?
What should be changed in the rating process?
Do any of the QA metrics or standards need to be changed?
After the discussions took place, were the discrepancies resolved?
Quick Related Links
First Call Resolution Comprehensive Guide Customer Satisfaction Comprehensive Guide 360-Degree Feedback Customer Service QA Good to Great Customer Service