Escalations: Service Recovery At Its Best
The escalation customer service representative (CSR) support queue is the last line of defense for protecting a customer from defecting. In order to help retain customers, escalation CSRs must be excellent at resolving customer calls, and preferably on the first call.
Handling Customer Complaints
Most call centers do not know how to define a complaint call and typically leave it up to the CSR to determine if it is a complaint. Given that most call centers do not have a complaint call definition, it is no surprise that CSRs are inconsistent at identifying, tracking, and resolving customer complaint calls. When a customer expresses dissatisfaction, it should be viewed as a gift and documented in the CRM as a customer complaint call. For example, an effective complaint handling process entails the CSR being able to identify a customer complaint, treat the complaint as a gift, document it in the CRM for analysis, and resolve the complaint to the customer's satisfaction. CSRs should also be held accountable for complaint resolution and customer satisfaction (Csat).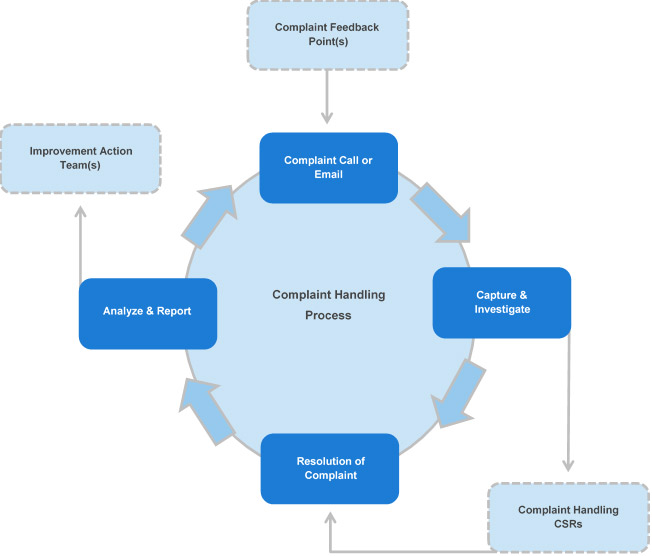 Most complaints are handled by the traditional CSR. For the call centers that have dedicated CSRs for handling complaints, SQM clients tend to call this group the 'Office of the President' or 'Escalation Queue'. It has been our experience that customers whose calls are handled by the Office of the President and escalation CSRs are seldom surveyed for their feedback about their experience. However, customers with a complaint are by far the best customers to survey for finding opportunities to improve.
Best Practices for an Effective Call Escalation Process
Many organizations' escalation queues are under-resourced, and this is very problematic given that the call center is becoming the escalation queue for when issues are not resolved in self-service channels. The majority of customer calls that escalation CSRs handle come from the CSR contacting them rather than the customer calls being transferred to them. Therefore, it is important that the escalation queue has two tiers of escalation CSRs.
Tier 1 escalation CSRs assist CSRs with resolving their customer calls and are not in direct contact with the customer. In other words, they act as an internal help desk for CSRs.
Tier 2 escalation CSRs handle escalated customer calls by having the CSR warm transfer (in most cases) the call to them where they attempt to resolve the customer's call directly. The escalation CSR provides solution options and asks the customer if they have resolved the reason for the customer's call. In other words, let the customer be the judge of whether the call was resolved.
Handling Angry and Upset Customers
Many customers who are angry or upset have very low expectations that their issue or problem will get resolved to their satisfaction. This represents a great opportunity to meet or exceed their expectations to resolve the issue or problem. The following is an effective complaint handling three-step process a CSR or escalation CSR can use when handling angry or upset customers:
Mess Up – allow the customer to tell their side of the story and vent their frustration without being interrupted. The CSR acknowledges that they have heard the customer by using words such as "I see" and "tell me more"
Fess Up – ask questions to ensure understanding of the issue or problem. CSR restates the issue or problem to confirm that they fully understand. CSR apologizes for the organization's mistake or expresses empathy for the customer's situation
Make Up – resolve the customer's issue or problem to their satisfaction. Many customers have low expectations that their issue will get resolved to their satisfaction. Providing solutions to resolve their issue is an opportunity to meet or exceed the customer's expectations
Escalation CSR Support Best Practices
The escalation CSR is often the last line of defense between the customer staying with the organization or leaving the organization to go to its competitors. To help retain customers, here is a list of escalation CSR support best practices:
CSR to escalation CSR support ratio should be 15:1
Escalation CSRs are located in a centralized work area
Escalation CSRs are available in real time and are dedicated to supporting CSRs
If cost is an issue, create an escalation queue by areas such as key lines of business, or repeat callers
Fulfillment department has a reporting relationship with the call center
There is an efficient and effective Knowledge Management Tool for assisting escalation CSRs to resolve calls
Escalation CSRs should treat CSRs as internal customers, and be held accountable to call resolution for ensuring that their internal customers have an employee satisfaction rating of 'very satisfied' with the support they receive
Escalation queue is used to retain customers when the original CSR feels that the customer is going to leave the organization, or expresses the intent to leave, the customer is transferred to the escalation CSR
Escalated calls represent an invaluable opportunity to understand where the areas are to improve FCR performance
Call Escalation Metrics
Very few call centers measure call escalation support queue performance from a customer's point of view, using such metrics as calls resolved or FCR. In other words, let the customer be the judge of whether the call was resolved. Here is a list of metrics SQM recommends using for measuring, analyzing, reporting and actioning calls handled in your escalation support queue:
Percent of complaints resolved in one call (FCR)
Percent of complaints resolved
Average complaint resolution time
Number of unresolved complaints
Customer satisfaction with resolution
Cost of customer complaints
Complaint types and areas
Complaint root causes
Customer satisfaction and loyalty
To learn more on escalation service recovery best practices, or how SQM can help you improve FCR and Csat with your escalation queue, view our upcoming and on-demand webinars at any time, or contact us today!