Call Handling Best Practice for Improving CX
Call Resolution

Delivery Model

At the heart of world class customer service is the way in which CSRs handle calls. Resolving calls and having very satisfied customers requires CSRs to be highly skilled at call handling. Contact center managers know very well that CSRs must have the necessary product, service and technology knowledge, but just as important is their ability to handle calls so that they resolve the call and the customer feels they received great customer service. It comes as no surprise that CSRs are not always as effective with the soft skills aspect of call handling.

To help CSRs gain effective call handling practices, SQM has developed a Call Resolution Delivery Model (see below) that defines the customer experience standards a CSR should follow in order to be successful at resolving customer calls at the world class level of 95%. Specifically, these standards are based on listening to customer feedback and determining what makes the customer very satisfied and resolves their call on the first call. Based on the fact that these world class call resolution delivery standards were developed from surveying over five million customers who called a contact center, there is tremendous confidence that these standards are extremely helpful for supervisors when coaching CSRs on how to deliver world class call resolution performance.

The Call Resolution Delivery Model for CSR call handling is comprised of the four key moments of truth that matter the most to customers.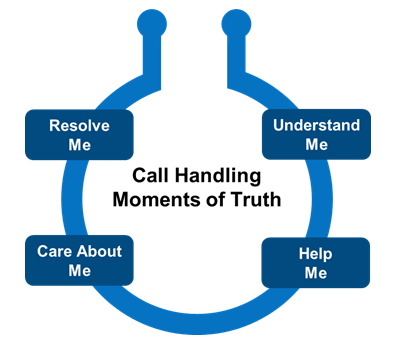 Concierge Service
The way contact center concierge service works is when a CSR assists a customer by contacting other departments or organizations in order to resolve the customer's call. Specifically, the concierge CSR tells the customer that they will call the necessary department or organization, either on their behalf or with them on the line, to get the reference code, information or authorization needed to resolve the call. In most cases, a concierge CSR calls other departments or organizations while the customer is on the phone and a three-way conversation takes place.
The Shift from Average Speed of Answer to FCR Focus
The contact center industry has traditionally used service level and average speed of answer (ASA) as the holy grail for defining customer service. While these metrics speak to speed, they do little to shed light on the customer's Csat, or more importantly, the number of calls a customer makes to resolve their inquiry. Although keeping track of these metrics remains important, it is not considered a best practice to focus on service level and ASA metrics as the key indicator of customer service. A best practice is to use FCR, not service level metrics, as the measure of contact center customer service performance.
Proper execution in shifting from a service level focus to an FCR focus can be challenging for contact centers that have an engrained culture of defining customer service success through service levels and ASA. In order for contact centers to be successful in the transition from a service level and ASA focus to an FCR focus there needs to be a paradigm shift in thinking that FCR is the key to Csat. SQM has conducted research on the impact ASA has on Csat, and the findings show that there is no impact to Csat for the first 120 seconds of a call. In other words, if a CSR answers the call within 120 seconds, there is neither a positive nor a negative impact on Csat. What customers really want is to have their call resolved and therefore they are tolerant with the speed of answer.
Intelligent Skill-Based Routing
Intelligent skill-based routing is a call assignment practice used in contact centers to assign incoming calls to the most suitable CSR rather than simply the next available CSR. The most suitable CSR is determined by utilizing information about who is calling and why they are calling in order to match up with an available CSR who has the necessary skill level to resolve the customer's call. Many contact centers use a generalist CSR call handling business practice resulting in having a large queue of generalist CSRs to handle calls, but they are not specifically matched to customer needs. SQM's research shows that in most cases the specialized CSR's skill set to handle specific call types has higher FCR performance than the generalist CSR who has a skill set to handle most or all call types.
Call Handling Best Practice Case Studies
2018 CX Best Practice Award Winner – Call Handling Practice– Blue Cross Blue Shield of Kansas City
Blue Cross and Blue Shield of Kansas City (BlueKC) is their area's largest locally-based health insurance provider. They have been championing their region's health and wellness for more than 80 years. Their mission is to provide affordable access to healthcare and to improve the health of their members. At BlueKC, they expect more of themselves because simply meeting expectations is not an option. They aim to exceed the expectations of their members, physicians, community and partners. For their members, more means going beyond what they expect from traditional health insurance and creating products and services that improve their lives; ultimately increasing quality of care while lowering overall healthcare costs.
BlueKC recognized their staff were highly technically trained but were not addressing their members' emotional needs based on member survey feedback. Learn about the call handling best practices they implemented to look from the "outside-in" perspective and move from a technical to a behavioral focus which significantly impacted their CX performance positively.
---
2017 CX Best Practice Award Winner – Call Handling – Marchon/Altair Eyewear

At Marchon, our mission is simple: provide quality eyewear, superior customer service, creative marketing and a collaborative business partnership. Together with our parent company, VSP Global, we're able to bring our products to consumers across the globe, helping people see and giving back to those who need it most.
A quarter of a century ago, VSP asked independent optometrists a simple question: How can we better support you? The resounding answer was for help easing the financial risk in eyewear dispensing. Altair was created to reverse this financial burden by providing no-cost board samples, and high-quality brands at affordable prices. Altair has grown from a small operation to one of the top five eyewear manufacturers in the United States.
Marchon/Altair Eyewear is committed to providing an accurate and engaging customer-focused experience. Our philosophy revolves around the "Power of Yes" and empowering Customer Service Representatives (CSRs) to take the time needed to resolve customer concerns on the first call. More importantly, the performance metrics for CSRs align with this philosophy. You read that correctly, "The CSRs are empowered to take the time needed to resolve customer concerns." We have moved away from a focus on Average Handle Time (AHT) and/or Cost per Call (CPC) and shifted to a focus on customer satisfaction (CSAT) and first call resolution (FCR). This practice has led to world class FCR customer experiences.
---
2016 CX Best Practice Award Winner – Call Handling – VSP Vision Care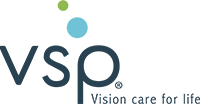 VSP Global® helps more than 77 million people see better by providing affordable, accessible, and high-quality eye care and eyewear. VSP's complementary businesses combine superior eye care insurance, high-fashion frames, customized lenses, ophthalmic technology, and retail solutions. VSP Global businesses, operating in 100 countries in the U.S., Australia, United Kingdom, Canada, and Ireland, include VSP Vision Care, Marchon® Eyewear Inc., Eyefinity®, VSP Optics Group, and VSP Retail. As a not-for-profit business, we are committed to bringing vision to those who can't come to us, and to reimagining how eye care and eyewear are delivered globally.
VSP has been recognized as a World Class Call Center for 14 years in a row. In 2015, 94% of our eligible CSRs certified as World Class and VSP was recognized as Call Center of the Year. This has been achieved through our diligence in developing strong core competencies that support First Call Resolution (FCR) and Customer Satisfaction (Csat), delivering effective training and coaching, and sustaining a winning culture. All of these efforts have been intentionally aligned to support our organization's brand. The challenge for VSP's call center was to improve historically high customer satisfaction results.
When evaluating opportunities to improve FCR, Csat, and the overall experience of the caller, the natural inclination was to focus on soft-skills. VSP's culture of innovation and employee empowerment encouraged leaders to find improvements and a wealth of ideas on how to further develop call handling skills was created. This led to the development of a large number of tips and tools as well as extensive coaching into every dimension of a call. These multiple layers of feedback could be overwhelming at the CSR level and, at times, unintentionally derailed the call handling behaviors that were most important to improvement. What was needed was a solution to clearly align call handling best practices in a way that was simple and easy to understand. CSRs needed a map to help them navigate through a broad range of performance data and apply feedback that would result in increased FCR and Csat.
---
2015 Contact Center FCR Best Practice Award Winner – Call Handling – Canadian Tire Bank
Canadian Tire Financial Services (CTFS) is the financial services arm of Canadian Tire. It offers credit, loan, insurance products and services and is the second largest MasterCard issuer in Canada with its Canadian Tire Options® MasterCard. CTFS is a significant contributor to Canadian Tire performance, representing 8% of overall revenues but nearly 25% of profit in 2011. Canadian Tire Options® MasterCard continues the customer loyalty program tradition through the awarding of electronic 'Money' to cardholders when purchases are made at Canadian Tire stores.
At Canadian Tire, delivering consistently high-quality service experiences is a philosophy that is woven into the fabric of the organization's "Customers for Life" culture. Every representative at its award-winning Customer Relationship Contact Center (CRCC) is fully aligned with the mission to deliver world class customer service, and is accountable for first call resolution (FCR) and customer satisfaction.
A look inside the CRCC reveals a best-in-class contact center with consistently high FCR performance and employee engagement.
2014 Call Center FCR Best Practice Gold Award Winner – Call Handling Practices – Canadian Tire Financial Services
---
2013 Best Practice Award Winner:
The C Spire Customer Care organization understands that real time support for frontline representatives is a vital part of both employee and customer satisfaction. In keeping with the organization's vision of "being and becoming known as the best in our industry(s)", Customer Care leadership stakeholders are committed to ensuring that all employees have access to people, process, and technological methods to ensure customer satisfaction.
It is essential to define some of the organization's internal jargon and terms to understand how we manage the real-time needs of the Customer Care team.
Spark: C Spire has partnered with Softonic International to offer each representative access to instant messaging software via Spark. Representatives are able to leverage this tool to request support from leaders and peers swiftly without ever placing customers on hold minimizing customer frustration due to wait times and/or transfers and ensures that customer issues are resolved during the initial call improving FCR.
Knowledge Base (KB): C Spire employs the use of a web-based solution that houses all policy/procedure, sales promotion, trouble ticketing, and breaking news information. This tool is designed to be each employee's first line of defense for independently finding answers to obscure customer-facing matters. Leaders consistently hold representatives accountable to using the KB instead of verbally answering question in keeping with the "Teach 'em to Fish" philosophy fostering customer satisfaction and one call resolution.
Nuasis: The ACD vendor C Spire currently uses to route and connect customer calls. Representatives are monitored closely in real time to ensure that customers' requests are handled efficiently and effectively.
Floor Support: Each site has representatives who consistently demonstrate an ability to deliver above average performance results and above average familiarity with organizational policies and procedures. These resources are chosen quarterly based solely on their performance for the previous quarter with emphasis on leadership and subject matter expertise. These persons are also a part of the organization's leadership development program; they must demonstrate an ability to act as a next level leader. Additionally, to ensure they are fully utilized, floor support team members also own customer-impacting administrative tasks and customer follow-ups.
Team Captains: Frontline representatives who have not yet developed to the point of being used as Floor Walkers, but they consistently demonstrate a high level of eagerness, positivity, energy, excitement, and customer advocacy. These persons are selected on a quarterly basis according to their performance and they support Coaches in creating excitement about business-specific initiatives, they encourage their peers by creating and sending out inspiring/encouraging emails, they make team wide audible announcements, they are the first to recognize peer successes, service anniversaries, etc. For all intents and purposes, Team Captains are cheerleaders. They spend all of their time on the phone with customers unless there is a need for support (i.e. we have a need for additional floor support). These persons help to drive enthusiasm and peer accountability.