Call Handling Best Practices for Improving CX
Call Resolution

Delivery Model

At the heart of world class customer service is the way in which CSRs handle calls. Resolving calls and having very satisfied customers requires CSRs to be highly skilled at call handling. Contact center managers know very well that CSRs must have the necessary product, service and technology knowledge, but just as important is their ability to handle calls so that they resolve the call and the customer feels they received great customer service. It comes as no surprise that CSRs are not always as effective with the soft skills aspect of call handling.

To help CSRs gain effective call handling practices, SQM has developed a Call Resolution Delivery Model (see below) that defines the customer experience standards a CSR should follow in order to be successful at resolving customer calls at the world class level of 95%. Specifically, these standards are based on listening to customer feedback and determining what makes the customer very satisfied and resolves their call on the first call. Based on the fact that these world class call resolution delivery standards were developed from surveying over five million customers who called a contact center, there is tremendous confidence that these standards are extremely helpful for supervisors when coaching CSRs on how to deliver world class call resolution performance.

The Call Resolution Delivery Model for CSR call handling is comprised of the four key moments of truth that matter the most to customers.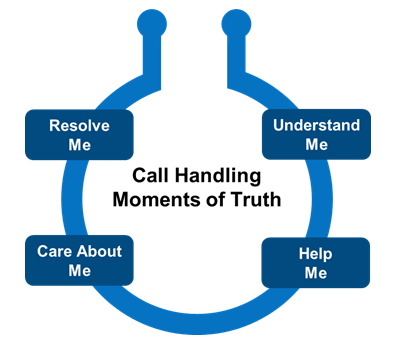 Concierge Service
The way contact center concierge service works is when a CSR assists a customer by contacting other departments or organizations in order to resolve the customer's call. Specifically, the concierge CSR tells the customer that they will call the necessary department or organization, either on their behalf or with them on the line, to get the reference code, information or authorization needed to resolve the call. In most cases, a concierge CSR calls other departments or organizations while the customer is on the phone and a three-way conversation takes place.
The Shift from Average Speed of Answer to FCR Focus
The contact center industry has traditionally used service level and average speed of answer (ASA) as the holy grail for defining customer service. While these metrics speak to speed, they do little to shed light on the customer's Csat, or more importantly, the number of calls a customer makes to resolve their inquiry. Although keeping track of these metrics remains important, it is not considered a best practice to focus on service level and ASA metrics as the key indicator of customer service. A best practice is to use FCR, not service level metrics, as the measure of contact center customer service performance.
Proper execution in shifting from a service level focus to an FCR focus can be challenging for contact centers that have an engrained culture of defining customer service success through service levels and ASA. In order for contact centers to be successful in the transition from a service level and ASA focus to an FCR focus there needs to be a paradigm shift in thinking that FCR is the key to Csat. SQM has conducted research on the impact ASA has on Csat, and the findings show that there is no impact to Csat for the first 120 seconds of a call. In other words, if a CSR answers the call within 120 seconds, there is neither a positive nor a negative impact on Csat. What customers really want is to have their call resolved and therefore they are tolerant with the speed of answer.
Intelligent Skill-Based Routing
Intelligent skill-based routing is a call assignment practice used in contact centers to assign incoming calls to the most suitable CSR rather than simply the next available CSR. The most suitable CSR is determined by utilizing information about who is calling and why they are calling in order to match up with an available CSR who has the necessary skill level to resolve the customer's call. Many contact centers use a generalist CSR call handling business practice resulting in having a large queue of generalist CSRs to handle calls, but they are not specifically matched to customer needs. SQM's research shows that in most cases the specialized CSR's skill set to handle specific call types has higher FCR performance than the generalist CSR who has a skill set to handle most or all call types.