World Class Certification for CSRs and Supervisors

The plain truth is that recognition practices are one of the lowest rated attributes by front line CSRs. Only 35% of CSRs are very satisfied with their center's recognition practices.
In today's multi-channel world where 41% of calls into the contact center are as a result of failed previous attempts, CSRs are required to be ever-ready problem solvers and advocates for the customer. It's even more vital that your CSRs stay motivated when you consider that from the CSR point of view almost every other call they receive is one where the customer is starting with a negative experience.
So the challenge is on for leaders to provide more meaningful and motivating recognition. Our experience is that providing voice of the customer feedback to the CSR and Supervisor that gives them actual "wow" feedback from a satisfied customer, is vital. And, equally, the non-sugar-coated feedback from dissatisfied customers is valued as a genuine and unbiased source for improvement insight.
The vast majority of SQM's clients manage their survey quota so that each and every CSR they have receives a set volume of surveys, each and every month. For example, SQM recommends a quota of 10 surveys per CSR per month so that 120 are collected in a year, which is a statistically sound sample. This seemingly simple approach to surveying is a game changer in having the Voice of the Customer as a core component for CSR and Supervisor scorecards, coaching and recognition. And the recognition component is leveraged into a World Class Certification program for CSRs and Supervisors.
Why aren't CSRs and Supervisors typically held accountable to the Voice of the Customer?
When it comes to metrics for the customer experience, it is often only the management team that has direct voice of the customer (VoC) scores included in their accountabilities. Why does this important accountability not get applied at the CSR and Supervisor levels within the organization? The most common reason we hear is that when surveys are collected on a randomized basis, it is impossible to collect an equal quota of surveys for each CSR. With uneven survey collection, many contact center leaders are reluctant to introduce accountability when one CSR might be receiving 2 surveys and another receiving 20. That concern is valid, but leads to a wasted opportunity! A whopping 92% of organizations invest in measuring the customer experience for live call center channel transactions, but a fraction of those organizations are able to leverage that survey work to provide an actual customer experience measure of performance at the CSR and Supervisor levels.
The dangers of using Quality Assurance (QA) as a proxy for VoC
We see many organizations try to use QA scores as a proxy for the VoC. However, SQM would strongly argue that QA cannot and should not be used as a proxy for the VoC. Simply, QA is the voice of the organization and measured by QA evaluators who are trying to judge what each customer may have experienced on their call. Using QA to judge customer experience is fundamentally flawed. For example, imagine you telling the waiter what you think your date thinks of their meal! That's likely to cause some tension in an otherwise romantic evening!
Performance opportunities at the CSR level
Our research shows that one of the most compelling justifications for creating CSR accountability lies in the difference between 1st and 4th quartile CSR performers. As shown in the graph below, there is a 15% performance gap on call resolution between 1st quartile and 4th quartile performance. This difference is even more pronounced if you look at the top 10% of CSRs performing at 97% call resolution versus the bottom 10% of CSRs performing at 77%. And, it is important to note that this data is based on CSRs handling the same mix of call types.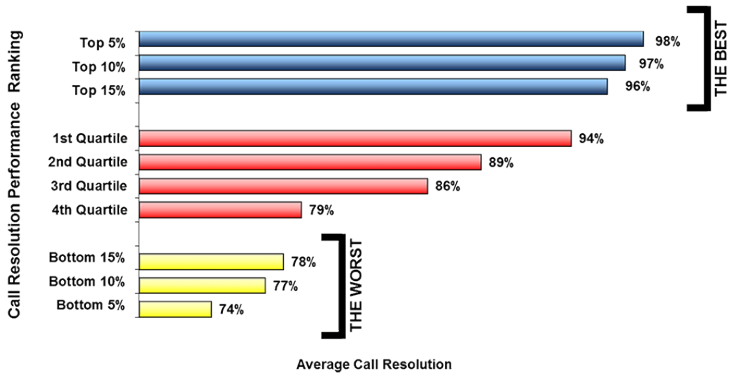 An enormous gap between top and bottom performers has prompted us in the past to say that it is worth encouraging your lowest 10% of performers to stay home! Of course, SQM really encourages organizations to identify these poor performers using customer survey data and then to work with them to proactively improve performance. We have seen the entire organizational culture shift to become customer-centric when these poor performers are identified and coached intensively. What is most effective for a cultural shift is when the CSRs who don't improve are managed out of the organization.
In our experience, those organizations that do crack the nut of CSR accountability are the ones that stand the best chance to improve the customer experience. This is done by driving performance accountability at the low performing end of the spectrum and also by recognizing and encouraging world class performance at the top performing end of the spectrum. We have worked with organizations that have improved FCR by 5% in as little as 60 days by introducing accountability at the CSR level. This accountability is based on every CSR receiving 5-10 surveys per month with performance judged by VoC.
Dramatic performance improvement based on VoC accountability
SQM is proud of the fact that there were 15 organizations honored this year with an FCR Improvement award as a result of improving their FCR by 5% or more year over year. This is an enormous achievement, bearing in mind that for the average call center of 300 seats a 1% improvement in FCR corresponds to a $286,000 annual operational savings.
Most of these organizations has employed the surveying methodology of collecting survey quota at a CSR level, which has enabled them to fully employ a VoC performance management system which includes:
A set of accountability metrics based on VoC – e.g. call resolution, customer satisfaction
Performance reporting where each CSR, Supervisor, and Manager can log on and see their own survey results and where they rank within the organization
An improvement plan where the 10% to 15% of CSRs who are performing poorly on the VoC metrics are identified and then put on a VoC performance improvement plan in order to assist in improving performance.
Performance appraisals which include VoC feedback and overall CSR performance as judged by their customers
Compensation pay based on VoC performance, including merit pay increases as well as bonus and recognition payouts.

The application of these VoC performance management principles were fundamental to our 15 FCR Improvement award winners to give them the dramatic and financially rewarding improvement in FCR.
CSR and supervisor VoC surveying is the basis for World Class Certification
Blue Cross and Blue Shield of South Carolina share the results of their surveying with their CSRs. Pamela Cragin received World Class Certification which is awarded to CSRs who have a minimum of 25 surveys completed on their calls and 85% of them meet the World Class criteria where the customer is overall very satisfied (top box response) with the CSR who handled their call and their call was resolved.
As a result of achieving World Class Certification, Pamela was then also nominated for the prestigious CSR of the Year Award. There were 25 CSR finalists across SQM's client base who were in the CSR of the Year award nomination category. Pamela was chosen on the basis of a powerful testimonial and we encourage you to watch her interview as it's absolutely compelling and will inspire you to make World Class Certification a goal for your CSRs.  
Supervisors can be certified too and given a more effective ability to coach
World Class Certification and the chance to be recognized in North America for supervisor performance is also based on having a CSR level quota of surveying. Supervisor of the Year Shantell Edwards at 407 ETR (a toll road running north of Toronto) is testament to this. 407 ETR are very focused on integrating customer survey results into their QA program so that QA is completed on the same call for which a survey was completed. This lends a huge amount of customer insight into the formal evaluation of a call as well as an ability to coach in a customer-centric manner. When you can hear and read the customer's survey feedback along with the QA assessment for the same call, supervisors really have every insight they need to coach effectively.
In conclusion, there are 6 compelling reasons to introduce a CSR level quota of surveys into your contact center:
Bottom line, surveying at a CSR quota level gives you the ability to hold your CSRs, Supervisors and your management team truly accountable for the customer experience. In the process your CSRs and Supervisors are eligible for World Class certification, which is an external validation of great performance and a high point of achievement.