Contact Center Agent Engagement
Since 1996, SQM has helped clients bridge the gap between customer experience (CX) strategies and human resource initiatives. For example, we measure employee satisfaction, engagement, retention, and HR practices for helping organizations deliver positive customer experiences.
Therefore, we thought it would be helpful to share our employee engagement research data based on benchmarking leading North American contact centers. Figure 1 shows the Employee Engagement Index among Agents working in a contact center.


Agent engagement remains low for the contact center industry and has been an Achilles heel for the 25 years SQM has measured it. Perhaps this is one of the main reasons why annual Agent turnover is over 28% for the contact center industry.
Higher Agent engagement is still a lost opportunity to improve CX for most contact centers. However, we have lots of clients that have world-class Agent engagement. Therefore, you should take comfort in the fact that world-class Agent engagement can be achieved.
Moreover, highly engaged agents have substantially higher performance for resolving customer contacts than indifferent and highly disengaged Agents. For example, Blue Cross and Blue Shield of Kansas City have world-class agent engagement and world-class FCR performance. Furthermore, the leaders of this contact center believe that employee engagement is the most important practice for delivering great customer service.
Agent engagement is based on three metrics: overall satisfaction with working in the contact center, willingness to continue working in the contact center, and willingness to recommend working in the contact center to others.
Highly engaged Agents care about resolving customer contacts and retaining customers, whereas indifferent Agents and highly disengaged Agents are not as committed to resolving customer contacts and retaining customers. Therefore, SQM believes that organizations should evaluate their contact center HR practices on Agent satisfaction, engagement, retention, and their impact on customer experience.
Clearly, contact centers creating more Agent engagement is one of the best opportunities for improving First Call Resolution (FCR), Employee Satisfaction (Esat), and Customer Satisfaction (Csat) performance. Furthermore, many contact centers do not know whether or not their Agents are engaged because they do not conduct employee engagement surveys.
Top-performing Esat and Csat contact centers use employee feedback at all levels as one of their primary tools to improve CX. Gathering feedback from Agents about what drives their overall satisfaction and dissatisfaction with working in the contact center is critical to decreasing turnover and cost per call resolution and improving FCR, Esat, and Csat performance.
Figure 1: Contact Center Agent Engagement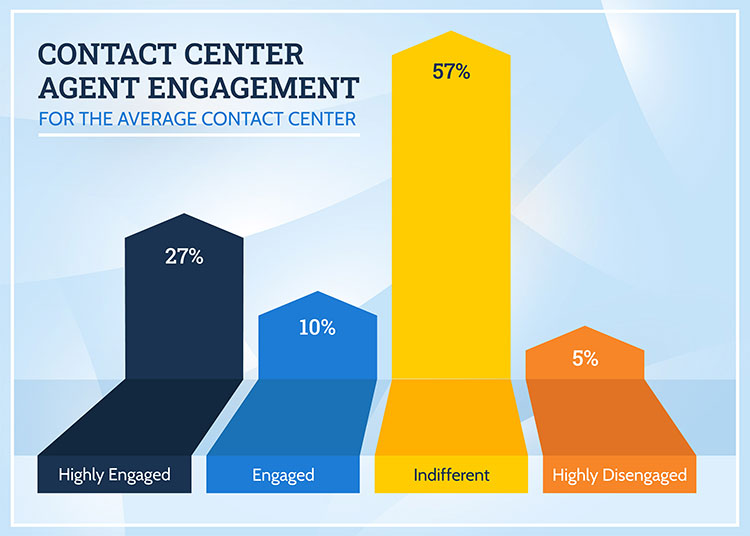 Figure 2 shows that Agents become more dissatisfied the longer they work in a contact center. Among Agents whose length of service working in a contact center is less than one year, 41% are very satisfied (top-box rating response). However, for Agents working at a contact center for more than four years, only 25% are very satisfied. Thus there is a 16% difference between "one year or less" and "four years or more."
One of the reasons for this is that many employees use the Agent position within the contact center as a starting point for moving to other positions within the contact center or the company. For these employees, the longer they stay in their position as an Agent, the more they feel that there are no other career opportunities. SQM's Esat research shows that the average Agent works in a contact center for approximately two and half years.
Figure 2: Overall Agent Satisfaction Working in a Contact Center by the Length of Service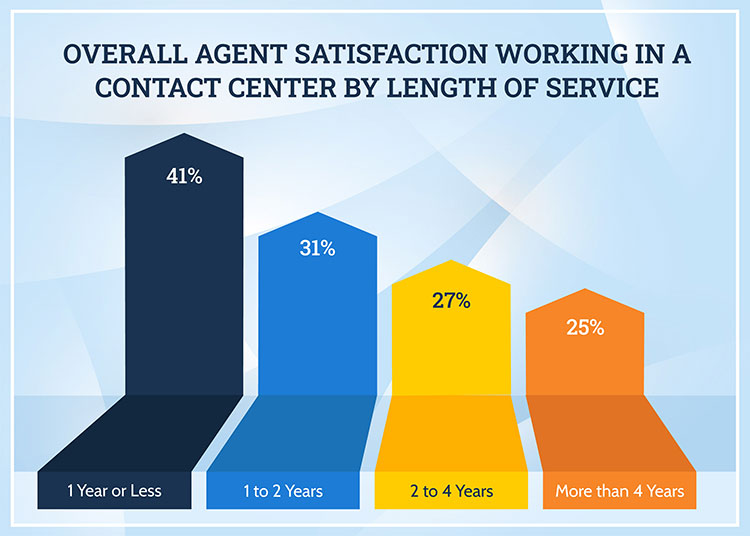 Reasons Why Agents Leave the Contact Center
There are several reasons why Agents have low job satisfaction and engagement or leave the contact center. First, it is essential to mention that, as most contact center practitioners know, low engagement leads to Agents leaving the organization to work somewhere else. The most frequent reason why Agents leave the call center is undesirable work schedules. The undesirable work schedules tend to be the case for Agents who work evenings, weekends, and part-time.
The second most frequent reason for leaving the contact center is poor or no career opportunities. In many cases, these tend to be Agents with post-secondary degrees. However, dissatisfaction with career opportunities is not limited to Agents with a degree. Many Agents, especially with degrees, feel that their skills are underutilized while working in the contact center.
Also, a high percentage of Agents who leave the contact center feel that their work is too repetitive and confined to their desks. Listed in Figure 3 are the main reasons why Agents leave the contact center.
Figure 3: Reasons why Agents leave the Contact Center