SQM Group Helped Scotia iTRADE Achieve:
5
Consecutive years of FCR and customer satisfaction improvement.
340%
Increase in world class agents over three years.
1:1
Increased coaching sessions to reinforce agent accountability.
FCR and Customer Satisfaction Results
The impact of a clear, objective, and transparent Performance Management System has been significant. By placing VoC feedback at the center of our meetings, coaching, and reporting, we have seen steady increases since we embarked on our World Class journey. We have used the VoC performance management system for five years, and as a result, our FCR and customer satisfaction have improved every year.
We also continue to see positive trending with the percentage of agents that fall into our top World Class tiers and decrease low performers. While our agent headcount has decreased and several of our World Class agents have moved on to other parts of the organization, there is still a strong upward trend in our World Class tiers versus the three years ago (percentage change of 340%).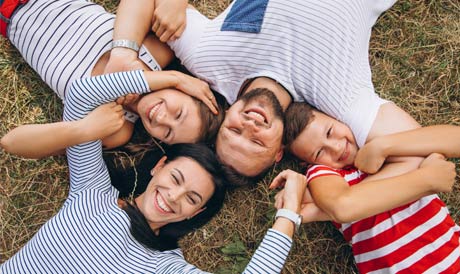 Company Description
Scotia iTRADE is a self-directed investing business and one of the groups of companies that make up Scotiabank, Canada's most international bank. Our goal is to bring our clients value and easy, state-of-the-art investing and online trading solutions with specialized support. We fulfill this mission through our product innovation, exceptional service, competitive commissions, easy-to-use website, and powerful trading platforms.

Opportunity Statement
Our clients have a wide range of investment knowledge and needs, from those who are new to self-directed investing and require assistance with education and technical support to highly sophisticated, active traders. Many active traders demand top-of-the-line customer experience from investment agents with advanced knowledge of financial markets and the skill and licenses to execute their trades as quickly as possible. For these clients, time is money.
Active, self-directed investors are among the most demanding client base in the financial services category. They manage their wealth and take great pride in their investment knowledge. They can also be uncompromising when it comes to client care. Anything short of an extraordinary customer experience is considered disappointing – and a possible reason to switch to one of the dozens of competitive brokerages.
The opportunity to become Canada's preeminent client care expert to all investors in this fiercely competitive industry is one that Scotia iTRADE has enthusiastically embraced at every level, from client care agents to top executives.
Recent years have been uniquely challenging for Scotiabank, our parent company, as shifting customer trends and new disruptive competitors in the digital banking space have necessitated a transformative cultural shift and an increased focus on cost containment. Scotia iTRADE has been impacted, operating with a reduced headcount in our Call Centre and Operations departments.
Despite these challenges, and because of our ongoing focus on a Voice of the Customer (VoC) Performance Management System, our SQM benchmarks have remained strong. VoC is used as our primary measure of success throughout the call center, from agents to senior leadership. We are committed to raising the bar with every client interaction, every time.
Before the implementation of our VoC-based Performance Management System, Scotia iTRADE had many challenges such as:
KPIs were driven by productivity and efficiency and did not include VoC measures.
Too many performance metrics at the agent and Team Manager level challenged their focus.
Measures that weren't productivity-driven tended to be subjective and didn't capture client feedback.
Performance issues and trends weren't being addressed in a timely manner.
As we have moved along the SQM journey, we have identified some additional challenges that have resulted in the ongoing evolution of our Performance Management System, such as:
The need to evolve our coaching models to address VoC results.
We are improving our reporting to elevate transparency and accountability.
We are evolving reward and recognition to align with customer feedback and KPIs.
We are elevating the performance and creating ongoing training for long-tenured agents.
Accountability Metrics
VoC feedback is our primary means of measuring performance at all levels throughout the call center. Csat, FCR, World Class Call (i.e., Csat & call resolved), and Scotia iTRADE's Client Loyalty Index comprise individual customer KPIs.
In addition, our Director of Trading and Client Service is measured on WCC, agent and call center Csat, as well as Firm-level FCR and World Class Calls. This ensures a commitment throughout the organization to boosting these results.
By prioritizing these measures and placing an agent and manager level focus on becoming World Class Certified by SQM, we have fostered a culture that promotes the following:
Agents need to work collaboratively with their colleagues across Scotia iTRADE to ensure that client needs are being addressed and deliver a World Class Experience.
Increased call ownership as agents are directly accountable for doing everything they can to resolve the client's needs the first time.
Coaching has evolved between agents and managers towards regular, observational coaching, with the customer experience being the central theme and primary objective.
Agents and team managers are actively engaged in ongoing training and development around our client care models(iCARE and Customer Experience Model) as they see a direct benefit as to how it will impact their results.
Performance Reporting
Over the past year, Scotia iTRADE has further refined our VoC reporting by providing greater access and more frequent discussions around results and action plans. Reporting these KPIs has also been woven into team meetings and one-on-one coaching sessions to continually reinforce this focus. VoC results are shared with all employees to ensure commitment and transparency. These reports also form the backbone of coaching discussions with agents and managers.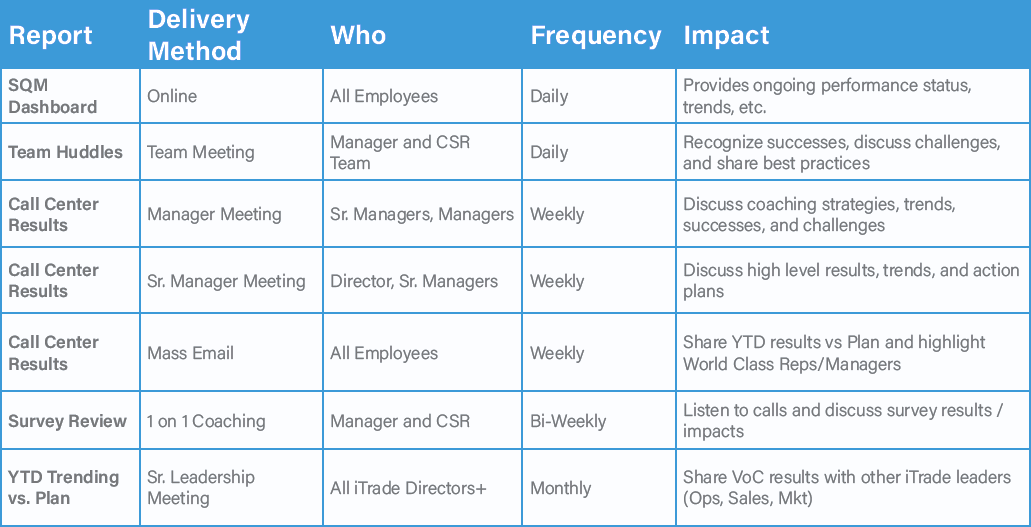 Improvement Plan
To align with our primary objective of assessing performance based on VoC feedback, Scotia iTRADE has the following steps for agent improvement:

Agents are bucketed into categories based upon their percentage of World Class Calls. The current breakdown of these tiers is as follows:
# Certified World Class Champions (85% to 100%) and >25 surveys
World-Class Champions (85% to 100%) Not Certified > 25 surveys
High Performers (76% to 84%)
Average Performers (66% to 75%)
Low Performers (65% and under)
Those who fall under the "Average" or "Low Performers" categories are given the additional focus on VoC measures during one-on-one and observational coaching. Managers will use their 3-month WCC rolling average to assess trends, identify progress, and set clearly defined achievable targets and timeframes. All non-World Class surveys and Action Alert calls where there is a risk of client attrition are reviewed by managers and listened to with the agents to coach for future success regarding Csat and FCR.
If an agent continued to show an inability to move up to an acceptable tier, they would be placed in our "Performance Improvement Program" (PIP). This is a formal process whereupon agents receive a written Notice to Improve that would identify specific gaps in their VoC results and require them to complete an action plan on how and in what timeframe they will improve their results. If performance does not improve in the agreed-upon timeframe, consequences may include suspension, demotion, or termination.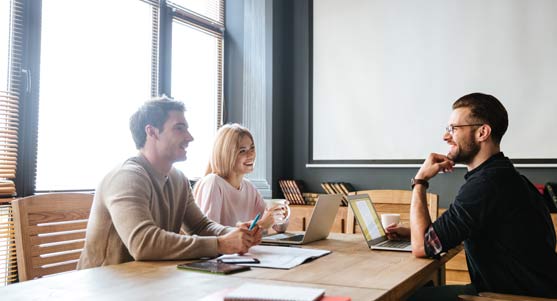 Performance Appraisal
Performance metrics (as previously outlined) are provided to all employees (agents, managers, senior managers) at the beginning of each fiscal year to be reviewed, discussed, and signed off on. These measures are continuously reinforced throughout the year in team meetings and, most importantly, individual coaching sessions. Managers have three bi-weekly coaching sessions with each agent (side-by-side observational, individual touch base, and SQM call reviews). At each of these touchpoints, performance measures are discussed and reviewed. Agents are also provided with regular updates on how they are trending towards SQM World-Class Certification and the number of WCC surveys they will require to achieve this status.
Bonus Compensation
Year-end bonus compensation is tied directly to performance appraisals. Scotiabank sets parameters for base salary increases and bonuses based on a weighted scorecard of bank-wide performance, business-level performance, and individual employee rating. As FCR, WCC, and Csat form a significant portion of an agent's and team manager's performance rating, they directly impact agent compensation. We have also introduced several Rewards and Recognition programs, such as our annual Best of the Best and Quarterly iCare winners, where additional rewards (gift cards, merchandise, etc.) can be won based on outstanding contributions from employees.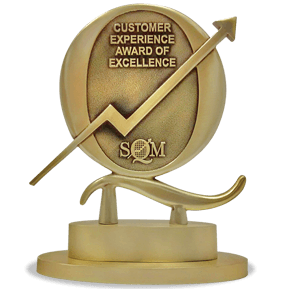 SQM Awards Received
Best Practice - VoC Performance Management System: 2020