Call Center Knowledge Management Platform
One of the primary purposes of the call center's Knowledge Management Tool (KMT) is to assist agents in resolving customer calls. Knowledge Management makes it easier for call center agents to find and use relevant content to help resolve customer interactions on the first call or contact.
​In today's world, most agents work from home (WFH) and can no longer walk over to another agent to discuss a customer's issue. Therefore, due to the high WFH model usage, KMT has become even more essential technology for helping call centers achieve higher First Call Resolution and better customer service.
​The definition of Knowledge Management: KMT is a centralized online portal depository of content management that organizations use to capture, access, update, and share content (e.g., text, videos, documents) with employees and customers to answer their inquiries or problems. Therefore, knowledge management is central to higher FCR and better customer service.
​Knowledge management platforms can be powerful customer service tools. For example, KMT provides the content to answer customer inquiries and problems using self-service touchpoints without talking with an agent but also helps agents during a call or email customer interaction to resolve a question or concern.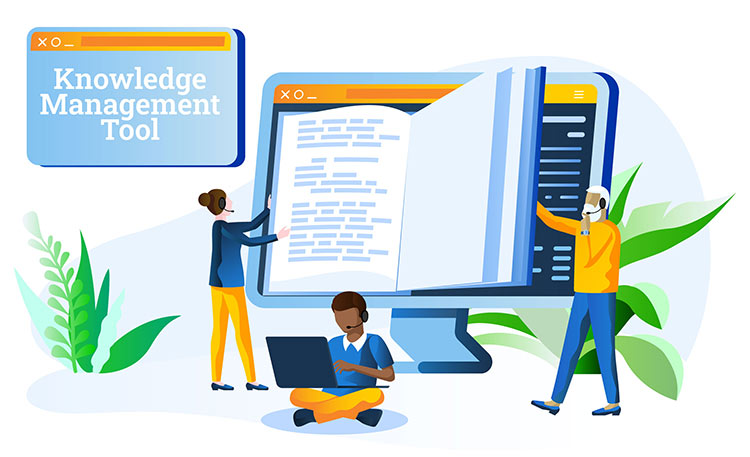 SQM conducts customer service benchmark studies with over 500 leading North American call centers annually. Most call centers say they have a centralized KMT system in place, and a whopping 94% say they update it regularly. However, why do only 19% of agents rate their satisfaction with their KMT as very satisfied? Moreover, why do only 29% of agents say that they turn to the online KMT when they need help to resolve a customer's issue? Furthermore, it is clear from employee feedback that the cause of low satisfaction with their KMT is in the platform's usability for helping them resolve calls rather than its absence.
It is common for agents to average over 10% of their time using multiple sources (e.g., online and offline information) searching for the right content to help resolve customer interactions. However, a robust knowledge management platform can help organizations transform customer experience using self-service touchpoints, agents for helping resolve customer interactions and the business by:
Improving First Call Resolution and customer satisfaction
Reducing average handle time
Increasing self-service containment
Reducing agent source of errors for repeat calls
Knowledge Management Platform Helps Improve Top KPIs
Below are four examples of how a knowledge management platform helps call centers to improve KPIs such as First Call Resolution, Customer Satisfaction, Agent Errors, and Average Handle Time.

1. First Call Resolution
An effective knowledge management platform will help an agent easily find the relevant content to resolve the customer interaction of the first call. SQM Group's research shows for every 1% improvement in FCR, there is a 1% improvement in customer satisfaction. Furthermore, "for every 1% improvement in FCR, you reduce your operating costs by 1%". For most call centers improving First Call Resolution is their top priority because 93% of customers expect to be able to resolve their interaction on the first call or contact. Moreover, 30% of calls are not resolved on the first call for the average call center.
2. Customer Satisfaction
A good knowledge base platform will assist agents in providing quick and accurate information to answer customer inquiries and problems. Furthermore, when KMT is kept updated, it helps agents deliver excellent customer service. In addition, KMT provides a personalized customer service experience by using AI to determine their requirements. It only takes one poor customer service experience for a customer to defect. However, our research shows that "95% of customers expressed intent to continue doing business with an organization when they are very satisfied with their call center's customer service experience". Therefore, using a robust KMT can significantly enhance the customer experience.

3. Agent Errors
In many cases, the agent error is because relevant content can't be found, is not accurate, and isn't easy to interpret. As a result, "when a customer interaction was not resolved on the first call, 40% of the time, the agent was the source of error". Agent errors can be reduced by utilizing a well-designed KMT to enhance agent and customer experience for resolving their interactions. Unfortunately, again, less than a third of agents use their KMT to assist them in resolving customer interactions. This represents an excellent opportunity to enhance KMT by making it more accurate and actionable.
Knowledge Management Best Practices
Most call centers struggle to make their Knowledge Management platform effective for helping agents resolve interactions. It is easy to understand why. The biggest challenges for agents using KMT are:
Finding the correct answers quickly
Keeping information current
Inconsistent or different answers
Needing to use multiple sources
Best practices for a KMT that truly supports achieving a world-class FCR environment include the following:
It is helpful to think of the KMT as a living, breathing entity that needs constant feeding rather than another project that must be implemented and forgotten.

It has been SQM's experience that for the KMT to be successful at helping agents resolve customer calls on the first call,

the KMT information needs to be accurate, understandable, useful, and easy to access.



A good rule of thumb for developing content is the 80/20 rule, where 20% of content will answer 80% of the questions.

Therefore, the information in the KMT should focus on the 20% of content needed to answer 80% of the customer questions.



Call centers performing at the world-class level for FCR and customer service recognize the importance of an effective KMT.

As a result, high-performing call centers have tied content to KPIs to determine whether the content has had a positive/negative impact on KPIs.



Integration of the IVR system into the KMT, so that appropriate screens are presented according to the authentication information given by the customer and the IVR options they have selected.

Ensuring every agent uses the KMT for every non-routine or complex call.

The KMT is designed so that users can easily flag the system to indicate where information is missing or limited in its helpfulness.

World-class agents are designated as 'authors' of the system and can input information and process knowledge at any point. Their input is reviewed by the KMT' owner team' within a concise space of time (suggested 1-day turnaround only) so that the KMT responds quickly to input.

Build a library of call recordings so that successful calls can be distinguished and used as a template to handle specific call types.

Build a library of keywords for specific call types and use text analytics based on the

agent's notes and account data to automatically populate content links to an agent's desktop without having them search for the relevant content.



Make sure agents can easily access relevant content using only a single screen on the agent's desktop.

KMT has a powerful search engine that uses customer terminology to quickly find the necessary information to resolve customer calls.

Use reporting tools to identify how knowledge management content impacts KPIs and then use root cause analysis to determine why specific content negatively impacts KPIs.


Conduct agent and customer surveys to determine their satisfaction

with knowledge management for helping them resolve customer interactions.