CX Listening Posts for Journey Mapping

Outstanding customer experience (CX) is now the competing differentiator for organizations as it has become very difficult to differentiate offerings based on products and pricing alone. Customers expect consistent service no matter what interaction or touchpoint they are experiencing. SQM's research shows that only 5% of organizations provide world class CX and a whopping 42% of customers do not experience One Contact Resolution (OCR) when using a contact channel touchpoint to resolve an inquiry or problem. For those non-OCR customers, this results in a huge decrease in customer satisfaction (Csat).
Providing world class CX and creating a consistent experience for customers across all the major interactions and touchpoints is a challenge for many organizations. Improving CX is a top priority for most leading North American organizations. In fact, 46% of SQM clients have used some form of CX journey mapping to understand and improve CX. However, only a small percentage of organizations felt that CX improved as a result of their CX journey mapping efforts. Based on the fact that customers use multiple contact channels, either independently or simultaneously, it is essential that organizations do a better job at understanding their customers' entire experiences when interacting with the organization's touchpoints. To provide outstanding experiences for customers, more progressive and customer-centric organizations are now taking an integrated approach for understanding CX. These organizations use overlapping CX listening posts to capture voice of the customer (VoC) data to truly understand the entire CX. In addition, they are using this data to dive deeper with CX journey mapping rather than just using big data analytics to understand what their customers are experiencing when conducting business. Put simply, they have a comprehensive understanding of the customer's end-to-end experience that is based on conducting VoC survey research and in-depth interviews.
Figure 1 shows the three overlapping listening posts that are most useful for capturing VoC for a comprehensive understanding of CX to create an in-depth CX journey map:
Touchpoint Transaction Surveys
Interaction Perception Surveys, and
CX Journey Mapping Interviews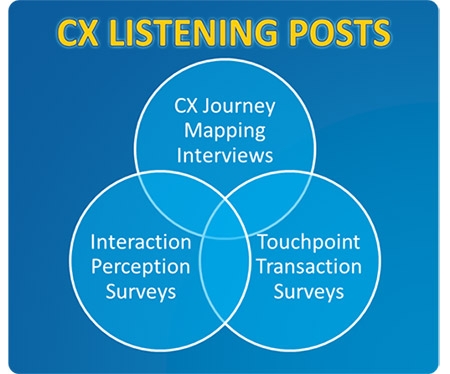 Figure 1: CX Listening Posts
The CX listening posts are comprised of interviews, measuring customer perception, and transactional surveys. Transaction-based surveys are conducted to understand touchpoint-specific CX. Perception-based surveys are conducted to understand interaction lifecycle stage-specific CX. The CX journey mapping interview is an in-depth interview with customers who do business with your organization and focuses on the interactions and touchpoints your customers have experienced. These interviews can occur individually or in a small focus group setting.
One of the biggest challenges of CX journey mapping is finding customers to do an in-depth interview with who can provide quality experience feedback for all lifecycle stages and touchpoints. To supplement and enrich the CX journey mapping in-depth interviews, it is helpful to conduct interaction and touchpoint VoC survey research. In fact, it is considered an industry best practice to conduct interaction perception surveys and touchpoint transaction surveys before conducting CX journey mapping in-depth interviews to ensure the interviews dive deeper into the pain points or lifecycle stages that are most important to the customer.
By conducting VoC transaction and perception survey research prior to conducting CX journey mapping in-depth interviews, interviewers have more CX background knowledge for conducting an effective in-depth interview. The use of perception and transaction survey listening posts (e.g., large sample size) and the in-depth interview listening post (e.g., detailed feedback) provides comprehensive and integrated insights for understanding CX.
The sample size for touchpoint transaction surveys should be at least 400 customer surveys per contact channel. The channels to survey should serve a minimum of 85% of your customer transactions with the organization (i.e., Web self-service, contact center, and self-service IVR). Transaction surveys should be conducted within one business day of using a touchpoint. The shortfall with interaction perception and touchpoint transaction surveys is that they are not as in-depth for providing detailed CX feedback compared to journey mapping in-depth interviews. However, perception and transaction surveys provide a statistically accurate CX measurement.
The interaction perception survey should have a sample size of at least 800 customers, and the focus of the survey should be on the interaction lifecycle stages (e.g., brand awareness, purchasing, onboarding, servicing, and renewing). Having a large customer survey sample size assists in accurately understanding customer needs and CX ratings for the interaction lifecycle stages of each persona.
For CX journey mapping in-depth interviews, we recommend a minimum sample size of 10 customers, per persona (e.g., school teacher, retired person, student). It is common practice for an organization to conduct over 50 in-depth interviews on an annual basis. An effective interviewer should be able to conduct three to five in-depth interviews on a daily basis. For CX journey mapping in-depth interviewing, it is also important that an interviewer knows how to conduct effective interviews and focus groups for CX journey mapping. The interviewer needs to be able to ask the right types of questions, be a great listener, and accurately capture CX feedback. For each interaction, it is critical for the interviewer to ask the customer to describe their needs and provide CX ratings. Understanding the customer's needs and their CX ratings are both critical components to the journey mapping process. In this step, the interviewer is finding out about CX by asking high-level questions that focus on interactions, and not on CX using touchpoints.
The interviewer should ask the following high-level questions:
Did your interaction (e.g., brand awareness, purchasing, onboarding, servicing, renewing) experience meet your expectations? Why?
Do you have any CX improvement suggestions?
Note: The above two questions should be asked for each interaction stage
Thinking about your entire experience as a customer of XYZ Company, how would you rate your overall customer experience?
How satisfied are you with your entire experience interacting with the organization?
On a scale of 0 to 10, where 0 means not at all likely and 10 means extremely likely, how likely are you to continue to do business with XYZ Company?
On a scale of 0 to 10, where 0 means not at all likely and 10 means extremely likely, how likely are you to recommend XYZ Company to a friend or colleague?
Note: The above three questions should be asked based on entire CX
Organizations should determine CX improvement opportunities based on VoC survey research and compare with improvement suggestions from the CX journey mapping in-depth interview to make the case for change. Once the CX journey mapping efforts are completed, share them with key stakeholders. By using the three overlapping listening posts for capturing the voice of the customer, an organization not only gains a comprehensive understanding of CX but will also have a body of evidence about the best opportunities to improve CX.
If you would like to learn how to incorporate VoC through the three CX Listening posts to create a useful CX journey map for your organization, please contact us today!