Customer Experience Strategy – Pulse Check
Most organizations are interested in developing a customer experience strategy because they are grappling with improving enterprise-wide Customer Satisfaction (Csat). In fact, SQM research shows that the majority (75%) of organizations' enterprise-wide Csat (top box rating response) is at the poor to average performance level. Furthermore, only 4% of organizations perform at the world class enterprise-wide Csat level of 80% (top box rating response).
Organizations' Enterprise-Wide Csat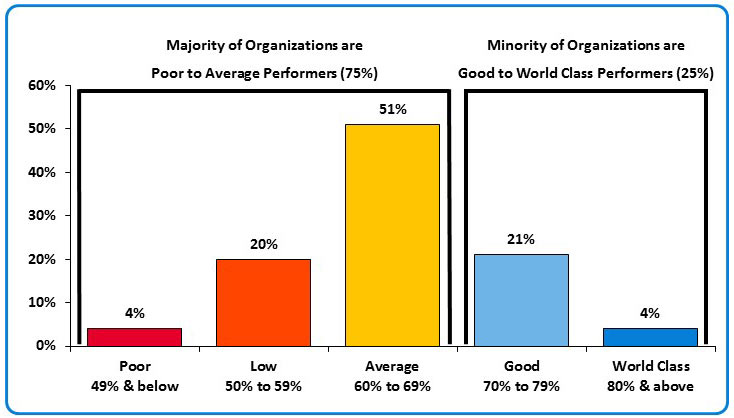 SQM's experience has shown that many organizations struggle with strategy design and execution of customer experience (CX). However, most organizations state that they have a formal or informal enterprise-wide CX strategy. In fact, SQM's research shows that 54% of organizations say that they have an enterprise-wide CX strategy, and 33% state that their CX strategy is in progress.
However, most CX strategy design and execution efforts fail or do not meet the organization's expectations. Clearly, CX strategies with poor design and execution lead to higher costs and lower Csat and retention. To improve, organizations need a CX strategy that accurately evaluates CX, has an effective CX design, and most importantly, has a CX strategy that is properly executed.
There have been many stimulating discussions about future CX practices at the C-level and contact center senior executive level. These discussions focus on the importance of letting the customer choose the contact channel they prefer. Moreover, adding new contact channels, improving specific contact channel FCR performance, differentiating customer experience from competition, providing consistency among contact channels, and providing an omni-channel customer experience.
Discussions about future decisions for CX practices are being driven by today's connected customer and their expectations on how they want their interactions with an organization to be handled. For example, customers' adoption of digital contact channels and their expectations to have a seamless customer experience for resolving the same inquiry or problem when using multiple contact channels have forced senior executives to improve customer experiences.
Research by SQM has shown that organizations effective at CX design and execution have great Net Promoter Score®, Csat, and retention performance. Furthermore, because of undifferentiated customer experiences, many organizations feel more pressure to improve their experiences and provide truly differentiated customer experiences.
Clearly, providing a superior customer experience is a best practice to achieve sustainable growth and profits. In particular, the practice of delivering exceptional customer experiences is needed for industries such as telecommunication, financial, insurance, utilities, and transportation, where differentiated customer experiences are more of an exception than the rule.
The below figure shows SQM's CX Strategy Effectiveness Model. This model is based on three essential steps (i.e., evaluating, designing, and executing) to develop an enterprise-wide CX strategy. In addition, this model was developed based on SQM's extensive experience in helping organizations utilize best practices for improving customer experiences when using a contact channel.
For the three steps, there are corresponding sub-steps.
The first step is evaluating customer experience, which entails utilizing customer survey feedback, focus group feedback, journey mapping, and internal data information to assess customer experiences, and determine what customers expect when using a contact channel.
The second step is designing the CX strategy, which entails defining the CX you want to deliver, operationalizing, prioritizing resources, and operating principles to deliver the CX strategy.
The third step is executing the CX strategy, which entails communicating customer experience, measuring success, creating accountability, and rolling out new CX initiatives.
CX Strategy Effectiveness Model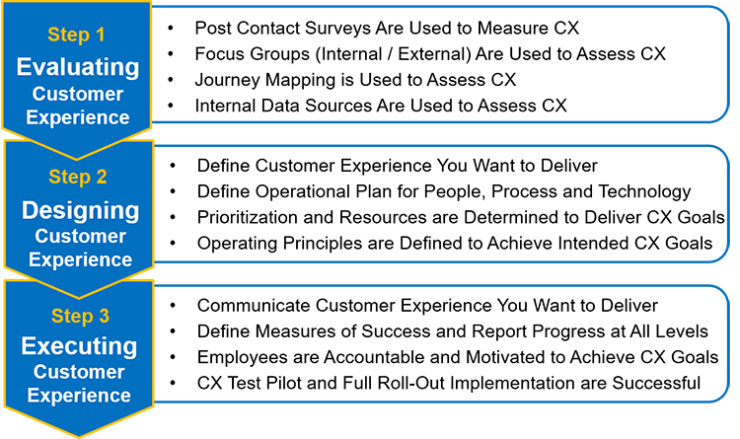 Based on SQM's CX Strategy Effectiveness Model, we have developed essential survey questions to help organizations determine the effectiveness of evaluating, designing, and executing a CX strategy. Again, it has been SQM's experience that many organizations struggle with design, content, practical approaches and a sense of where they are in the CX strategy journey.
Given these struggles that organizations experience, SQM highly recommends that organizations evaluate their CX strategy efforts by using the below CX Strategy Pulse Check online survey as a guideline to determine their CX strategy effectiveness.