Proactively Contacting Dissatisfied Customers
Proactively contacting dissatisfied customers to provide great service recovery is a best practice that should be done for any touchpoint a customer uses to resolve their interaction. However, identifying a dissatisfied customer can be challenging. In most cases, a dissatisfied customer can be someone who has complained or expressed dissatisfaction to the agent or through a post-contact survey process.
SQM Group's research shows a 15% drop in customer satisfaction (top box survey response) for each additional contact required to resolve the customer's interaction on average. However, what is alarming about that is when a customer's interaction was unresolved, 25% of those customers said they would not continue using the organization's products and services. Therefore, there is a strong business case to contact dissatisfied customers proactively for service recovery.
76% of organizations proactively contact dissatisfied customers who used the call center to handle their inquiries or problem. However, in most cases, agents do not proactively contact dissatisfied customers who use the call center because they don't have outbound call technology or process, specialized teams, and supervisors to handle the dissatisfied customers.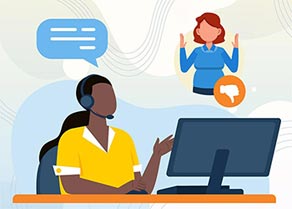 Only 37% of organizations proactively contact dissatisfied customers who used a self-service contact channel to handle their inquiries or problem. This is because organizations do not contact dissatisfied customers using agents for self-service contact channels in most cases. Furthermore, unhappy customers can be challenging to identify with self-service touchpoints without speech recognition technology or sentiment analysis. Interestingly, 79% of organizations proactively contact customers who make negative comments on social media. Clearly, organizations are worried about a poor customer experience going viral.
PROACTIVELY CONTACTING DISSATISFIED CUSTOMERS


The figure below shows proactive outbound communication practices. Proactive communication is an outbound contact to customers via IVR, SMS, phone, email, or social media contact channels. Proactive outbound communication can use an automated or agent communication practice.
The number one reason a customer calls back to an organization to resolve their issue is to verify or to check the status of their inquiry or problem. Using a proactive, automated, or agent communication practice can significantly reduce customers calling back to verify or check their inquiry or problem status. The real benefit of outbound communication is enhanced customer satisfaction due to the organization being proactive rather than reactive in resolving a customer's inquiry or problem. Other examples of proactive communications are confirming an order, scheduling a time for service work, or giving a status update on a claim payment.
Our research data reveals that 68% of organizations have a dedicated team of agents who review customer comments on social media sites. These same agents are responsible for responding back to customers when appropriate and when they can. Additionally, 53% of organizations allow agents to initiate an outbound contact via any channel.
PROACTIVE OUTBOUND COMMUNICATION PRACTICES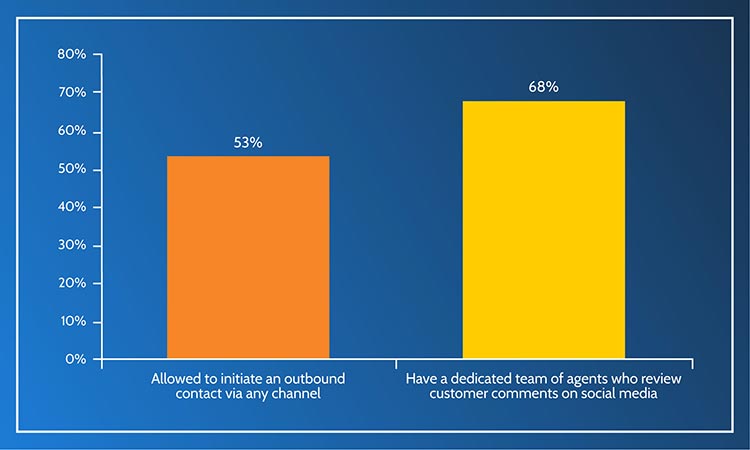 Complaint Call Handling
The majority of call centers do not know the percentage of customers who consider their call to the contact center a complaint. Most call centers do not have standard business practices for identifying and handling customer complaints. SQM research shows that 13% of customers calling a contact center describe their call as a complaint. The complaint caller's Csat (top box rating response) is 41%, while the non-compliant caller's (top box rating response) is 76%. The contact center industry needs to be able to identify dissatisfied customers and be proactive in handling customer complaints.
​Effective complaint handling for the call center industry has been a long-term Achilles' heel. Therefore, it represents an excellent opportunity to implement effective complaint handling best practices to protect the organization's greatest asset – its customers.
Handling Angry and Dissatisfied Customers
Many angry or dissatisfied customers have meagre expectations that their interaction will get resolved to their satisfaction. However, dealing with a dissatisfied customer represents an excellent opportunity to meet or exceed their expectations to resolve the issue or problem. Put differently, a customer complaint is a gift because you get the chance to deliver service recovery and learn from mistakes. The following is an effective complaint handling three-step process an agent or escalation agent can use when handling angry or dissatisfied customers.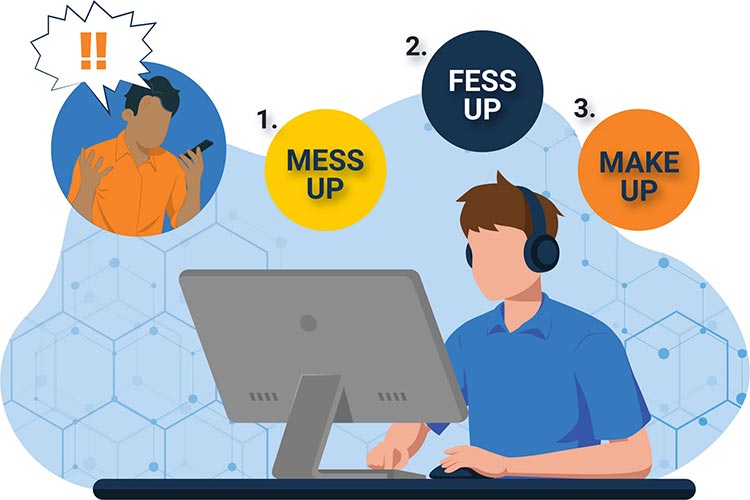 Three-Step Process for Handling Angry or Dissatisfied Customers
Mess Up – allow the customer to tell their side of the story and vent their frustration without being interrupted. The agent acknowledges that they have heard the customer using words such as uh-huh, hmm, I see, and tell me more. Listening to the customer and letting them vent allows them to calm down.
​Fess Up – ask questions to ensure understanding of the issue or problem. Agent restates the issue or problem to confirm that they fully understand. Agent apologizes for the organization's mistake or expresses empathy for the customer's situation. If an agreement between the customer and agent cannot be reached on the issue or problem, try to seek a partial agreement on the issue or problem to defuse the customer's anger.
​Make Up – resolve the customer's issue or problem to their satisfaction. Many customers have low expectations that their problems will get resolved to their satisfaction. By providing a solution or solution options to resolve their issue or problem, you have an opportunity to meet or exceed the customer's expectations. The agent should confirm with the customer that there is agreement that the solution or solution options will resolve the customer's issue or problem (e.g., Have I resolved your issue or problem?).