What is Caller Put on Hold?
Put on hold happens when a customer is connected to an agent, and while discussing the inquiry or problem, the agent puts them on hold instead of disconnecting the call. The caller remains on hold until the hold status is taken back by the agent.
Putting callers on hold and the hold time is necessary to monitor because putting callers on hold frequently or for a long time creates poor customer service and higher costs per call. Agents put callers on hold for various reasons, such as finding a supervisor or helpdesk rep to assist them. Moreover, the agent needs to view other desktop applications to find or process customer data. Also, an agent puts the caller on hold to help diffuse the situation when they or the caller is angry.
In many cases, putting a caller on hold or some hold time is understandable. However, suppose agents consistently have high caller put on hold and hold times. In that case, it should be viewed as a leading indicator for lower First Call Resolution (FCR) and Customer Satisfaction (Csat) that the root causes need to be identified and fixed.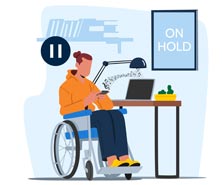 Callers Put on Hold CX Impact
SQM's research* shows that 46% of customer service calls are put on hold for the call center industry when talking to an agent. Most agents ask callers if they can be put on hold, and when an agent puts a customer on hold, the average on-hold length is 55 seconds.
Furthermore, our research shows that 88% of callers feel that the call was disconnected if they were on hold for more than two minutes. When callers feel their call was disconnected, most of them will call back. However, for callers who believed that the call was disconnected, 85% of them are dissatisfied with their overall call center experience trying to resolve an inquiry or problem.
Of all the repeat call reasons that SQM monitors, a customer calling back a call center because they feel that they were disconnected from the call while they were on hold creates the highest level of caller dissatisfaction. Put simply, a disconnected caller is the number one ticked-off factor for customer dissatisfaction.
In many cases, when callers are put on hold, there is music in the background or advertising; both business practices can create customer dissatisfaction. In some cases, when the caller is put on hold, there is an automated message on how much longer they will be on hold, or the agent provides them updates on how much longer they will be on hold. The more you keep a caller informed about how long before an agent can take the caller off hold, the better.
What is Caller Put on Hold Impact on FCR and Csat?
The below infographic shows a significant difference in Csat and FCR for callers put on hold compared to callers not put on hold. When callers are put on hold, Csat (top box response) is 13% lower, and FCR is 16% lower than when customers are not put on hold.
Again, callers being put on hold and long hold times should be viewed as a leading indicator for opportunities to improve customer experience and to reduce operating costs. It has been SQM's experience that agent training and coaching is the primary solution to fixing the placing callers on hold and long hold time issues and the negative impact on FCR and Csat.
Callers prefer a live hold practice, meaning that the caller can talk to the agent at any time versus being put on mute and not speaking to the agent. Another important finding from SQM's research about live hold is that the average handle time is shorter with a live hold versus a mute hold. The main reason is that the agent has more urgency to resolve the call when the live hold business practice is being used.
Best Practice Put on Hold Standards - Calls placed on hold are 25% or less, and the agent uses the live hold practice. Achieving this caller put on hold standards will significantly improve your FCR, Csat and reduce cost per call.
PUT ON HOLD IMPACT ON FCR AND CSAT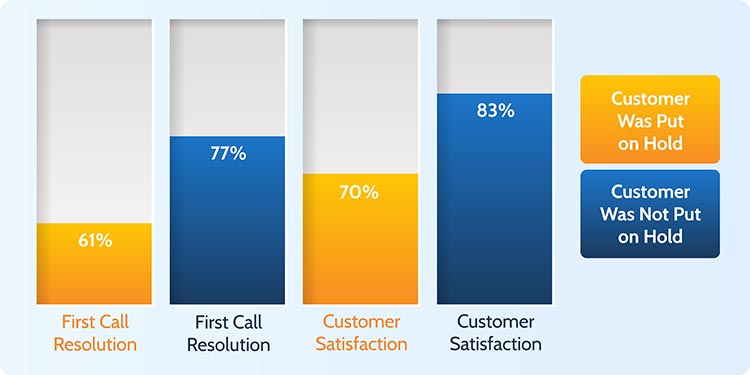 * SQM's research is for 2021 and is based on conducting over 1 million post-call surveys with customers who used a leading North American call center (500+) to resolve an inquiry or problem.