How Can AI Affect Call Centers?
We know what AI is, but what we all want to know is how it will affect our lives in the future. AI will affect people the most who have repetitive jobs, and the problems that agents deal with in a call center tend to be redundant, such as checking on the status of a claim or helping a customer with a payment issue.
Consider this scenario: a customer wants to change their flight ticket to a different time. The agent they speak to might attempt to upsell special additions, which could irritate the customer if the special additions are not the right fit—however, the perks of AI lie in its capacity to excel in such situations. By leveraging a customer's historical data, AI can make more accurate recommendations for additional services, enhancing the overall experience.
AI enables computers to recognize many human languages and process the words, and it then determines how to respond in the most Natural Language Understanding (NLU) possible. Conversational AI happens when a customer interacts with a company's touchpoints, such as online via social media or live chat and over the phone.
AI is also used for sentiment analysis to determine Csat, customer retention, and agent self-coaching. For example, sentiment analytics flags negative customer interactions so that call center supervisors can jump in on the call to help an agent resolve an inquiry or problem to ensure a positive CX. Moreover, sentiment analytics can be used to coach agents to improve their CX delivery.
Agent self-coaching has been one of the biggest call center advancements that have taken place due to AI. With mySQM™ Customer Service QA software, coaching opportunities are identified and displayed on the dashboard so that agents can self-coach to improve QA scores and CX. This has made improving FCR and increasing CX performance much easier.
AI is not a wholesale replacement of human labor. Instead, it is a great tool that can be used to supplement human labor. For example, companies are implementing AI-powered applications that offer real-time guidance to agents during calls. For customer service, this means that AI is reshaping the nature of jobs rather than entirely displacing human involvement.
Will AI Replace Call Center Agents?
To answer the question that all call center agents have been wondering: Will AI replace call center agents? The answer is no. Although there are many aspects of the job that contact center AI can take over, such as improving operational efficiency, optimizing customer service, and gathering customer data, it cannot replace the human touch that is so crucial to good customer service.
SQM Group's research shows that 73% of call center professionals somewhat or completely agree that Artificial Intelligence will improve call center interactions for customer satisfaction.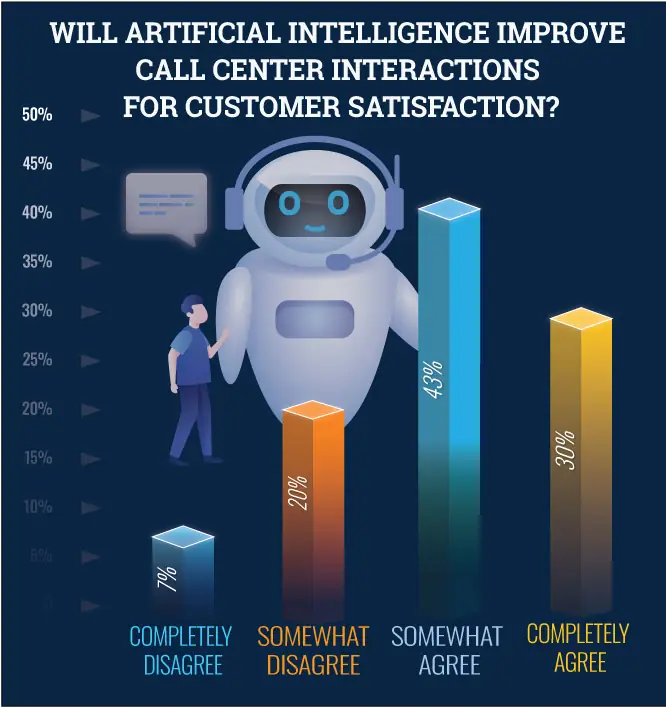 Call center Artificial Intelligence enhances agent productivity by equipping agents with tools for faster and more effective decision-making. It also frees up valuable time by minimizing repetitive tasks. This dynamic contributes to your company's ability to deliver an outstanding customer experience and ensures the seamless operation of contact center services.
How Long Will It Take AI Technology to Handle 50% Or Greater of Calls Currently Handled by Live Agents?
SQM Group's research shows that most call center industry professionals believe it will take under five years for call center AI software to handle the majority of calls that human agents currently handle. We are on the brink of major changes in the call center industry. The emergence of call center artificial intelligence (AI) will drastically transform all aspects of operations and customer interactions through automated and personalized service.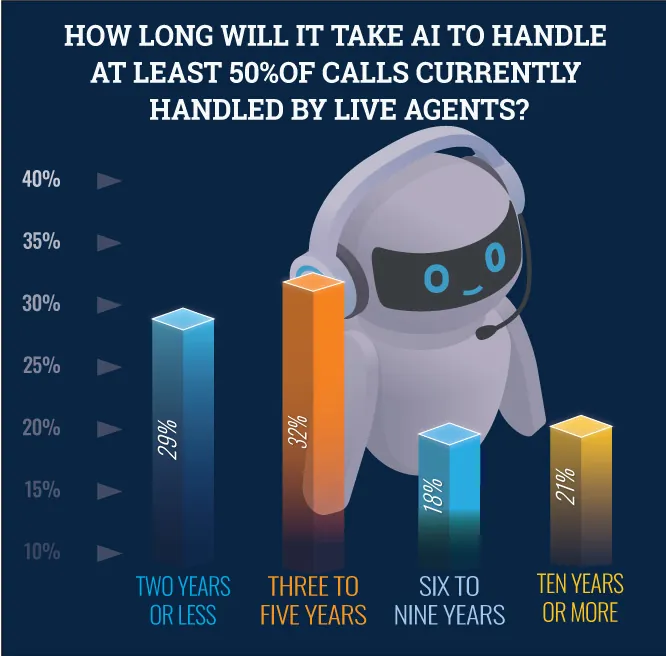 Call center technology has become very complex in recent years. It is not uncommon for a call center to have sophisticated software applications such as intelligent routing, artificial intelligence, customer relationship management, customer service QA, omnichannel technology, and beyond. According to SQM research, 94% of industry professionals believe their company must implement new call center technology solutions to significantly improve customer service.