What Is An Acceptable Average Wait Time (AWT) for Customer Service?
The call center industry standard for service level is 80/20, which means that 80% of the calls are answered by agents within 20 seconds. However, our research shows that only 16% of call centers are able to achieve the 80/20 industry standard consistently. Using call abandon and Csat data can be insightful for determining an acceptable AWT standard for customer service.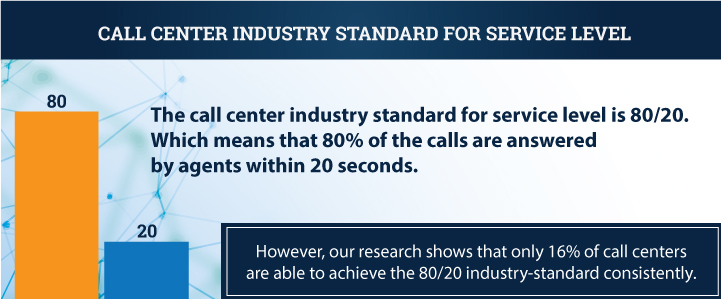 SQM Group's research shows the average time when customers abandon their call is 2 minutes and 36 seconds. Furthermore, our research shows that calls that are answered by an agent within 2 minutes after going through the IVR menu have no negative impact on overall customer satisfaction interacting with a call center.
Therefore, you could make a legitimate business case that an acceptable average wait time for customer service is 2 minutes or less. Put differently, relax your service level to 95% of calls are answered by agents within 2 minutes or, said differently, a 95/120 standard.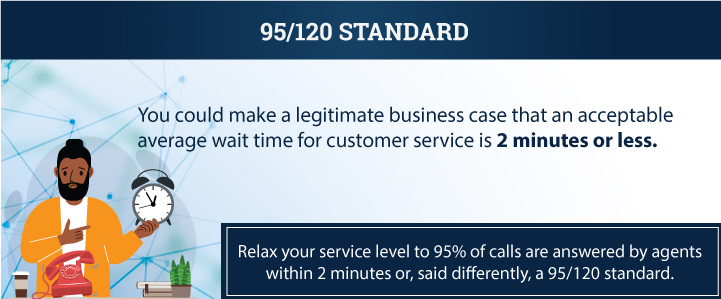 It should be noted that if the customer call is answered by the agent between 1 to 120 seconds, there is no difference in Csat. Therefore, shooting for a lower wait time of fewer than 2 minutes does not buy you a higher Csat. However, wait times higher than 2 minutes do have a negative impact on the overall call center experience Csat. Put simply, it is acceptable for customers to have an agent answer the call within 2 minutes, and when it is longer than 2 minutes, Csat drops.
The 95/120 standard could be appropriate for many call centers but not all or certain lines of business. The question about this standard is how it would affect the call abandon rate and if the customers that abandoned will call back or use another touchpoint (e.g., email, chat, website) to handle their inquiry or problem.
To help you determine an acceptable average wait time for customer service standards, we have provided you with four options to consider such as:
Relax your Service levels – Consider a relaxed service level standard (e.g., 95/120, 80/60). If you decide to go with the relax your service level option, you will need to ensure that you have an acceptable call abandon rate. A low call abandon rate can be achieved by offering an option for a callback, wait time notifications, and engaging IVR messages.
Average Time When Customers Abandoned as a Guide – To determine your service level standard consider using the average time your customers abandon the call. This approach might lead to a more relaxed service levels approach option.
Continue to use the 80/20 Industry Standard – This might be the best option for your call center because it is considered the industry standard. However, given that only 16% of call centers achieve this industry standard, it is worth thinking about other options for determining an acceptable wait time standard for customer service. Furthermore, many call center managers think low AWT is a customer service differentiator, but in most cases, it is not because most customers expect you to answer the phone within an acceptable time (e.g., 2 minutes or less).
Benchmark average wait time – Gain an understanding of the AWT compared with your industry or similar industry to determine a standard that you want to use for an AWT target.