Great Csat Creates Customer Advocates
Many companies struggle with how to differentiate their company from their competition. Yet, their call center is customers' primary touchpoint in many cases. Therefore, a path for call center leaders to help their company differentiate customer service is the power of customer advocacy to deliver a great call center customer experience (CX).

SQM research shows that 64% of customers who use a call center and are very satisfied with their experience are customer advocates (e.g., NPS Promoters - Likely to Recommend Rating of 9 or 10).
Many of SQM's award-winning call centers provide great Csat to help achieve more customer advocates. Furthermore, many of our award-winning call centers understand that customer advocacy is one of the best ways to get more customers to promote their company, higher referrals, enhance their brand, and gain market share over the long term.
What is Customer Advocacy?
The difference between Customer Advocacy and Customer Advocate is that customer advocacy is when agents and leaders put customer needs first and work to resolve the customer interaction of the first call while ensuring they are very satisfied with their customer journey experience. As a result, a customer becomes an advocate of the company.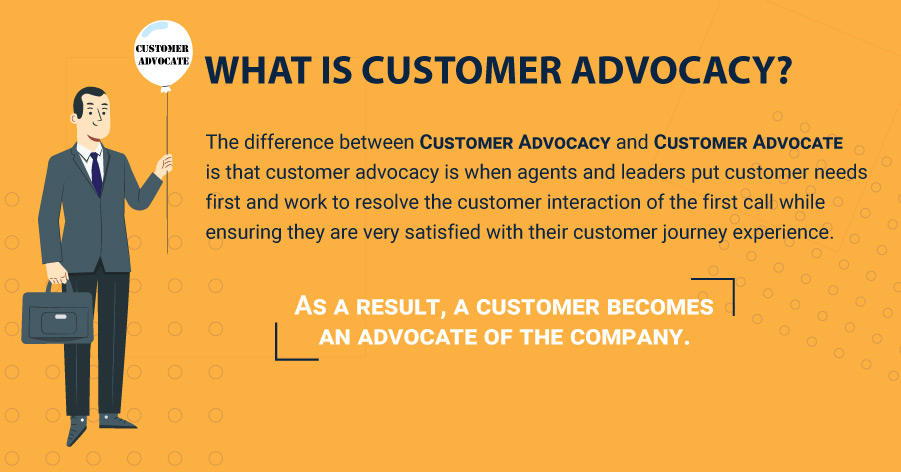 Furthermore, customer advocacy can be at the individual, team, department, call center, or company level. The primary focus is understanding the customer's needs and expectations and implementing strategies and tactics for satisfying them. Customer advocacy is when a company puts the needs of its customers first when making business decisions for delivering great Csat. However, SQM research shows only 19% of customers believe that companies put them first when making business decisions.
Who Are the Customer Advocates?
Let's start by saying that many companies do not know who their customer advocates are. Customer advocates are valuable because they are willing to share information and are more likely to influence the purchase decision of a typical customer. A customer advocate could be an employee who wants to advocate on behalf of the customer. On the other hand, it could also be a customer who wants to advocate on behalf of the company. The below points in this section will focus on the customers that want to advocate on the company's behalf: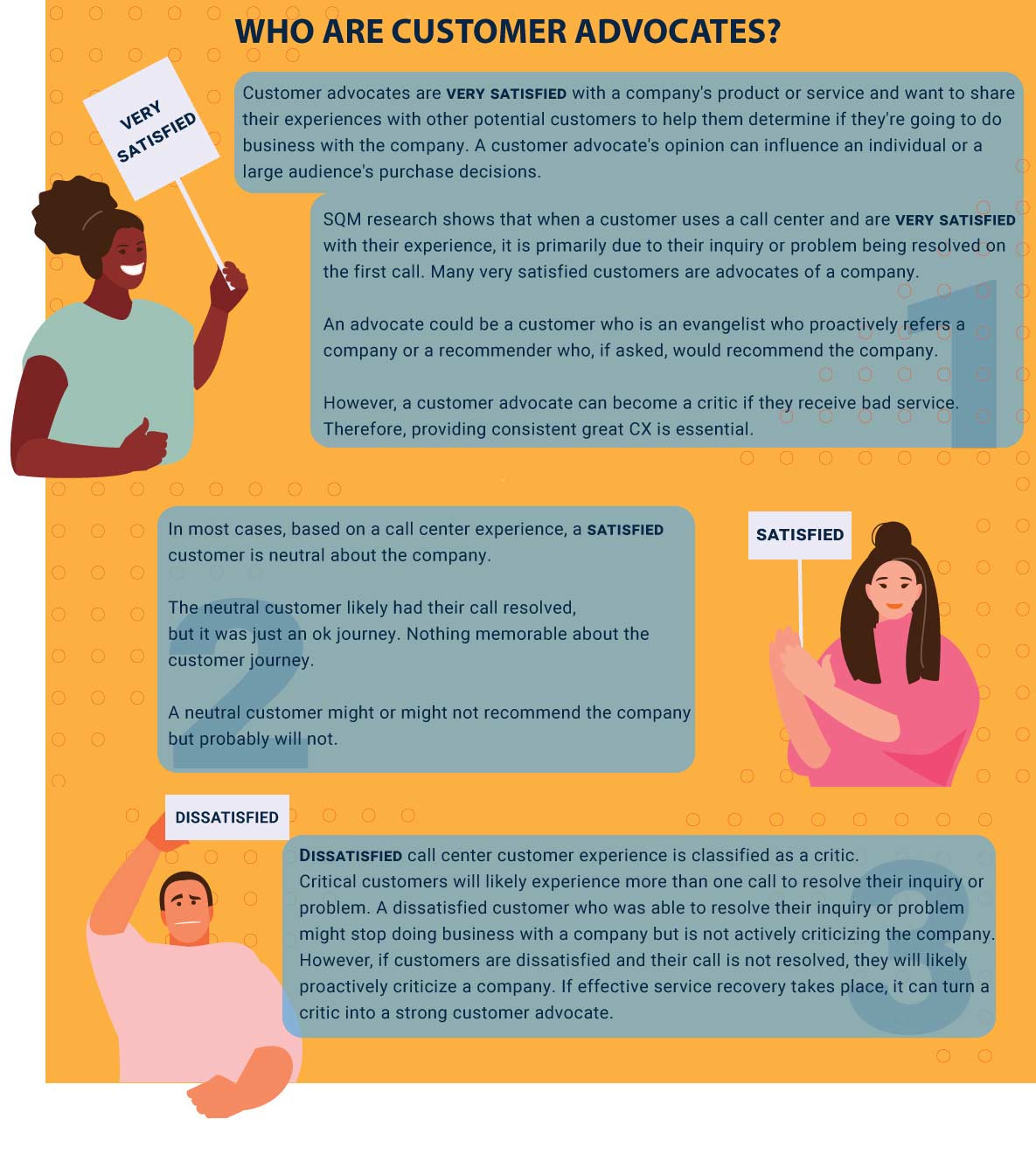 Below is a visual for understanding the Csat impact on customer advocates: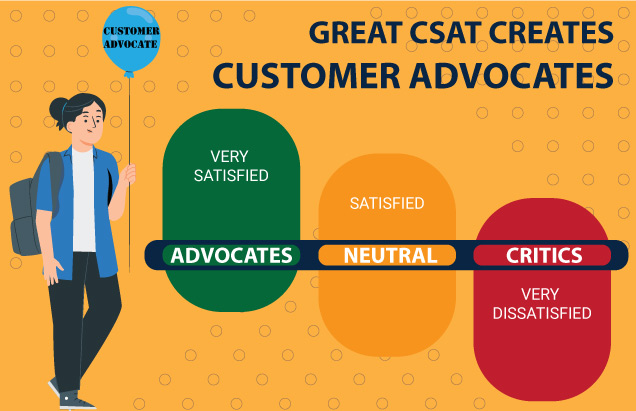 ​​​​Why is Customer Advocacy Important?
Customer advocacy increases the number of customers who promote your company, brand awareness, referrals, and customer satisfaction and builds long-term customer loyalty.
75% of B2B buyers consult three or more advocacy sources before making a purchase decision.
90% of customers report that a word-of-mouth recommendation is a leading influence on their purchase decision.
93% of people say online reviews influence their decision to purchase.
72% of people will only consider a product after reading a positive review.
92% of B2B buyers are more likely to buy after reading a positive review.
70% of people trust consumer reviews online.
94% of people avoid businesses with negative reviews (usually, anything lower than three or four stars).
People are willing to pay up to 31% more for companies with positive reviews.
How to Measure Customer Advocacy?
Third-party review sites (e.g., G2, Capterra, TrustRadius)
Word of Mouth Referrals
Customer Retention Rate (CRR)*
Customer Lifetime Value (CLV)**
*CRR Formula: (Total # of customers at the end of the year – New customers acquired during the year) / Customers at the Start of the new year = CRR
**CLV Formula: (Customer revenue per year x Company relationship in years) – Total costs of acquiring and serving a customer = CLV
There are five essential practices needed to support your agents for them to provide customer advocacy: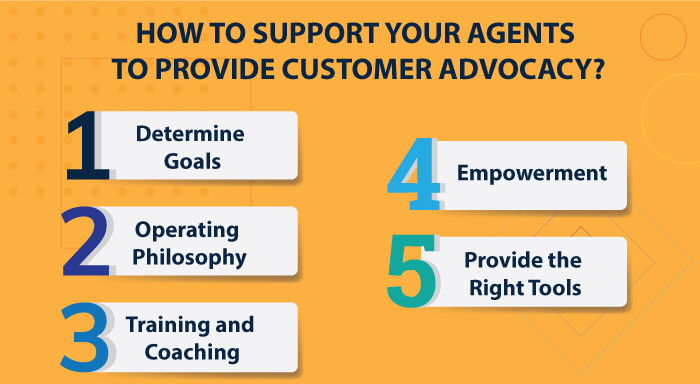 1. Determine Goals
As with all customer service initiatives, it's essential to have goals. To determine goals, it would help if you asked what customer advocacy success looks like at the company, call center, and agent levels. For example, it could be more third-party reviews, word-of-mouth referrals, NRR, and CLV goals at the company level. At the call center level, it might include post-call NPS and NRI survey goals. Finally, agent goals might consist of post-call Csat and CQA evaluation goals.
The right customer advocacy goals are vital. However, even if you have the right goals and experience success, the minute you start prioritizing company goals over customer advocacy goals, you have lost trust with your agents and customers about putting them first. It is not to say you throw out company goals for customer advocacy, but it is crucial to understand what advocates value and trust. Then, if you keep using those practices they value, references and referrals will follow.
2. Operating Philosophy
To deliver great customer service, many call centers use a "customer advocacy or variation operating philosophy" to put customers first for their core people, processes, and technology business decisions at the call center and enterprise levels. For example, at Canadian Tire Bank, delivering consistently high customer service experiences is a philosophy woven into the organization's "Customers for Life" culture.
As a result, every agent at their award-winning call center is completely aligned with the mission to deliver world-class customer service and is accountable for Csat. In addition, customer advocacy (e.g., going the extra mile, putting the customer first when making decisions) supports their customer-for-life philosophy.
The results speak for themselves; the overall agent attrition rate is 8%, significantly lower than the call center industry average of 35%. In addition, they have world-class FCR and Csat performance that we have consistently achieved for the last 10 years, won SQM's call center of the year award 7 times, and have won this award more than any other call center.
3. Training and Coaching
All agents and call center employees should be trained and coached on customer advocacy and how it works. Training and coaching sessions ensure agents know how to apply it to the customer advocacy operating philosophy. For example, training and coaching sessions should address questions such as:
What does it mean to put customers first?
How do you put yourself in the customer's shoes?
How to treat a customer complaint as a gift for service recovery?
How do you advocate for a customer when dealing with other departments?
When and how to provide concierge customer service?
How do you find the best solution for resolving an inquiry or problem?
4. Empowerment
Agent empowerment is a controversial topic among call center leaders. Some leaders feel if they empower agents, they will not adhere to scripts which can lead to inconsistent CX and mistakes. On the other hand, many leaders think agents need to be empowered to resolve calls on the first call and provide great CX.
SQM believes that ensuring your agents feel empowered to deliver customer advocacy is critical to providing great Csat. To get the most out of your agents, you need them to feel they have the required authority level to make decisions without seeking a supervisor or someone to make the decision. Unfortunately, too many call centers fail to put customers first and empower their agents to provide customer advocacy to deliver a great Csat experience. The following are agent empowerment tips worth considering:
Give agent decision-making authority and trust
Train, train, train, and then coach, coach, coach
Do not penalize agents for making mistakes
Don't micro-manage agents
Give agents the proper authority levels
Measure agent authority usage in the QA program
Provide agents with the right tools and information
Ensure that other departments are aligned with the call center
5. Provide the Right Tools
Your agents need the right tools to provide customer advocacy to deliver great Csat. Not only do agents need effective CRM and KMT tools to provide high customer service, but they also need access to a customer service QA tool. Below are examples of using a customer service QA tool to provide customer advocacy:
Dashboard Scorecard: Scorecard data, such as what is offered by mySQM™ Customer Service QA tool, can you track, benchmark, and identify agent KPIs (e.g., Csat, call resolution, QA score, customer advocacy rating). The KPI insights provide valuable information that agents and supervisors can use to improve for providing customer advocacy and Csat.
Root Causes: This is the analysis of identifying the source of error and the root causes for what is hindering customer advocacy from taking place to achieve great Csat. Root causes analysis helps agents identify problems and potential solutions to improve advocacy and Csat.
Recognition: After the agent coaching session, monitor calls for the next few days and look for opportunities where the agent demonstrated the new skills they learned from the coaching session to improve their customer advocacy skills. Moreover, share the recording and video with the agent as soon as possible. By doing so, you recognize and reinforce the agent's new skills being used on the call. In addition, agents will feel the supervisor is paying attention to improving their skills and, as a result, will inspire and motivate them to continue to use those new customer advocacy skills.
Coaching Effectiveness: Furthermore, do you know how much time your supervisors spend on agent coaching activities prepping to coach, coaching the agents in terms of time and frequencies, following up on coaching, and recognizing improvement? Or whether or not the supervisors are effective for coaching agents to improve customer advocacy or Csat? Unfortunately, most call centers don't measure supervisor coaching activity. Yet, supervisor coaching effectiveness represents one of the best opportunities to improve customer advocacy and Csat.
Quick Related Links
First Call Resolution Comprehensive Guide Customer Satisfaction Comprehensive Guide Agent Coaching Customer Quality Assurance VoC Closed-loop Good to Great Customer Service