Moments of Truth
The call center is their primary touchpoint for most customers when interacting with an organization. SQM's research shows that 77% of customers who used a call center stated that touchpoint is their primary contact when doing business with the organization.
Given the significant number of customers who use a call center as their primary touchpoint, it is essential to understand its moments of truth performance and opportunities to improve customer service.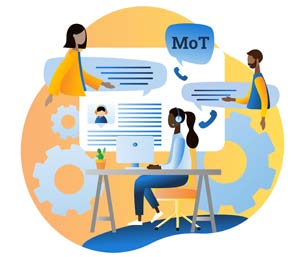 The Moments of Truth (MoT) concept was developed by Jan Carlzon when he was CEO of Scandinavian Airlines in 1986. In his book, Moments of Truth, Jan Carlzon defines Moments of Truth as, "Anytime a customer comes into contact with any aspect of a business, however remote, is an opportunity to form an impression" and provide great customer service.
Identifying MoT to Improve a Touchpoint
For most customers, the call center and self-service web are the primary touchpoints used to resolve an inquiry or problem and form an impression of the organization. Given that most customers use the call center and web self-service as their primary touchpoints, it is essential to identify the key MoT and performances and opportunities to improve customer experience.
Based on SQM's extensive research in measuring CX using contact centers, we have identified the primary MoT for the call center touchpoint from a customer perspective. These MoT apply to all call centers, regardless of the industry.
The MoT identified in the below infographic is based on actual CX using a call center touchpoint. Therefore, it does not include back-end operational aspects such as workforce management or technology departments that impact CX.
One of the values of understanding the call center touchpoint MoT is that it can facilitate discussion when conducting the CX journey mapping process and is a great way to document and categorize their actual experiences.
The below infographic shows the call center CX cycle of service MoT. The moment of truth that matters the most to customers when using a call center is resolving their issue. The average call center First Call Resolution (FCR) performance is 70%. Therefore, the opportunity to improve CX with this touchpoint is enormous, especially considering that, in many cases, the call center is the last line of defense for resolving an issue.
Again, delivering on all the MoT helps provide a customer with a positive CX and gives the customer a good impression of the organization, especially when delivering resolution on the first call. SQM's research shows that 93% of customers expect to resolve their inquiry or problem on the first call. Therefore, resolving the call should be viewed as the moment of truth that matters the most to improve on. In addition, achieving a great FCR rate for the call center touchpoint starts by identifying and understanding performance for all the MoT.
Any moment of truth can hinder FCR and Customer Satisfaction (Csat). For example, if customers feel the agent does not care about helping them resolve their inquiry or problem, they can become frustrated and dissatisfied with their CX. This is especially true when their issue is unresolved.
Therefore, it is worth getting feedback from customers about their experience for each moment of truth for the call center touchpoint. Using a post-call survey method is a best practice for asking customers about their experiences and opportunities to improve their CX for each MoT.
For example, customers are asked, "How easy was it to find the organization's 1-800 phone number?" and, "Did the agent resolve your inquiry or problem?" Listed below are the eight call center MoT that matter the most for getting the Voice of the Customer feedback about FCR and Csat performance and opportunities for improving CX.
The Most Important Call center customer service MoT includes:
Finding the phone number
Reaching the right agent
Greeting the customer
Identifying the reason for the call
Helping the customer
Caring about the customer
Resolving the call
After-call work
MoT FOR CALL CENTER TOUCHPOINT