2. Customer Service QA and Scorecards Importance
Customer Service QA is important for lower operating costs and improving customer and employee job satisfaction. Customer Service QA is effective due to it uses the right QA KPIs and metrics, a 360-Degree Feedback multi-rater approach (e.g., customers, QA evaluators, and artificial intelligence), and provide real-time reports for all employees.
Furthermore, Customer Service QA is important because it makes agents and managers accountable for delivering high customer service and call handling compliance performance and identifying improvement opportunities for handling calls. In addition, understanding Customer Service QA gaps in performance help determine where agent coaching and training are needed. On the other hand, Customer Service QA can recognize agents who achieved high QA scorecards or improved.
Customer Service QA is important because it can help improve CX problems:
93% of customers expect their call to be resolved on the first call; however, 30% of calls are not resolved on the first call, and 12% of calls go unresolved
46% of customers whose call was not resolved felt the agent could have done more to resolve their call
13% of customers calling a call center describe their call as a complaint, and only 41% of complaint callers are very satisfied with how the agent handled the call
Only 53% of customers would describe their call center CX as great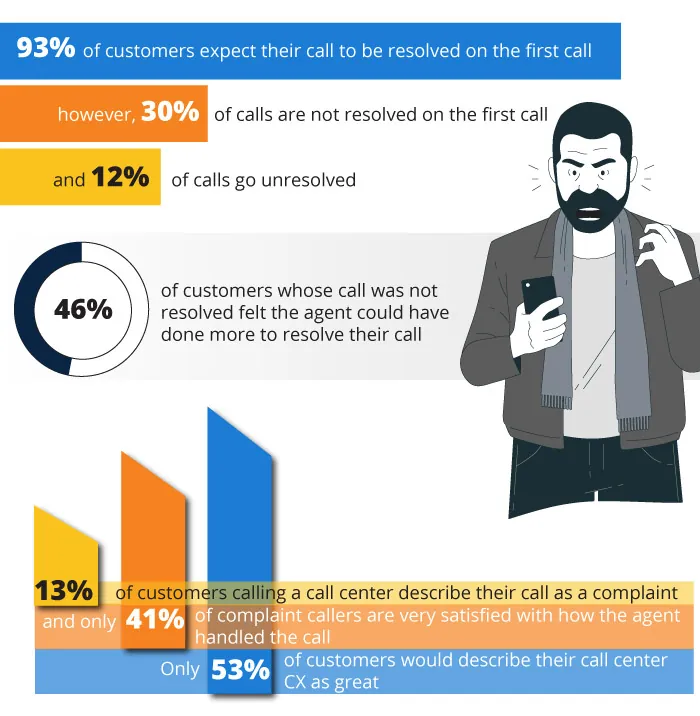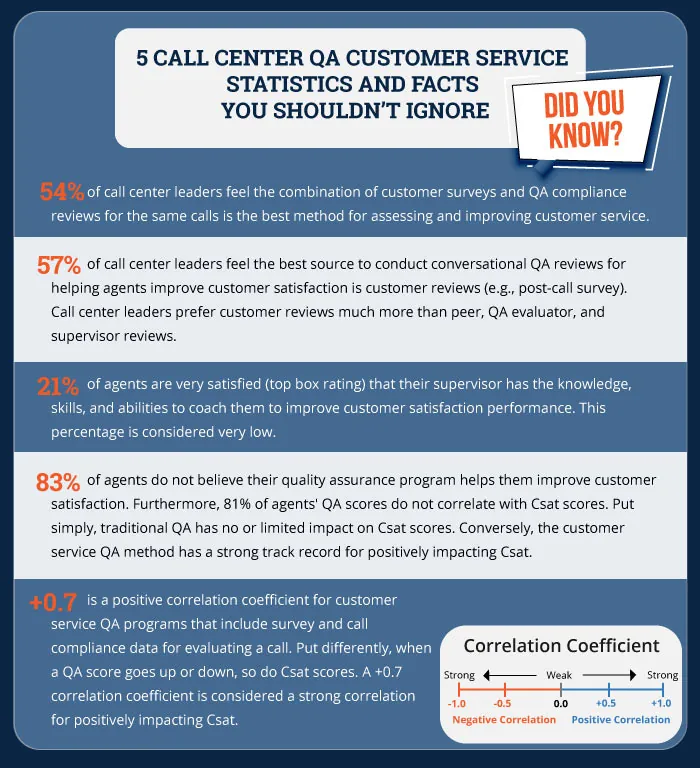 A holistic (e.g., 360-Degree Feedback) QA process helps you:
Create a holistic view of QA by combining customer surveys and call handling compliance metrics to determine the QA score
Measure, benchmark, and track your call center and agent QA performance
Determine if your call center has a positive impact on helping achieve company goals
Create agent and supervisor accountability for achieving call center customer service and costs goals
Provide QA feedback and coaching opportunities on agent behavior
Adhere to government laws and company security compliance
Improve agent and supervisor job satisfaction and engagement
The QA scorecard is important because the agents know what KPIs and metrics they are being measured on, the weighting, the score for their delivery of each metric, and a total Customer Service QA score. A Customer Service QA scorecard uses data evaluation post-call survey, artificial intelligence, and QA evaluator methods to measure the quality of service your call center agent delivered to your customers.
Typically, the QA scorecard uses 15 to 25 metrics (e.g., Csat, call resolution, script adherence, and accuracy of information) that are weighted in terms of importance to the company's needs and strategy. The QA scorecard KPIs and metrics will define what a great customer experience looks like and provide insights for an agent on how well they performed.
For example, from a customer expectation perspective and using a post-call survey method, the QA scorecard will provide insights for:
How satisfied was the customer with their overall call center experience?
Was the customer's call resolved?
Did the customer have a positive experience?
From a call center expectation perspective and using a QA evaluator method, the QA scorecard will provide insights for:
Did the agent ask pertinent questions to understand the customer's issue?
Did the agent provide accurate information?
Was the agent efficient in handling the customer's call reason?
Did the agent take ownership for resolving the customer's call reason?
Did the agent adhere to government laws or company policies?