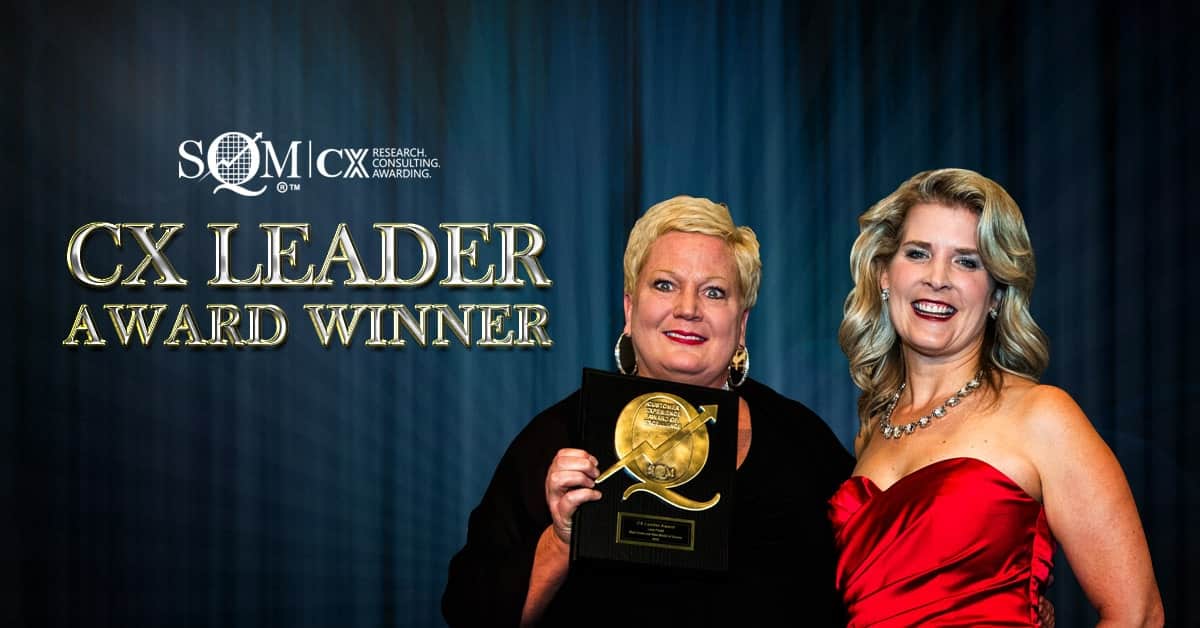 CX Leader Award Winner – An Interview with Lana Pruett
With customer's expectations and needs becoming increasingly more complex for organizations, professionals in the contact center industry are adapting to a more customer centric culture. So, what makes a good company great? Simply put, it's leaders and their employees. At SQM Group (SQM), we're always on the lookout for great leaders who are driven in providing an exceptional customer experience and making sure the organization's goals and objectives are centered around their customers.
SQM's Customer Experience Leader award is handed out to a select number of people annually. During one of our award ceremonies, Lana Pruett, Director of Customer Experience for Blue Cross and Blue Shield of Kansas, was recognized for her outstanding Customer Experience Leadership.
SQM has worked with Lana for many years while assisting her on her journey to improve the customer experience. What makes Lana such a great leader? We have always found her to truly be an advocate of an exceptional customer experience strategy; she is always looking for improvement opportunities. Not only does she look at how to improve customer experience from an external perspective, she also brings in the internal view by asking her agents and teams what impacts their ability to perform at world-class levels. Lana is caring, respectful, and motivates those around her to be a better person and advocate for the customer.
While reading through her interview, you'll understand how invested she is in making sure her team is supported to be the best they can be while delivering world class levels of customer experience.
---
Tell me a little about yourself?
I live on a farm 45 minutes north of Topeka, Kansas. My husband and I raise cattle and custom cut hay when we are not working our full-time jobs. We do not have kids, but we do have a spoiled dog named Sugar Plum Fairy. I have worked at BCBS Kansas since July 31, 2006, where I started as a representative (rep) on the phones and worked my way up. In 2013, I became the Manager of Quality and Customer Experience. My current job is Director of Customer Experience.
What do you like to do outside of work?
Travel. Any beach destination is great with me!
How did it feel when they called you up as a winner of a CX Leader Award?
Shocked and I cried. To have what you are so passionate about be recognized, is the thrill of a lifetime!
If you could give any advice to someone looking to become a customer experience leader, what would it be?
Listen. Listen to your customers, but especially listen to your reps. If your reps are not happy, you will continue to spin in your tracks. Hear what their roadblocks are, where they see improvement, be flexible when you can, and make sure they know their opinion is valued. You will see your reps mirror this behavior in their calls. We all emulate with who we associate. Make sure your reps are in an environment where they emulate empathy, morals, and trust.
What does customer experience mean to you?
Everything. Without the customer we are nothing. There is no business. In this fast-paced world, where there are so many options, how you treat your employees and how they treat your customer will be the make or break of your business.
What are your current customer experience goals?
Our focus is to always certify as a World Class Call Center. In addition to this goal, we are working on lowering average calls to resolve, and increasing our overall employee experience (EX) score. After our latest EX survey, I attended all unit meetings and asked feedback to 4 questions.
What makes you happy working at BCBS Kansas?
What is frustrating to you about working at BCBS Kansas?
If there was a job opening in the customer service center, what would you tell a friend or family member was great about working here?
What would you warn them about?
With this data, we have categorized their feedback and are going through each category to either fix the issue or be transparent as to why the situation is what it is. Every two weeks, we report our progress to the department.
What is the biggest challenge facing CX leaders today?
The instant demand of our society. Every industry is faced with a fast food mentality of needing information in the moment. It is up to us to figure out how to get it faster while not losing the quality and integrity of our brand.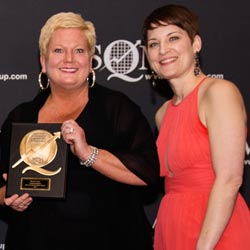 Can you name a someone who has influenced you as a leader? Someone who has been a mentor to you?
Her name is Laurie Stratton. When I was a phone rep, I was struggling with the quality of my work. For the first time in my life, I thought I was going to be fired. The Managers moved me to Supervisor of Laurie Stratton's team and changed the type of work I was doing. When I made 4 errors the first month, she did not belittle me. She hugged me and said WE will fix this. She is now the Assistant Director of Operations at BCBS Kansas and of course I am a Manager. Simple acts of genuine kindness and caring will get your farther than almost anything else as a leader. Be inspiring to your team and they will inspire you.
What do colleagues say is your best quality?
I had to ask because I am not good at personal praise. This is from my boss: "Motivating others. Lana works hard to create a climate where her employees can do their best work. People like working for her because she provides them with opportunities and challenges, and helps each individual to see how their work supports our organizational goals."
What is your greatest professional achievement?
Presenting and being awarded the opportunity to develop a Customer Experience Representative (CXR) and Supervisor of the Year at BCBS Kansas. Bringing the people that do the work to the banquet is a chance in a lifetime for them and it is doing what is right for our company. Success should be rewarded at the front line first.
What do you enjoy the most about your job at BCBS Kansas?
Seeing the CX lightbulb illuminate. When you have worked with someone, whether it be a CXR or a leader, and there is the moment where they execute everything you have been teaching them. It is a proud moment for me, but an even bigger moment for our member.
How do you motivate your team?
It is a culture that I strive for by caring about every CXR on every call. Cheer for them when they succeed, hold their hand and listen when they have opportunities. Recognize publicly what you are trying to drive daily. Get in the trenches with them. The most important thing is to have real conversations about what motivates your staff. We are all different. Make sure the carrot you are using applies to the situation.
What phrase or motto resonates with you most about customer experience?
I have 17 of them and all of them are from the founder of Southwest Airlines, Herb Kelleher. This list hangs on my wall. The best quote off the list for me is: "The essential difference in service is not machines or things. The essential difference is minds, hearts, spirits, and souls."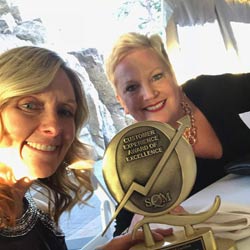 What one piece of advice would you give your younger self?
Have confidence. My boss picked me for a reason. When you are in a room full of CX non-believers, hold true to what you know is right for the customer and the company. Change is hard and expensive. If you can be the steady voice, it is so worth it in the end.
What's the best book you've read this year?
The Five Dysfunctions of a Team - Patrick M. Lencioni
What will you remember the most about your experiences partnering with SQM?
The support on a daily basis and the high you feel from the conference. I have had the opportunity to have two bosses attend with me along with other colleagues. All have said the same thing. You feel on top of the world by the end of the conference. From the best practices to the networking, there is no better conference in which to come together with one goal in mind. The Customer.
---
Thank you for reading! If you're interested in reading more about additional customer experience leaders or SQM's CSR of the Year award winner, jump over to the SQM CX Best Practices Blog page!