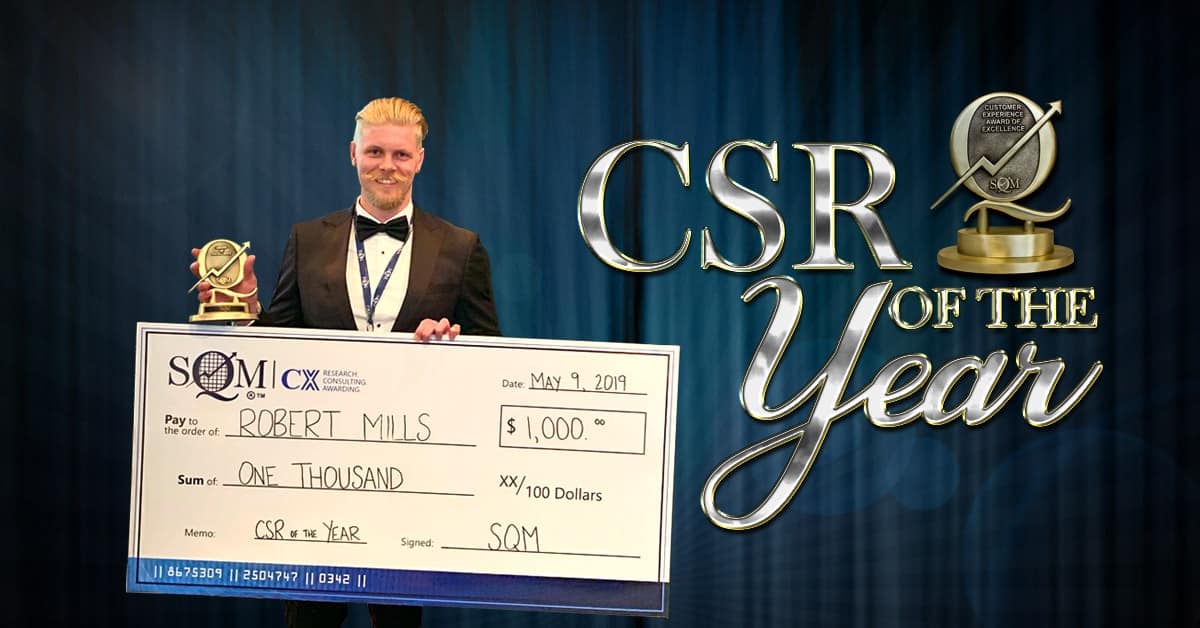 CSR of the Year 2018 – An Interview with Robert Mills
At SQM Group, our mission is to help organizations improve their customer experience; however, a key part of an organization's customer experience rests in the hands of the customer service representatives (CSR) when responding to a customer's inquiry or problem. In 2018, SQM conducted over 1.5 million contact center transactional surveys, and using the voice of the customer, 12% of the 60,000 eligible CSRs surveyed were certified as World Class.
What does it take to be a World Class Certified CSR? It takes passion for making the customer's experience positive and making sure that the customer's issue is resolved. In some cases, it may not be the resolution the customer is hoping for, but it is up to the CSR to educate their customers, so they understand that their issue is resolved. It takes a special talent in my opinion. To be certified, the team at SQM collects a minimum of 25 surveys for each CSR and, based on the voice of the customer, at least 85% of these surveys must have a rating of Very Satisfied with the CSR who handled their inquiry and their inquiry must be resolved.
Once a CSR is certified, they become eligible for one of SQM's annual awards, the CSR of the Year. To apply for this award, a leader within their organization nominates a story that supports the outstanding qualities of the CSR they are nominating for the award. These stories are reviewed by a panel of judges at SQM who then pick the top 25 finalists. These finalists are invited to the Customer Experience Conference and Industry Awards Gala where the 2 runners-up and official winner for the CSR of the Year are announced and celebrated.
In the following interview and story, you will learn a little about our 2018 winner for CSR of the Year, Robert Mills from Horizon BCBSNJ. I think you'll quickly understand why he deserved this honor.
---
Let's get to know you, tell me a little about yourself?
I was first introduced to a customer service role while I was a student in Pittsburgh, PA. I worked as a caterer in and around the city, and worked everything from Steelers games to fundraisers, conventions, and weddings. I was able to feed people and see the joy that they received when I brought their food to them. That is where I realized how much of an impact you can make on someone by trying to help them and how gratifying it is for me to be able to help someone else.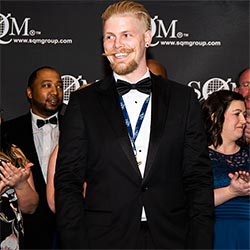 How did it feel when you were told that you qualified for the top 25 finalists in SQM's CSR of the Year Award?
I was extremely surprised that I had made the top 25 finalists! I did not think that I had done anything extraordinary to assist our members. Throughout the years, I have just tried to treat them the way I would wish to be treated. I try to empower them with all the knowledge that I have, to help them have a better understanding of their benefits, through knowledge and compassion. I still can't believe it!
What was the most exciting part of the entire SQM experience for you?
It was great to be surrounded by other customer-focus minded individuals, and it's always great to talk about the times that members have had a profound impact on us. We work with people and so we have to love them - for better or for worse, and some do shape our experiences and how we work with others. It was great to talk to people from different parts of the country to talk about the businesses that we are in and about the people that we serve.
What will you remember the most about your experience with SQM?
Other than the award ceremony, I had so much fun at the Prohibition Night! It was great to see so many people getting in the spirit with suspenders, corsets, and props from the photo booth, it was wild!
If you could give any advice to the future top 25 CSR of the Year finalists, what would it be?
Soak up as much information as possible and network with as many people as you can. You're there with the best of the best, and you will learn so much from this experience.
What does customer experience mean to you?
Customer Experience is all about leaving the caller with a positive impression, even if they can't have their way, you should strive to make that interaction as positive as possible. You aren't going to please everyone every time, but there are things you can do to make that interaction a positive one.
What do you enjoy the most about your job at Horizon BCBSNJ?
I am so fortunate to be able to see resolution of issues for our members. It is so gratifying to be able to take someone who has a problem and help them get their resolution. In a lot of cases, people are calling because they desperately need to get medical attention and it's our job to help navigate through the ins and outs of their coverage. There are times where collaboration is necessary whether it be within our company or with outside companies and it's great to be able to arrange, on one call, the care that someone needs.
Has winning CSR of the Year impacted your role at Horizon BCBSNJ?
Has it ever! I've been stopped in the hall by people and congratulated on the elevator, it's really been a blessing! Horizon BCBSNJ has been so great about promoting it and it's just been such an amazing experience!
What do colleagues say is your best quality?
I am direct whenever answering direct questions. If I don't know the answer to a question, I will investigate it and get the right answer. I am not afraid to admit that I need help when those moments arise, and I try to make myself available to my colleagues and make myself approachable if they ever have questions or concerns. Whenever I learn something new, I send it out to my team so if they ever come across the same issue, they will know how to handle it.
What phrase or motto resonates with you most about customer experience?
"Some days you're the pigeon, some days you're the statue." A lot of times when you're dealing with insurance, there are going to be things that our members have to pay for, and they don't like hearing that they have costs that are additional to their monthly premium. Whenever you're talking about money, strong emotions can arise, and it takes a special type of person to be able to do this job successfully and (when necessary) detach from what is being said and to not take it personally. The reward is deeply personal, but not everything that is being said to you is yours to take personally. There are good days and bad days, but everyone has good days and bad days!
What one piece of advice would you give your younger self?
Do everything with conviction. Have faith in your choices; you will be defined by them.
Who has inspired you most in your life?
Benjamin Franklin: he was a great man. He only attended school until the age of 10, and became a publisher, scientist, and diplomat, and one of our founding fathers. He proves that it's possible to succeed as long as the drive is there.
Why did you choose customer service as your profession?
I love helping people and I want to be able to make a positive impact on my community. I love the feeling of helping people and watching them succeed.
---
As you've read, you can tell that Robert is a humble but passionate person when it comes to customer experience. Now I welcome you to read the story that helped Robert win this incredible award.
Robert was recognized by his company in a Horizon Health News article about his CSR of the Year award and gaining national recognition for his member-first approach.
Check out the full collection of SQM's CSR of the Year finalist stories from previous years for details on how these CSR's exceeded customer expectations and bettered their companies approach to delivering exceptional service.
If you feel you have a rockstar on your team, we encourage you to nominate them for CSR of the Year!
Quick Related Links
Awards Program Nomination Process Award Winners Performance Certification