The Impact of High Agent Turnover
Even though agent satisfaction is higher for the Work From Home (WFH) model than for the call center facility-based model, agent turnover drastically increased in 2021. SQM research shows when comparing 2021 to 2020 for agent turnover, there was a 46% increase.
​In 2021, the agent turnover rate of 35% was the highest level SQM has ever measured in over 25 years of tracking annual agent turnover for over 250 leading North American call centers. The high agent turnover is due to a labor shortage, resulting from a low unemployment rate. Additionally, most call center agents are working from home which gives them the flexibility to work for any company in the country. As a result, call centers compete for agents in the local marketplace and nationally.
​SQM's research shows that 30% of calls are non-First Call Resolution (FCR) for the call center industry. Furthermore, agents are the source of error for 38% of non-FCR calls. Moreover, 40% of the time a call is unresolved, the agent had a will issue versus a skill issue.
​In 2021, WFH agent turnover drove lower FCR, Customer Satisfaction (Csat), higher Average Handle Time (AHT), and operating costs for the call center industry. So the question that we are asked the most is how can their call center lower the agent turnover to improve customer service and reduce the operating costs?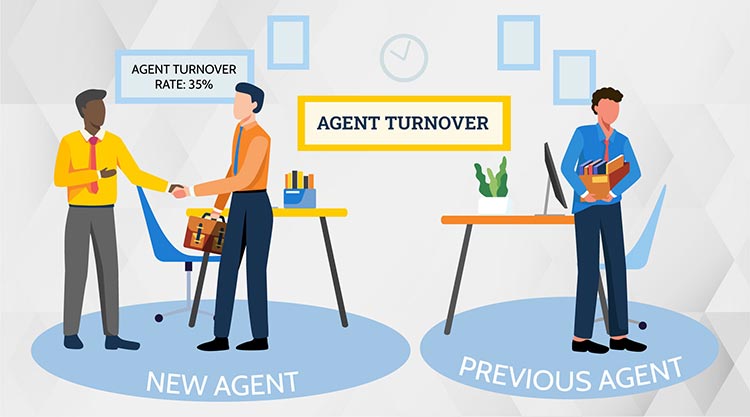 What is the Solution for Improving Agent Turnover?
SQM Group has developed a work from home agent recognition solution to help lower turnover by increasing employee engagement and motivating agents to improve customer service. Given that over 80% of agents now work from home, having a recognition program that engages remote agents has become more essential. SQM's agent recognition program awards points based on post-call surveys, quality assurance, and internal data agent performance captured in mySQM™ Customer Service QA software.
​As previously mentioned, mySQM™ Customer Service QA software helps recognize agents through award points earned that are converted to dollars and redeemed at most retailers using an SQM debit card. Our powerful CSM software tool motivates agents by providing frequent, descriptive, and meaningful recognition, making it impactful for improving first call resolution, lowering operating costs, and lowering agent turnover.
​Awarding agents in real-time (e.g., right after a post-call survey, QA evaluation) is a fantastic way to acknowledge their performance when delivering excellent customer service. Furthermore, suppose agents feel there is a chance they could get rewarded for a call they just handled. In that case, they are more motivated to go the extra mile to deliver excellent customer service because of the real-time recognition.
​Our recognition program is one of the best practices for motivating agents to improve FCR and provide great customer service. For example, for every post-call survey that is a world-class call (e.g., the call is resolved and Csat is a top box response), the agent receives 25 award points that can be converted through gamification to an average payout of $40. So, if an agent had 50 world-class calls in a year, they would earn $2,000 in incentive pay.
​The $2,000 incentive pay paid out in real-time is excellent from an agent's perspective. Moreover, most agents believe the gratification of earning dollars based on helping customers resolve their inquiries or problems is the strongest way to be recognized. Furthermore, being recognized for providing world-class customer service motivates agents to go the extra mile to resolve customer issues and significantly reduces agent issues for non-FCR calls.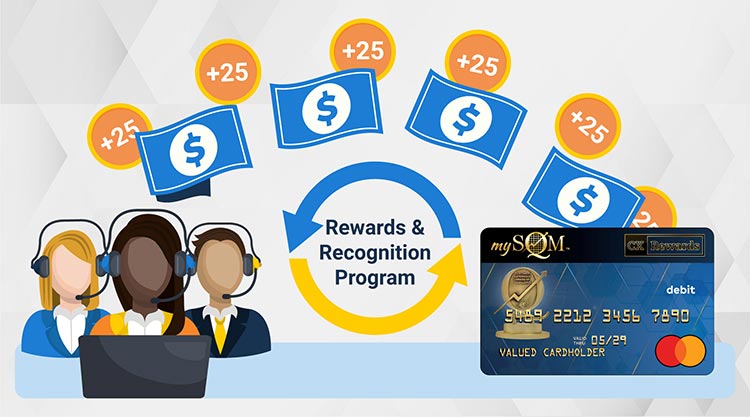 How Agents Earn Recognition Points
Agents can earn award points based on positive behaviors, high-quality assurance scores, customer satisfaction, and call resolution results. For example, an agent can receive 10 to 50 points for every high QA evaluation score or world-class call. In most cases, each point is worth 1 dollar. Further, an agent can earn more points from participating in gamification.
​In addition, based on agent performance, mySQM™ Customer Service QA software automatically awards points. An agent can also earn points for positive behavior and contribution from their customer, peers, and supervisors. Frequently recognizing positive behaviors and CX results motivates agents and promotes repeated positive actions.
How Does Agent Gamification Work?
Gamification enhances the motivation of agents' to improve their FCR and customer experience (CX) and makes the working environment more fun. As a result, positive FCR and CX behaviors become an ingrained part of the culture and experience within the call center. Adding contests and recognition creates motivated agents that propel your entire call center to improve FCR and provide great CX. Agents have more opportunities to use gamification the more world-class calls and high-quality assurance scores they achieve.
​For example, after earning some points from a world-class call or high-quality assurance score, an agent can receive additional points through customer service delivery e-learning gamification. Many call centers use gamification as part of their training and coaching design. This allows agents to practice, learn by trial and error, receive feedback, receive recognition, and be coached to improve customer service delivery.
How to Redeem Points for Rewards?
Agents' points earned from a post-call survey, quality assurance, internal data, and other employees are captured in mySQM™ Customer Service QA software and are available to be redeemed. Additionally, agents can view how many points they have earned and the converted dollars available for redeeming on their SQM debit card for something they want.
​Points earned by agents are converted to dollars and can be redeemed using an SQM debit card which can be used at most retailers. Agents redeeming points for things they want reinforce their motivation to repeat the positive CX behaviors in customer interactions. Moreover, improving FCR and Csat performance allows agents to earn more rewards that can be redeemed and used in day-to-day life (e.g., coffee, lunch, merchandise, movie, etc.). Finally, using their SQM debit card gives an agent instant gratification knowing the great CX they provided allowed them to pay for something they wanted.
​Additionally, points can be converted to non-monetary prizes that are flexible to each organization's unique situations (e.g., additional time off, shift bids, extended breaks) allowing agents to select the reward that appeals to them, thus increasing their willingness to improve their customer service performance.
​Many recognition programs have been watered down in recent years due to the challenge of administering and accounting for the taxes required to be paid on employee incentives and recognition awards. A great feature of SQM's agent recognition program is that our tool provides the gross prize amount to agents, and then calculates and reports the tax contribution and net prize amount on the back end so that your organization remains compliant in tracking and paying appropriate taxable income requirements without needing to claw back additional dollars for tax purposes from an agent's paycheck.
​In closing, by recognizing and rewarding agents in real-time for delivering great customer service, call centers create higher agent satisfaction, engagement, and retention. Real-time agent recognition will help lower agent turnover, reduce operating costs, and will make the call center more customer-centric.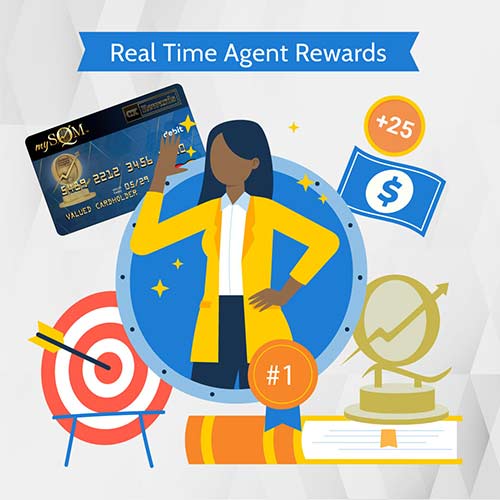 Quick Related Links
First Call Resolution PPT First Call Resolution Benefits Agent Coaching First Call Resolution Operating Philosophy Call Handling First Call Resolution Improvement Tips VoC Performance Management Agent Recognition QA Form Customer Quality Assurance Customer Satisfaction Customer Service Management Software Free Software Demo