Unfortunately, dealing with angry and abusive customers often comes with working in a call center, leading to high stress and job burnout, especially when not handled properly. A whopping 50% of agents quit because they dislike dealing with dissatisfied customers. Therefore, it is essential to have adequate procedures in place for handling these customers.
When faced with a customer who has become angry or abusive, it is important to distinguish which category they belong to. The best way to handle an abusive caller differs from the best way to handle an angry caller. We will discuss the difference between these callers and how to identify them.
Angry Versus Abusive Customers
Have you ever been faced with someone so angry or upset about something that they resort to personally insulting or even threatening you? If so, you have experienced verbal abuse, and I'm sure you felt emotional in response. These are difficult interactions to navigate, and it takes a lot of practice and self-control to navigate them calmly.
When working in the call center industry, it's important to be able to differentiate between an angry caller and an abusive caller. An angry caller expresses frustration, often with an elevated tone, but refrains from engaging in personal attacks or using offensive language. Conversely, an abusive caller crosses the line by employing aggressive language, personal insults, or even threats.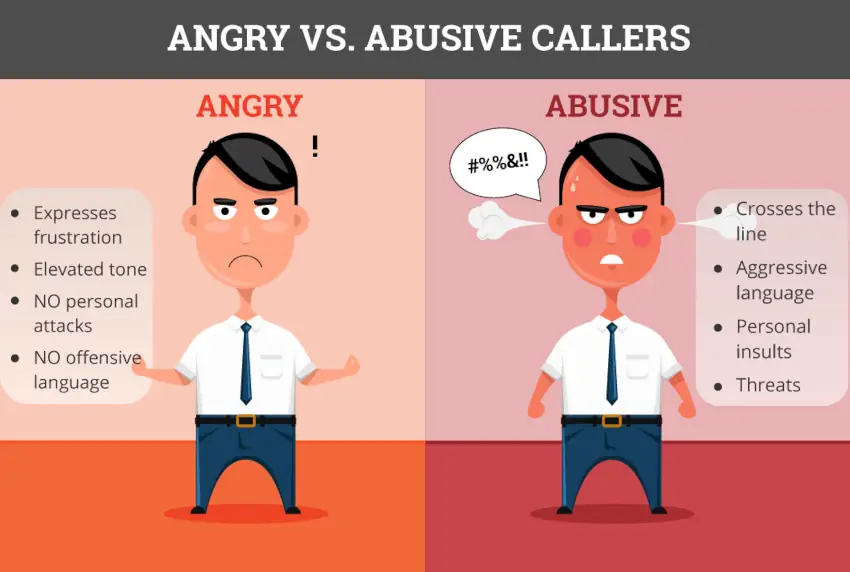 The best procedure for handling an angry customer differs from that for an abusive customer. Managing angry callers necessitates active listening, empathy, and a commitment to finding resolutions. Dealing with abusive callers requires maintaining composure, establishing boundaries, and seeking assistance when warranted.
Scenario 1: Handling an Angry Caller
Imagine receiving a call from a customer incensed by a billing error. Their frustration is palpable, evident in their tone and choice of words. Here's how to address this situation professionally: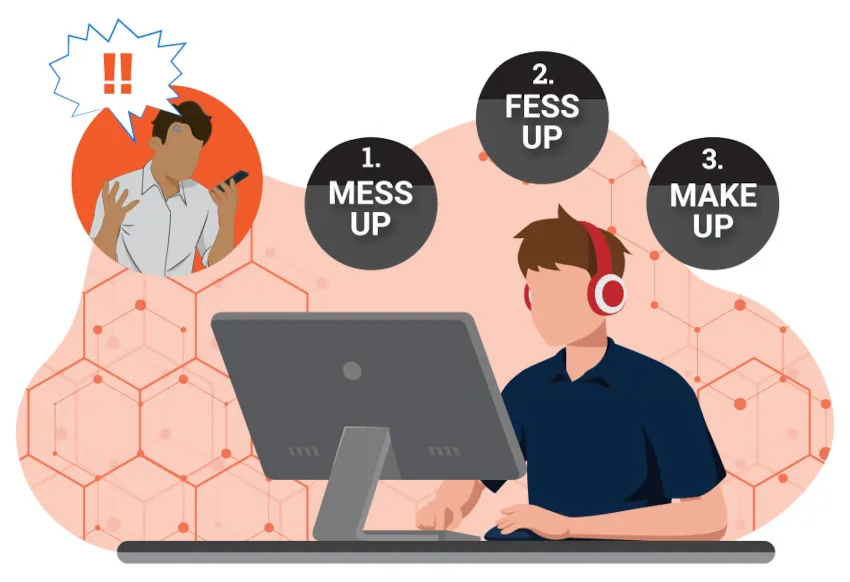 1. Mess Up:
Maintain your composure and actively listen to the customer's grievances. Refrain from interrupting or arguing, as your primary objective is to lend a patient ear and understand their concerns. Listening to the customer with no interruptions makes them feel heard and helps them calm down.
2. Fess Up:
Restate the customer's issue to make sure you understand the problem and demonstrate empathy by acknowledging their frustration, expressing statements such as "I understand how inconvenient this situation must be for you" or "I apologize for any inconvenience caused." This helps validate their feelings and shows your commitment to resolving the issue.
3. Make Up:
Collaborate with the customer to identify potential resolutions. Explore different options and propose solutions that address their concerns. Many customers have low expectations that their issue will get resolved to their satisfaction. By providing solution options to resolve their problem, you have an opportunity to meet or exceed the customer's expectations. Patience and support throughout the process can foster a positive outcome.
Scenario 2: Managing an Abusive Caller
In this scenario, the caller becomes irate and begins attacking you with a barrage of offensive language and personal insults. Their behavior is abusive, requiring a tactful and professional response:
1. Maintain composure and assertiveness:
Take a deep breath, reminding yourself that the caller's behavior is not a reflection of your abilities. Respond assertively while remaining composed, conveying a firm resolve to address their concerns. For example, respond with, "I understand that you're frustrated, and I will do my best to help in this situation."
2. Establish boundaries:
Politely and firmly inform the caller that their language or behavior is unacceptable. Assert that you are committed to assisting them, but mutual respect and cooperation are essential for productive communication.
3. Seek assistance when necessary:
Should the abusive behavior persist despite your attempts to defuse the situation, do not hesitate to involve a supervisor or manager. Their expertise and authority can effectively manage such cases and ensure a suitable resolution.
Remember, self-care plays a vital role in managing challenging situations. Take breaks, engage in supportive discussions with colleagues, or participate in activities that help you decompress after intense customer interactions. Your well-being is paramount!