Enterprise Wide Customer Satisfaction is Mediocre for Most
SQM conducted an enterprise customer satisfaction study with leading North American organizations, and we interviewed over 250 senior executives about overall organization customer experience strategy and practices.
Most organizations are grappling with improving enterprise-wide Customer satisfaction (Csat). In fact, the average enterprise-wide Csat is only 65% (top box response). SQM data also reveals that the majority (75%) of organizations' enterprise-wide Csat (top box response) is poor to average performance level.
Furthermore, only 4% of organizations are performing at the world class enterprise-wide Csat level of 80%. Most organizations say that they are focused on improving their Csat performance. However, very few organizations do improve enterprise-wide Csat.
Enterprise wide Csat is comprised of the customer's experience of product, price, and service when doing business with an organization. Clearly, service is the business area that contact centers have a tremendous impact on for making a positive contribution to the organization's enterprise-wide customer satisfaction performance.
Many customers base their enterprise-wide customer satisfaction rating on the service they receive while using a contact channel to resolve an inquiry or problem. Therefore, Enterprise-wide Csat can be based on one contact channel experience or the sum of all contact channel experiences for those customers.
Organizations' Enterprise Wide Customer Satisfaction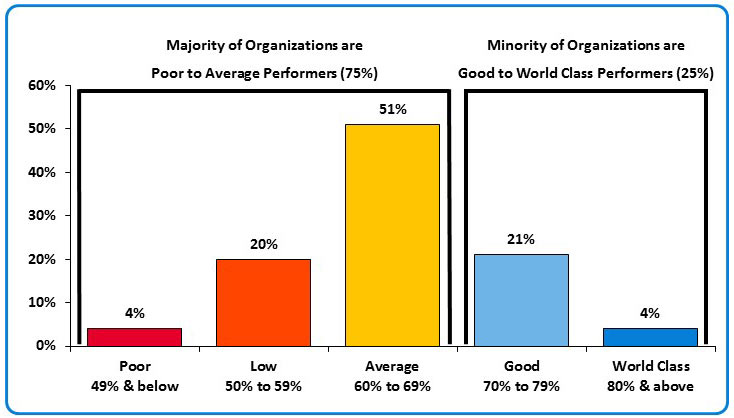 SQM data shows that 54% of organizations have an enterprise-wide customer experience strategy, and 33% of organizations have their customer experience strategy in progress. The overall ownership of the customer experience strategy is predominantly a C-level responsibility.
Historically, for most organizations, the C-level has been directly responsible for leading the customer experience strategy. Interestingly, our study is that only 19% of respondents indicated the CEO was leading the customer experience strategy. At SQM, we think this number is very low and one of the reasons why only 4% of our clients perform at a world class organizational Csat of 80% or higher (top box rating).
It has been SQM's experience that when the CEO is leading the customer experience strategy and implementation effort, it is more likely to be successful.
Enterprise Wide Customer Experience Strategy and Ownership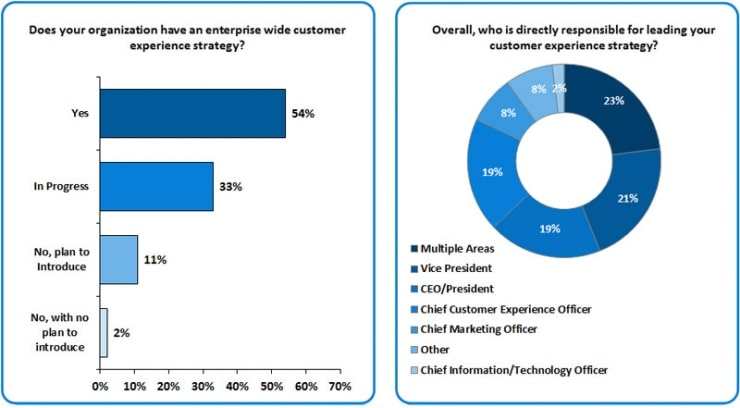 SQM data reveals that 71% of contact center senior executives strongly agree that improving a contact center's customer experience is just as important to the organization as revenue and profitability. Clearly, organizations are placing increased importance on customer experience.
Customer experience is defined as either a single interaction or the sum of all interactions for resolving a customer's inquiry or problem. Most SQM clients stated that they have significantly increased their customer experience investment over the last two years. In addition, most contact center senior executives feel that the customer experience investment will continue to increase.
Customer experience investment money is being used on improving existing contact channel FCR performance, providing a seamless omni-channel experience, and contact channel expansion with increased functionality.
Customer Experience as Important as Revenue and Profitability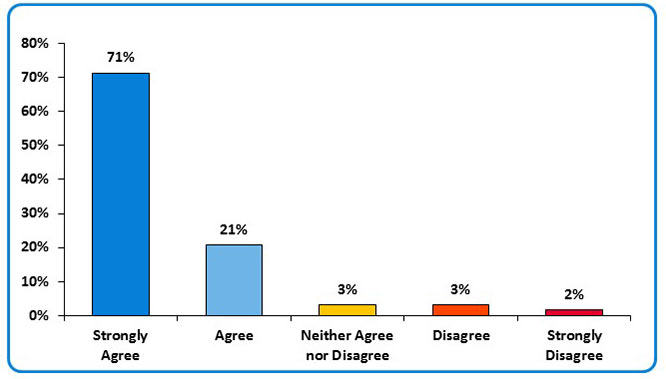 When we ask senior executives the focus of their contact channel strategies, 76% say it is to improve the individual channels currently offered. In addition, 60% say it is to integrate the omni-channel customer experience, and 45% say it is to expand the number of channels currently offered.
Clearly, the priority is to improve individual contact channels' FCR performance, and SQM is in complete agreement. 57% of senior executives either agree or strongly agree that their contact channel strategy is a source of differentiation from the competition. However, channel expansion is not a source of differentiation because competition will offer new channels if they do not already, and customers will expect those channels to be offered anyways.
Currently, 37% of customers use multiple contact channels simultaneously to resolve the same inquiry, which is considered significant. So offering an omni-channel customer experience can be a source of differentiation for those customers who use multiple channels. However, the real opportunity for a source of differentiation is with the individual contact channels.
Again, only 5% of SQM's clients provide world class FCR performance for their contact centers. Remember, customers, want their inquiry or problem to be resolved on the first contact using only one channel.
Strategy as a Source of Differentiation