Contact Center FCR Best Practices

Contact Center FCR Best Practices Overview
Contact Center FCR Best Practices are based on SQM conducting customer and employee research with over 500 leading North American contact centers to identify who has world class or improving FCR performance. Furthermore, SQM did site visits with those contact centers that had world class or improving FCR performance to validate that their practice has a proven track record for improving FCR or for helping maintain world class FCR performance.
Benefits of Improving FCR Performance
SQM has clients who have improved their FCR performance 10% or more within 30 days or have improved 1% to 2% every year for many years. SQM is very proud of the fact that over 70% of tracking clients improve their FCR and operating costs year over year. By improving the contact center's FCR performance, there is a positive impact on:
Csat performance
The Contact Center's ability to help retain customers for the organization
Operating costs
For the average contact center SQM benchmarks, a 1% improvement in their FCR performance equals $286,000 in annual operational savings. When FCR improves, not only are operational savings achieved, but the number of customers at risk is also reduced, which is typically a five times or greater savings opportunity than the operational savings. No other contact center metric has as much of an impact on quality and cost as FCR.
Contact Center FCR Best Practice Breakdown
It has been SQM's experience that best practice importance will vary depending on the contact center's performance and needs. Therefore, the best practice list below is not ranked for importance. For each best practice, an SQM client's best practice success story will be shared, as well as additional insights from other clients on best practices they have used to improve FCR performance.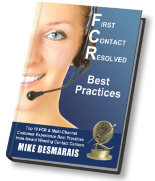 Excerpt from: First Contact Resolved Best Practices: Top 10 FCR & Multi-Channel Customer Experience Best Practices from Award Winning Contact Centers