Desktop Applications Best Practice for Improving CX
Most contact centers have not had much success with improving FCR as a result of initiating new desktop applications. However, SQM clients that have improved their FCR as a result of a new desktop initiative have done so by focusing the initiative on improving FCR. CSR desktops are typically cluttered with as many as 10 or more applications. Not only is there a large number of applications that CSRs are required to use, but often many of those applications are difficult to navigate. SQM's research shows that only 19% of CSRs are very satisfied with their contact center's desktop applications. In fact, CSR desktop applications are one of the biggest sources of employee dissatisfaction with working in the contact center.
There are three main desktop applications that are essential for consistently delivering FCR and achieving a significant return on a contact center's desktop applications investment:
Unified CSR Desktop
To help improve FCR, Csat and AHT performance, contact centers are integrating desktop applications into a simpler, unified CSR desktop. The unified desktop connects all of the contact center's applications that CSRs typically access and brings them into a single application. With the use of a unified desktop application, the CSR can handle calls in a proper, natural call flow sequence resulting in quick and consistent responses to customer calls. In many cases, it does not matter which CSR a customer talks to because every CSR uses the unified desktop application. This results in customers' calls being resolved in a more consistent manner.
An effective and efficient unified CSR desktop application can greatly improve Esat with handling calls, especially for new CSRs. The primary reason Esat is high with a unified desktop application is because CSRs only have to use one application thus making it easier to navigate screens. It is important that call flows are effective and efficient at reducing or eliminating CSR errors, and resolving calls in a timely manner. CSRs really appreciate when the unified desktop call flows and scripts are updated for areas such as new products, services, price changes, marketing campaigns, and policy changes.
Customer Relationship Management (CRM)
Just a few years ago most SQM clients would say that their CRM implementation was a failure or it did not meet their expectations. Today most SQM clients view their CRM application as one of the most important technologies in a contact center. Based on the current economic condition of the marketplace, it is SQM's opinion that the CRM application has new-found strategic and operational importance for contact centers to improve their FCR and customer experience performance. Also, because of the current tough economic conditions, many contact centers are recognizing that customer acquisition is an uphill battle. Therefore, many organizations are shifting their focus from customer acquisition to customer retention.
The main purpose of the CRM, from a contact center's point of view, should be for CSRs to use the CRM application to help resolve the customer's call with an understanding of the customer's relationship and value to the entire organization. Most CRM applications have the capability to track customer contacts which can be data-mined for customers who had to call more than once to resolve their call. This information can then be used for root cause analysis in order to determine the reasons for repeat calls and to develop solutions for improving FCR. Using the CRM application for identifying and reporting FCR or repeat calls can provide essential insights for understanding customer defections as a result of customers' experiences in using the contact center. As shown in Figure 1, the percent of customers who expressed their intent to defect increases when their call is not resolved and Figure 2 shows that unresolved calls is the largest source of customer defections.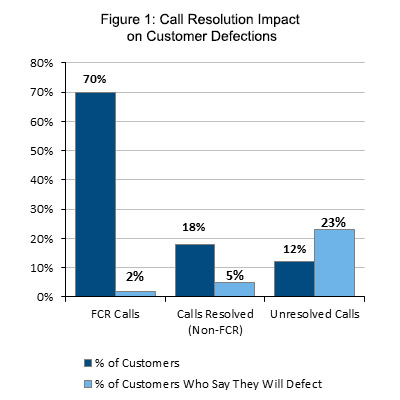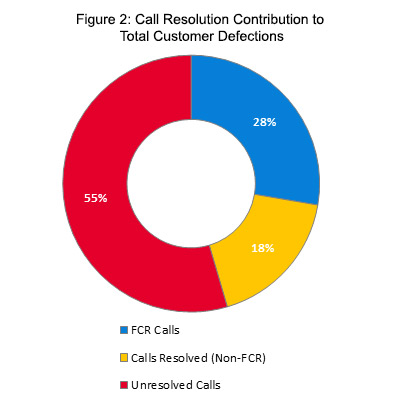 Knowledge Management Tool (KMT)
The primary purpose of the KMT is to assist CSRs in resolving customer calls. Knowledge is central to the customer service experience. The good news is that 86% of SQM clients say they have a KMT system in place and a whopping 94% of those clients say they update it regularly. But, why then do only 19% of CSRs rate their satisfaction with their KMT as very satisfied? And, why do only 29% of CSRs say that they turn to the online manual when they need help to resolve a customer's issue? It is clear from employee feedback that the cause of low satisfaction with their KMT is in the usability of the system rather than its absence. A best practice is to think of the KMT as a living, breathing entity that needs constant feeding, rather than another project that needs to be implemented and then forgotten. It has been SQM's experience that for the KMT to be successful at helping CSRs resolve customer calls on the first call, the KMT information needs to be accurate, understandable, useful and easy to access.
Desktop Applications Best Practice Case Studies
2018 CX Best Practice Award Winner – Desktop Applications – Mr. Cooper

Mr. Cooper Group Inc. (NASDAQ: COOP) provides quality servicing, origination and transaction-based services related principally to single-family residences throughout the United States with operations under its primary brands: Mr. Cooper® and Xome®. Mr. Cooper is the largest non-bank servicer in the country focused on delivering a variety of servicing and lending products, services and technologies. Our portfolio consists of a $514 billion servicing portfolio with over 3+ million customers.

Read their award-winning case study to learn about their process and continued CX performance success with enhancing their frontline desktop applications by incorporating multiple platforms and functionalities on one existing application.
---
2017 CX Best Practice Award Winner – Desktop Applications – Regence Blue Cross and Blue Shield Plans (Idaho, Oregon, Utah & Select Counties of Washington State)
Cambia Health Solutions is dedicated to transforming health care. We are a family of over 20 companies working together to make the health care system more economically sustainable and efficient for people and their families. Our solutions empower more than 70 million Americans nationwide.
Cambia has six health plans in four states in the Pacific Northwest that provide insurance to more than 2 million people with a top rating in FCR in the BlueCross BlueShield Association. Through bold thinking and innovative technology, Cambia delivers solutions that make high-quality health care more available, affordable, and personally relevant for people.
---
2016 CX Best Practice Award Winner – Desktop Applications – Comcast Cable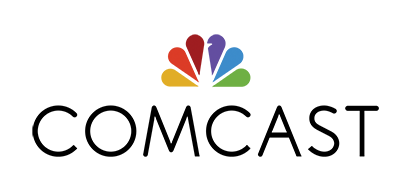 Comcast Corporation (Nasdaq: CMCSA, CMCSK) ) is a global media and technology company with two primary businesses, Comcast Cable and NBCUniversal. Comcast Cable is the nation's largest video, high-speed Internet and phone provider to residential customers under the XFINITY brand and also provides these services to businesses. NBCUniversal operates news, entertainment and sports cable networks, the NBC and Telemundo broadcast networks, television production operations, television station groups, Universal Pictures and Universal Parks and Resorts. Visit Comacast for more information.
The Einstein Evolution
We're using our technology expertise that has created innovative products and services and applying it how we provide service and support for our customers. To that end, we truly believe that you simply can't have a great customer experience without a great employee experience. And since our thousands of employees are the face of Comcast, they need the right tools and answers at their fingertips in order to provide a great customer experience. Therefore, the more that we invest in our employee solutions, the better we can influence our customers' experience with us. Because of this fundamental belief, in 2011 Comcast began a game-changing initiative that will ultimately span more than 5 years: To consolidate more than 20 unique desktop applications into one (1) universal employee application that would be consistent, simple, smart and, most importantly, that our employees would love using it every day. Einstein is that solution.
2015 Contact Center FCR Best Practice Award Winner – Desktop Applications– Comcast Cable
2014 Call Center FCR Best Practice Gold Award Winner – Desktop Application(s) – Comcast Cable