Continuous Improvement Process Best Practice for Improving CX
SQM has found that most organizations struggle with identifying areas to improve their interaction and touchpoint Customer Experience (CX) performance, as well as coming up with solutions for making improvements and implementing those solutions. It is SQM's strong belief that using a closed-loop continuous improvement process (e.g., Deming Cycle, Six Sigma) in conjunction with CX journey mapping insights to improve CX is a best practice. SQM has developed a closed-loop CX improvement cycle based on four steps: Identify, Develop, Check, and Act (IDCA). The CX IDCA improvement cycle follows the Deming Cycle, a closed-loop continuous quality improvement model consisting of a logical sequence of four repetitive steps for continuous improvement and learning. The below figure shows SQM's CX IDCA improvement cycle. The primary objective of the CX improvement cycle is to help organizations improve interaction and touchpoint CX when customers use an organization's products and/or services. The main purpose of the CX journey mapping process is to identify CX opportunities for improvement. Conversely, the main purpose of the CX improvement cycle is to develop an action plan to improve CX. Therefore, CX journey mapping and the CX improvement cycle should be viewed and used as complementary tools.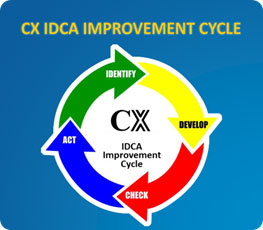 The four steps of the CX IDCA improvement cycle are as follows:
Identify repeat contact reason and Moments of Truth (MoT) improvement opportunities
Develop an action plan and implement improvements for people, process, and technology practices in a small test pilot within an interaction and/or touchpoint to improve specific repeat contact reasons and MoT
Check to see whether the test pilot was successful by using both internal and Voice of the Customer (VoC) metrics to evaluate changes in CX
Act to implement a standardized improvement plan for improving repeat contact reason and MoT performance for all applicable interaction and touchpoint CX
Continuous Improvement Process Best Practice Case Studies
2018 CX Best Practice Award Winner – Continuous Improvement Process – Regence Blue Cross Blue Shield Plans
Cambia Health Solutions is dedicated to transforming health care. They are a family of more than 20 companies working together to make the health care system more person-focused and economically sustainable for people and their families. Their solutions empower more than 70 million Americans nationwide.
Cambia has six health plans in four states in the Pacific Northwest that provide insurance to more than 2 million people. They have a top rating in FCR in the BlueCross BlueShield Association. Through bold thinking and innovative business practices and technology, Cambia delivers solutions that make high-quality health care more available, affordable and personally relevant for people.
Learn how they created a team that deployed change management and continuous process improvement best practices to empower and develop their employees, ensure leadership commitment, and deliver excellence to their customers.
---
2017 CX Best Practice Award Winner – Continuous Improvement – Security Health Plan

Security Health Plan is a Health Insurance company based out of Marshfield, Wisconsin, and is partnered with the ever-expanding Marshfield Clinic. Although we are not a national company, our name is spread outside the state of Wisconsin. That is thanks to the policies we offer and, most of all, the service we provide. We believe a member's first and last interaction is with our Customer Service department. Our highest method of contact is still by phone, although we do make contacts by email and offer other routes for the member to find information via online member portals or websites. Even with all the increasing uses of technology, the fact that the phone contact method is the highest shows how amazing our team is at continually improving with the times to provide exceptional, personal service to our members. Thanks to our continuous improvement process we have been able to implement multiple initiatives at the same time to increase our member's experiences and stay true to our motto, "Promises kept, plain and simple."
---
2016 CX Best Practice Award Winner – Continuous Improvement – Millennium1 Solutions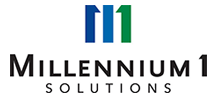 Millennium1 Solutions ("M1S") is one of Canada's fastest growing Business Process Outsourcing (BPO) providers, growing at three times the industry rate. M1S prides itself on handling their client's brands with care and ensuring delivery of tailored programs that meet their needs. Their mission is to deliver a superior customer experience to our clients and their customers through executional excellence and industry-leading insights.
M1S has a solid track record of providing end-to-end solutions for many of the largest North American brands across a variety of industries. These organizations trust M1S to provide high-quality, scalable, and secure solutions in three main service towers: Contact Center, Credit Cards, and Back Office/Administrative services. They have assembled a team that brings a disciplined and rigorous approach to managing their clients' businesses – many of whom choose M1S to provide an integrated solution across all three service towers.
Whether performing as an extension of a company's existing capabilities or as a stand-alone service delivery channel, Millennium1 Solutions brings industry-leading expertise, best practice processes, technology, and a disciplined approach to execution. They're passionate about the delivery of great customer experiences; their performance and processes have earned them a series of industry awards annually.