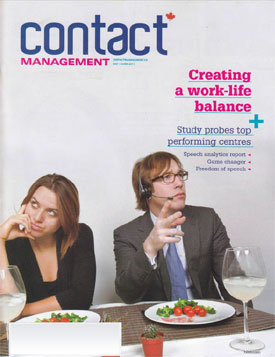 Why Firms Get High FCR Scores Part 2
As published in the May/June 2011 Issue of Contact Management Magazine written by Ron Glen.

Call centre executives with firms that have recorded exceptional First Call Resolution (FCR) rates disclose the secrets behind their success with this important customer satisfaction metric. They are clients of SQM Group, which works with companies to improve FCR and other contact centre functions. Other organizations were covered in the first part of our survey of high FCR achievers in the March/April issue.

How are some contact centres able to raise and sustain high levels of First Call Resolution (FCR)?

Contact Management surveyed client firms of Service Quality Measurement (SQM) Group that have accomplished this feat to learn what they did. Following are interviews with three companies.
407 Express Toll Route
The 407 Express Toll Route (ETR) is a private company that owns Highway 407, a major artery running mostly east and west across the top of Toronto. Drivers pay for using the highway mainly based on the distance travelled with license plate numbers picked up electronically at the points they enter and exit the highway.

The 407 ETR call centre receives thousands of calls each day. Most often, customers will call to pay their account balance, ask questions about their bill or request changes be made to their account information, among countless other possible inquiries.

It's important for an organization that receives such a high volume of calls to respond to each customer quickly to resolve any and all issues; ideally, during the first call. First Call Resolution (FCR) is an important call centre metric that can save both money and time, in addition to providing customers with a positive experience.

During the past eight years, 407 ETR has increased its FCR percentage by 23 percent, an accomplishment that has earned it the First Call Resolution Improvement Merit Award from Service Quality Management for an improvement in FCR greater than 10 percent in 2006. 407 ETR's FCR success is directly related to the organization's commitment to FCR, the evaluation and adjustment of applications and processes and the training, tools and resources provided to employees who execute the FCR initiatives.
Company-wide commitment
"The improvement in our FCR percentage can be attributed to the strong commitment to FCR that starts at the top of the organization," says John Galibert, director of customer service for 407 ETR. "Company President and CEO Jose Tamariz reviews FCR performance, including trend results, on a weekly basis. The initiatives to improve FCR are further reinforced and supported by every department within the company and executed by an engaged workforce who are empowered to make quick decisions to resolve our customers' issues."
Application evaluation and process implementation
Another important element is the frequent evaluation and adjustment of software applications and processes. After identifying the barriers that prevented FCR, management was able to implement fixes around back office workflows and action timelines.

"We are constantly monitoring our CRM applications on an ongoing basis and when necessary, we make changes to improve the quality of the systems used," says Galibert. "These enhancements contribute to reducing the amount of computer usage required by our representatives which has led to faster and smoother calls."

407 ETR's Dispute Resolution process, which was first introduced in 2006, has resulted in quicker and easier steps toward resolutions and a more defined plan of action for employees to take during a call.
Employee education
Management has placed a large emphasis on employee training, holding informative workshops and sessions, conducting monthly tests to ensure knowledge retention and developing training material.

"We develop our own KSI (Key Success Indicators) training material which gives us the ability to customize and present content in a way that is relevant to our staff," explains Galibert. "Employees are able to voluntarily sign up [for sessions] or can be asked by their team manager to attend based on the needs of the employee."

These materials, as well as other job aids, have been made accessible to employees through an online information portal. These initiatives ensure employees are knowledgeable in all applicable processes, understand how to navigate customer information and are capable of resolving problems to deliver adaptable solutions that work for customers.
Customer feedback
407 ETR welcomes and values customer feedback and the company has been able to implement countless processes and initiatives based on the feedback it obtains, says Galibert. To evaluate customer satisfaction, 407 ETR surveys customers within two business days after their contact with a customer service representative.

If during a survey customers state that their issue remains unresolved, a manager will later contact them to ensure a resolution is achieved. Recently, the department made real-time customer survey results available for all staff to view to emphasize how customer feedback is essential in maintaining customer resolution and satisfaction.

While measuring it can be challenging, says Galibert, improving an organization's FCR can result in a more productive and efficient workforce and a more satisfied customer base.
ENMAX
ENMAX, Calgary, AB, provides customer care to Albertans in relation to their electricity, gas and municipal services such as water, waste and recycling. Many inquiries to the ENMAX call centre surround questions about customer invoices, requests to process a change in residence or make arrangements for payment.

FCR has improved 21 percent. It climbed from a yearly average of 56 percent in 2009 to 68 percent in 2010.

"This remains an area of concentration for us and our performance continues to improve as our year-to-date average has now reached 75 percent," says Corry Poole, director customer contact centre.
Customer Care mission
ENMAX Customer Care set out in 2009 with a mission to 'provide seamless customer care through efficient deployment of people, process and technology.' According to Poole, the company is well on its way to achieving this goal.

"Not only do we have a focus with our inbound contact centre to deliver issue resolution on each call, we struck a project to ensure all our internal processes were current, minimizing any customer impact," she says. "In the very few cases this cannot be avoided, we take a proactive approach by reaching out to our customers and provide an explanation."
Internal quality program
"In March 2010 not only did we expand our relationship with SQM to gather more input from our customers, we also launched an internal quality program focused on providing customer issue resolution in a timely and accurate fashion," says Poole. "Additionally, as with most contact centres, there is always a heightened focus on the length of time to resolve each call. Although this is a very important performance metric, we have taken a different approach and only set agent targets on the 'after call' processing, encouraging them to take the time needed on the phone with each and every customer."
Customer escalation analysis
The one area the leadership team focused heavily on is analyzing customer escalations from a root cause and issue resolution perspective.

"We know that if a customer escalates to any member of our executive team it is likely an issue that could be troubling many more customers," says Poole. "Through this exercise we have made a number of process changes along with achieving a significant reduction in escalations."

ENMAX implemented a new billing system in 2009 and not unlike any other major system implementation, it did come with a few obstacles, she says.

"Since then we have made considerable improvements to our system and removed many of those challenges of which some were customer impacting. Additionally, we improved our agent help tools with an enhanced layout of our help system and leveraged 'wallboards' for instant communication and reminders to our team members."
Accenture Utilities BPO
Accenture is a global management consulting, technology services and outsourcing company, with approximately 211,000 people serving clients in more than 120 countries. Accenture collaborates with clients to help them become high-performance businesses and governments. The company generated net revenues of US$21.6 billion for the fiscal year ended Aug. 31, 2010.

Accenture Utilities BPO Services, formerly Accenture Business Services for Utilities, was established in 2003 to provide scale and leading meter-to-cash services to utilities. The use of these services has grown considerably in recent years. Accenture is now helping more than 30 utilities.

Customers often call the Accenture centre to report payments, ask questions about their bills, or to open, transfer or close accounts, says Accenture Senior Executive Chris Metzger. It fields a wide variety of general inquiries from both residential to commercial customers that range from simple information requests to more challenging issues and even some emergency calls regarding service.

"We are very proud of our progress in FCR and have seen a steady improvement over the past few years, increasing eight percent since 2008, with a five percent increase from 2009 to 2010," he says.
Open agent communication
"We have stressed open communication with our agents and that has been the most significant factor in our improvement," says Metzger. "We have worked with our staff to help them understand and embrace their own accountability in achieving customer satisfaction and FCR and the effects of not resolving customers' needs as quickly and easily as possible.

"We also conducted extensive root cause analysis on repeat callers and reasons they were calling us more than once. Through this analysis, we were able to empower our agents to better assist and resolve customers' needs.

"We provide our agents with soft skills training on a regular basis to help them gain confidence and take ownership of their customer interactions. We also focus on FCR in our Quality Assurance program."
Simplifying the process
"We reviewed our processes and implemented improvements based on CSR and Team Manager feedback," says Metzger. "Some of these improvements included simplifying the process or changing the flow of questions to help achieve a higher rate of FCR.

"Our improvements are purely process and people based. Ensuring our people are equipped with the knowledge and skills required to do their jobs and providing an efficient set of protocols has provided remarkable results."