SQM Group Helped Blue Cross Blue Shield of Massachusetts Achieve:
15:1
Call center agent to real-time support and escalation ratio.
100%
Escalation feedback to coaching & training.
SSL
Agent access real-time help through the Service Solution Line.
FCR Results
The development of our Service Solutions Line has dramatically impacted our service center's landscape in a positive way. We have become an invaluable, efficient, and knowledgeable resource for our team members and a development area for future leaders. We are extremely proud of what our team has accomplished in a short period, and we look forward to cultivating our hotline model to even more innovative levels in the future. For the last five years, our Retail Sales and Retention call center has been certified by SQM as a world-class FCR performing call center. Clearly, our SSL has played a significant role in helping our call center's performance at such a high level.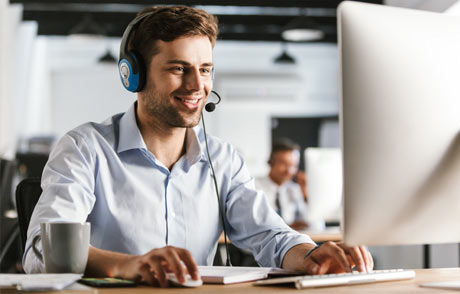 Company Description
Blue Cross Blue Shield of Massachusetts is a community-focused, tax-paying, not-for-profit health plan headquartered in Boston. We are committed to working with others in a spirit of shared responsibility to make quality health care affordable. Consistent with our corporate promise to always put our members first, we are rated among the nation's best health plans for member satisfaction and quality.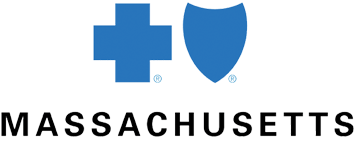 Opportunity Statement
Our Member Service call center was faced with several challenges inhibiting our ability to improve First Call Resolution (FCR) results.
Our managers were responsible for leading teams of 30 plus agents with one supervisor to assist them. At the same time, we were right-sizing our staff, which lead to the constant addition of new team members. All told, we added 157 new agents from the 4th quarter this year. Our leaders increasingly found themselves with significant responsibilities to manage the team's day-to-day operations and find ways to support and develop team members. We had an internal hotline that served as a Q and A resource, but it was staffed by a small number of Business Experts (BE) that could not keep up with the volume of questions they were receiving. To offset the hotline staffing shortfall, we were forced to use our supervisors daily, which took away from their ability to complete their tasks and placed additional stress on their managers. It was clear we needed to find a solution. To address the situation, we assembled a project team and charged them with the following goals:
Rename and rebrand the hotline
Determine appropriate staffing levels
Build a methodology for data collection and analysis
Determine how data collected on the hotline could be used to inform decisions and improve education
Redefine the roles and responsibilities of the BE role
Rewrite the BE job description to match those changes
Develop a progression model to include the BE role on the path to leadership
Develop a hiring strategy and bring on the right people to make it all work
Communicate the new strategy to the service center
Implement all changes to improve FCR and Csat
The result of our work has radically changed the efficiency of our service center and how we share information. The rebranded hotline was renamed "The Service Solutions Line" or SSL.
Thanks to an in-depth collaboration and staff model analysis with our Workforce Planning Team, we determined the need was 19 BEs, a number that we planned to augment with top-tier agents. Equally as important was our SSL Tracking Tool's development, an internally built application that allows us to track which agents called and why allowing us to quickly identify training opportunities at both the agent and department levels. The reporting created by the database helps us improve efficiency, quality, and FCR in our service center. Our SSL reports to the Multi-Channel Team within our customer service center. This structure allows the BEs to remain objective as leaders and retains their status as a part of the department. The basic concept of our SSL is two-fold:
Behave like a miniature call-center unto ourselves in which the telephone agents are our customers.
Collect data and use it to inform training both at the aggregate level and at the individual level. Whenever someone calls us, they volunteer their problems, concerns, questions, strengths, and opportunities.
In other words, we will make use of every interaction to improve the confidence level of our most important resource: our frontline agents. Out of this concept was born the monthly BEat. The BEat is a monthly newsletter produced by the BEs and based entirely on trends captured on the SSL. Many agents say they often refer to it when they are stuck on a call. The BEat is written entertainingly and has served as a great source of timely and relevant information for our department. It has also helped solidify the SSL brand as a helpful group of leaders whose goal is to spread knowledge, encouragement, and fun throughout the department.
We wanted our team to be viewed in the same way that captains are considered on a sports team. They should be part leader, part coach, part team member; that is precisely what we have achieved. Each BE is assigned to a team to bring reporting and SSL insights to that particular team's leaders. Above all, they support our service center quickly and efficiently on the SSL, always taking the time to identify coaching opportunities in real-time and reviewing SSL data.
Our BEs also handle all escalated member calls. To ensure that they are properly equipped to handle escalated issues, we provide our BEs with advanced claims adjustment training and have an available team group chat to tap their fellow leaders for support. Furthermore, we have given them the power to override and pay pharmacy claims to help members who have encountered difficulty filling a script and need assistance quickly. The expertise of the BEs has proven to be an asset when handling these escalated issues, as they have significantly improved our ability to resolve member complaints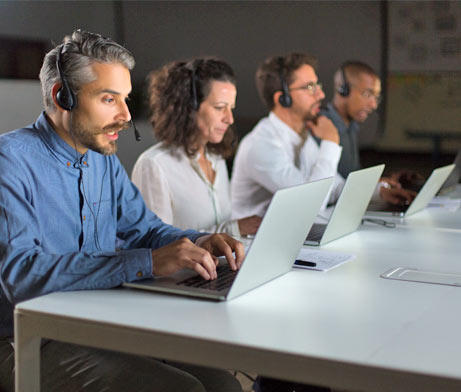 Call Center Escalation Best Practices Used
Agents can reach the SSL by calling in and selecting the prompt for the type of team they are on. Once on the line, BEs will use various methods to help the agent, including screen sharing and even instant messaging after the call is over to provide extra help. In addition to this, the BE can take the call over. Whether it is an escalated request for a supervisor or otherwise, any call that is taken over is warm transferred from the agent to the BE. Moreover, any call that the BE takes on is owned by that BE. Any research and follow-up needed to arrive at a resolution is the BE's responsibility once the call is transferred.
BEs are stationed both in a central group in our call center as well as a part of our remote workforce. This allows the team to work closely together while remaining relatable to office-based and remote agents.
We have a rule on the SSL: Track every interaction. We adhere to this rule because we understand that our data integrity is the foundation that allows us to build upward. We have several levels of reporting and analysis. These reports show trends for the previous month, overall numbers, challenges, training, and coaching opportunities at the aggregate level, team by team, and by an agent.
The BEs themselves develop much more personalized and team-tailored reporting for the leaders of the teams for which they are assigned. This reporting is generated weekly and supplies leaders with a snapshot of the types of issues prompting questions within their teams. While we do track the usage, trends, and even behaviors of the agents calling in, we do not hold that information against them, nor does it have a negative impact on their metric goals.
We are using the SSL information to identify trends and coaching opportunities at every level. This supports our mission to empower our service center staff by sharing knowledge and building confidence. Our goal is to use hard data to get out in front of those challenges and give our agents the tools and confidence they need to get the job done.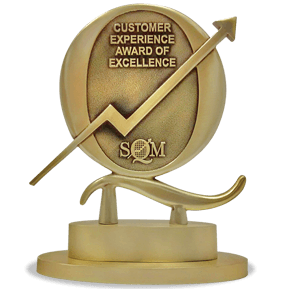 SQM Awards Received
Call Center World Class FCR Certification (Retail Sales and Retention): 2016 - 2020
Best Practice - Real-Time Agent Support Queue: 2016 - 2020