Service Recovery At Its Best
An effective call escalation process can avoid many of the additional calls the contact center receives from customers whose issues are not resolved on the first call. At the same time, the contact center can improve overall customer experience (CX), reduce operational costs, and retain the organization's customers. This webinar will provide you with the best practices for managing your escalation queue effectively towards improving CX.
When a call is handled by the Escalation CSR Support Queue and the call goes unresolved, SQM's research shows that over 30% of those customers express an intent to defect from the organization. This represents an enormous opportunity for your escalation CSR's to assist frontline CSRs in resolving customer calls on their first contact.
In this webinar, you will learn:
Best practices for an effective call escalation process
Why customers with a complaint are the best customers to gather feedback from to determine opportunities to improve CX performance
CX research data showing the impact unresolved escalated calls have on FCR and customer satisfaction
A proven complaint handling process for CSRs and escalation CSRs
Metrics for measuring customer complaints
Key questions for assessing your escalation CSR support queue practices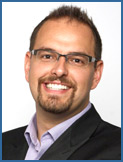 Presented by:
Nader Ghattas, BMgmt.

Vice President of Consulting
SQM Group
WEBINAR - Escalations: Service Recovery at its Best