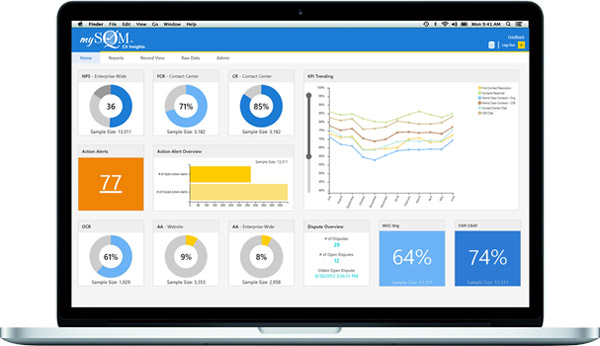 CX Insights Software
SQM's SaaS platform is powered by mySQM™ CX Insights software to help organizations understand and improve the experiences of their customers and employees. mySQM™ CX Insights is a flexible and simple to use software tool for capturing, analyzing, reporting and actioning customer and employee experience. SQM's proprietary AI technology provides powerful insights through Personalized Intelligence™ to assist frontline employees, analysts, and business managers in actioning data and feedback.
mySQM™ CX Insights is designed for real-time access to customer/employee surveys and internal data from any device in a secure encrypted manner. The software is customizable for access from the C-Level to the frontline, allowing everyone in the organization direct access to customer metrics that matter for your company.
Benchmark Customer Experience Performance
Compare your organization against leading North American companies for all major contact channels. Understand how you stack up against average and best-performing employees and organizations.
Personalized Intelligence™ Agent Tools That Drive Organizational Greatness
Personalized IntelligenceTM is an automated suite of tools built into mySQM™ tailored to each agent that takes the guesswork out of measuring, rewarding, and improving contact center experience for customers and employees.
Customer Quality Assurance (CQA) & Coaching Reports
Provides great data visualization for CX performance, CX benchmarking ranking, and opportunities for CX improvement at the CSR and supervisor levels. Provides a built-in tool to measure individual performance and trending of frontline staff and supervisors.
Consolidated Customer Experience Reporting
Receive up-to-the-minute results and comparisons for each employee, department, and your entire organization. Collect customer/employee feedback data from multiple survey methods to provide simple, flexible, and consolidated reporting.
Define Custom Metrics and Flexible Dashboards
Make it easy for your employees to focus on what's important to them. Easily customize the software to make it work the way you want for you and your team.
Service Recovery Opportunity Notifications
Get the right information to the right employees in real-time. Act quickly to improve CX based on individualized triggers for each unique part of your enterprise.

Simple, Flexible, Consolidated Reporting
Customer and employee survey methods and internal data are stored in one place which means a company can provide simple, flexible, consolidated reporting. Get critical information to the employees in real-time and act quickly to improve customer and employee experiences. Furthermore, SQM has capabilities for big data capturing and analytics reporting that help you have a better understanding of your customer contact channels and the end-to-end customer journey experiences. Our advanced quota management system allows us to accurately deliver a survey quota at a frontline level or any other quota that is required.
Capture, Analyze, and Report Customer Experience
SQM's research team can assist with understanding, conceptualizing, and visualizing your data for any audience. We specialize in analyzing customer contact channels and end-to-end customer journey experiences. Our team includes doctorate level researchers, mathematicians, and software engineers who are available to help with any of your data or analytical questions and interpretations. We understand contact channel performances and end-to-end customer journeys by staying current with best practices for capturing, analyzing, reporting, and actioning both customer and employee experiences.
SQM is very proud of our proven track record for helping companies improve their customer and employee experiences. In fact, our clients tell us that SQM is the best specialist market research firm that they have ever used for helping their company improve customer and employee experiences.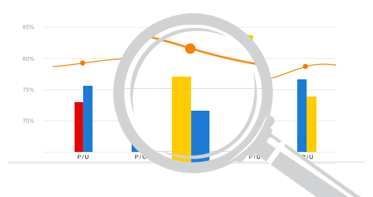 SQM SURVEY CAPTURING METHODS

PHONE

EMAIL

IVR

ONLINE

FACE-TO-FACE

TEXT MESSAGE
Understand CX and Cost Reduction Opportunities
Receive real-time notifications when customers are dissatisfied and immediately follow-up to resolve issues or problems. Notifications are customizable to ensure you see the feedback that matters the most.
SQM's transcription team reviews the customer survey repeat contact feedback and tags the appropriate repeat contact reasons. One of SQM's towering strengths is the ability to tag open-ended feedback using our sophisticated technology and highly-trained analysts to identify opportunities for improving CX and reducing operating costs.
SQM's client account managers and consultants are passionate and dedicated to ensuring that our CX research insights provide actionable data for improving CX. To supplement the CX research insights data, our account management team captures and validates CX best practices from leading North American companies and shares those CX best practices on a quarterly basis. Furthermore, our account managers and consultants will work with business managers to develop action plans for people, processes, and technology for improving CX performance and reducing operating costs. Most importantly, SQM has a proven track record for helping improve CX.