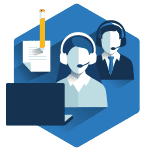 Surveying
SQM surveyed customers in response to the COVID-19 situation and was able to compile insights and assess early impacts.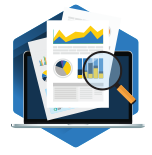 Benchmark & Analysis
Data can be compared across organizations and benchmarked to assess the performance of CX and EX channels.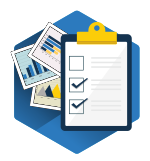 Snapshot Study
Experts in CX improvement, SQM can help your organization understand how COVID-19 has impacted your contact center.
Awarding
Even in difficult times, SQM is committed to positivity and recognizing organizations for their CX and EX performance.
COVID-19 Consumer Perception Data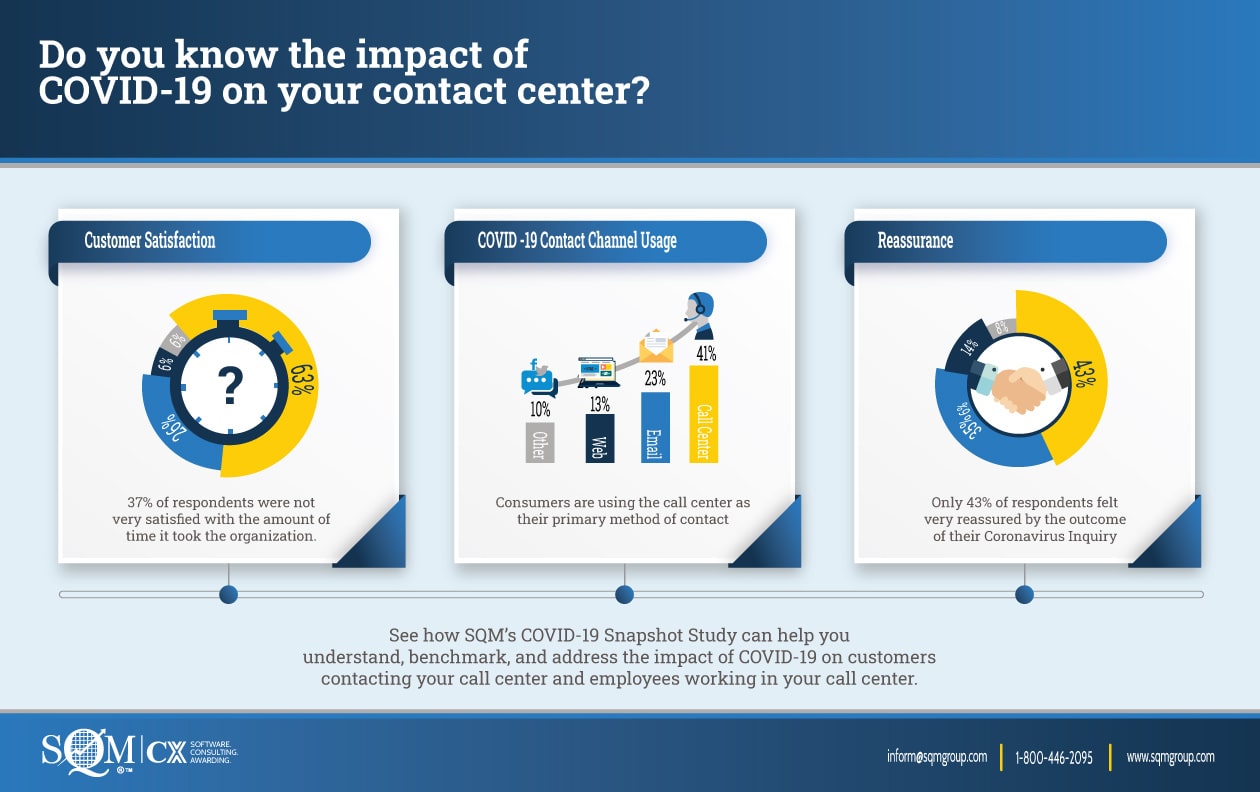 The Data
SQM's Custom research team developed a preliminary consumer perception survey to assess the early impact of the COVID-19 crisis, and understand the potential impact it would have on buying behavior and customer experience channels.
Outcomes
Contact centers are seeing higher call volumes as customers seek answers and reassurances during these chaotic days. At this stressful time, ensuring continued CX performance is a major factor in differentiating your organization, and ensuring your employees have appropriate support is integral to maintain ongoing operations.
Learn More About How SQM Can Help
While you are navigating new challenges in delivering customer support, SQM is ready to support your team and channels by investigating the direct impact of the COVID situation on your contact center, and measure your success against leading North American companies.
Benchmark your customer and employee experience against top organizations during this stressful situation, and get valuable insights to help you power through the challenges presented.
Measure Your Performance Against Top North American Companies During These Challenging Times
Situations where your resources and teams are stretched to their limits can be opportune times for learning and growth. As your contact channels become inundated with interactions, weak points become easier to spot and address. While teams are forced into isolation and remote working environments, the situation can be one of the most viable learning opportunities for your organization.
Take this opportunity to see how your team is rising to the challenge, supporting your customer base, and how that effort is perceived by your customers. Review how your CX channels are withstanding the current crisis, and discover effective ways to improve processes to support your customers and employees.
The SQM Benchmark study is a moment-in-time review of your contact channels CX delivery and offers the chance to benchmark your contact center performance against the best North American organizations and verticals. Gain insight into your improvement opportunities and get effective and proven guidance to address issues. Turn these challenging times into learning opportunities and find ways to improve your CX delivery for future success.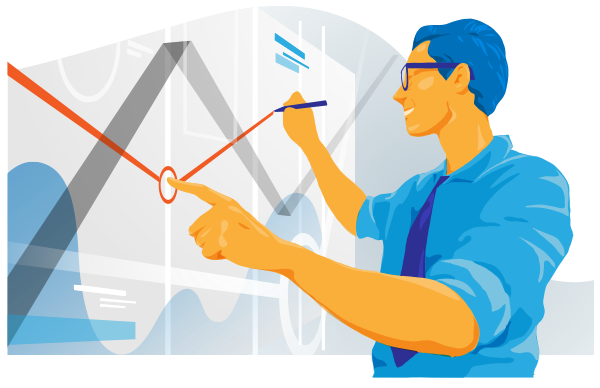 COVID-19 Impact Benchmark Study
SQM's current COVID-19 Impact Benchmark Study centers on the impacts of the Coronavirus crisis, reviews your CX channels and presents direction for effective improvements. Along with standard Benchmark research, the study specifically targets the current situation and how it is affecting your CX delivery and EX support, using feedback and data direct from your customer audiences.
As well, in an effort to promote positivity in these uncertain times, SQM is committed to awarding top-performing organizations for their CX and EX delivery. Celebrate the resiliency of your team as they rise to new challenges. Every completed study qualifies organizations for consideration.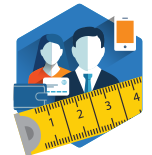 Measure the Impact on CX
Learn how the current COVID-19 situation is affecting CX performance metrics.
Understand customer behavior and get concrete data on channel usage.
Get direct, Voice of the Customer (VoC) feedback on your CX delivery during high-anxiety times.
Discover opportunities to make immediate and effective improvements to support customers better.
Benchmark your success against leading North-American companies.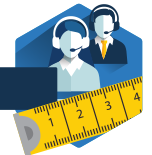 Measure the Impact on EX
See how your front-line agents are responding to the challenges presented from greater contact volume.
Identify opportunities to better support your teams in a work-from-home situation.
Quantify the results of your efforts and determine appropriate courses of action for improvement.
Gauge the level of engagement from your front-line teams to ensure morale and minimize turnover.