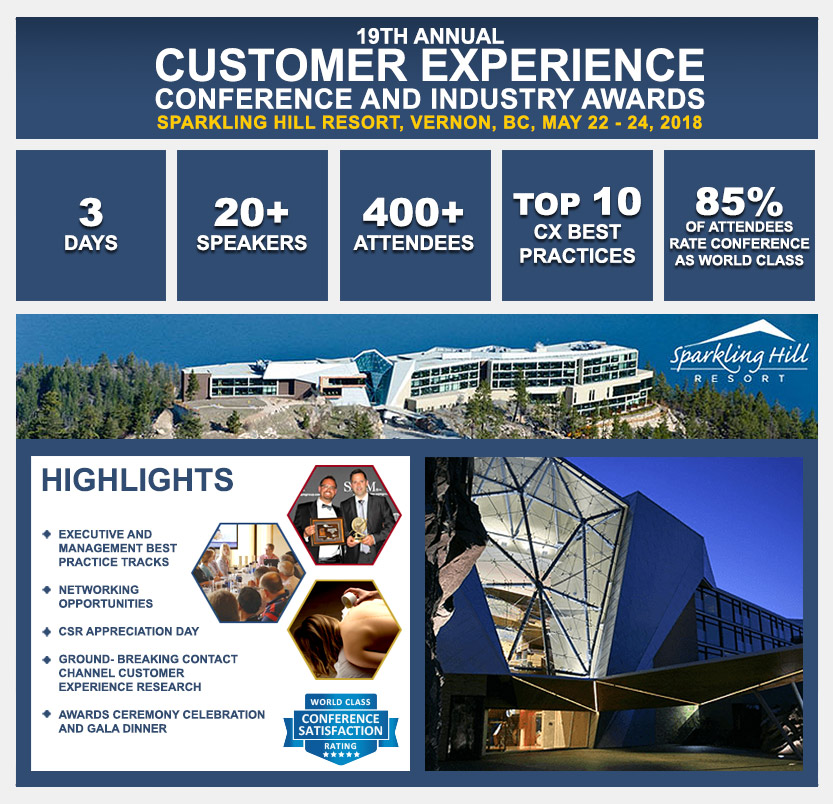 19TH ANNUAL
CUSTOMER EXPERIENCE (CX)
CONFERENCE AND INDUSTRY AWARDS
---
Year-over-year, SQM's Conference receives world class ratings from attendees. In fact, this event continues to receive an unprecedented number of registrations and last year, sold out over a month in advance! Be sure to register early to join us for this spectacular event where we will share ground-breaking contact channel research and best practices for improving Customer Experience (CX) based on award winning contact centers.
SQM's CX conference and industry awards is held across 3 days and includes over 20+ speakers, 400+ attendees, proven award-winning CX best practices, and all within an intimate learning setting. The 2018 SQM CX Conference and Industry Awards will be held in Vernon, BC, May 22nd – 24th at Sparkling Hill Resort. This world class hotel and wellness center is known as one of the top hotels in North America with breathtaking views of Okanagan Lake and over 3.5 million Swarovski crystals infused within this modern oasis – a most remarkable hotel with European-inspired design elegance.
SQM will be recognizing award winning contact centers and frontline employee performances for over 50+ different award categories including Contact Center of the Year, CSR and Supervisor of the Year, World Class Certification, and Contact Center CX Best Practices. Our awards and certification programs are the most credible and rewarding recognition programs in the contact center industry because they are based on the customers' experiences using contact centers and/or employees working in contact centers. Receiving these awards and certificates in front of over 400 contact center peers is extremely gratifying.
Some key highlights of the event for attendees include attending the executive (by invite only) or management best practice learning tracks, benefiting from networking opportunities, participating in the CSR appreciation day activities, learning ground-breaking contact channel CX research, and enjoying the grand awards ceremony celebration, and gala dinner. We end the conference by dining under the stars in an elegantly decorated pavilion tent for our gala awards dinner.
Since 1996, SQM has been a leading North American customer experience research, consulting, and performance awarding firm. SQM's primary purpose is to help organizations accurately measure, benchmark, and improve CX and to recognize organizations that have demonstrated CX excellence. Over 70% of our tracking clients improve their CX year-over-year and, as a result, SQM enjoys a 95% client retention rate.
Awarding World Class Contact Center Performers
---
Why You Should Attend
---
Discover new and ground-breaking contact channel customer experience research and best practices for improving contact center performance from award winning contact centers.
Who Should Attend?
---
Customer Experience Officers
Contact center vice presidents and directors that have frontline (CSR) responsibilities
Managers responsible for contact center/channel customer experience
Staff managers that have responsibilities for improving contact channel, FCR, and customer retention performance
Senior staff managers who have contact center quality assurance responsibilities
Most importantly, World Class Certified frontline supervisors and CSRs
Location and Dates
---