Contact Center Best Practice Awards: Q&A

As the January 8, 2016 deadline nears for the Best Practice Awards story submissions, here are answers to some great questions we have received about these awards.
I am not sure if what we have done is a Best Practice - I just know that it worked for improving our contact center performance and we're going to continue using this practice. Should I submit our story about this?
This is exactly the type of story you should submit! If you have a practice in place that improved or maintained your contact center FCR, Csat or Esat performance, this is welcomed as a nomination submission. We want to know how you put it into play, the measures of success, your employee satisfaction with the practice and, last but not least, how it has impacted your customer's satisfaction. We recommend you spend time articulating the details of your story, but keep it within 5 pages (50,000 characters or less).
---
We tend to use customer satisfaction as our ultimate measure of success – can I still submit a story?
Yes, absolutely. We know some contact centers use other metrics as a measure of success – not everyone has made the shift in making FCR the most important metric to measure. However, FCR and Csat are so closely linked that an increase in FCR is mirrored by a similar increase in Csat. If you achieved an increase in Csat performance - there is most likely a corresponding increase in FCR as well.
---
Our contact center practice is still in pilot mode. Is it too early to submit our nomination story for this year's awards?
As long as you have some pre-pilot and post-pilot data to demonstrate success, you are eligible to submit your nomination story. We advocate the use of pilot programs to test new approaches so please feel free to submit the full details of your pilot.
---
Can I submit for more than one best practice category?
Yes! If you have implemented more than one call center best practice, and have data that demonstrates success, submit your stories. It can take more than one best practice to improve your contact center performance, so don't limit yourself to only one submission.
---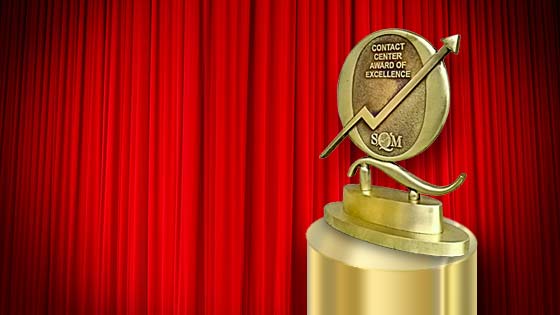 What happens after January 8? How do you evaluate the submissions?
We have a committee of SQM experts who spend 5 days locked away evaluating submissions. The submission process could potentially include a phone interview or a site visit with an SQM subject matter expert to gain a better understanding of the Best Practice submission before making our final award winner announcements on February 15, 2016.
---
What if our overall FCR numbers haven't changed or there was minimal FCR performance change?
We recognize other factors change in the business that impact the success of your Best Practice. For example, a new product introduction that took you by surprise or a platform migration that did not go well. These things happen. As long as you can isolate the impact of your Best Practice or demonstrate that if your Best Practice had not been in place, FCR would have dropped further, then it counts as a Best Practice. Factors to consider would be changes in Csat or Esat as well.
---
Our practice seems to fit under multiple categories. How do I know which one to pick?
Select the category that seems to fit best, and if SQM feels it fits better under a different category based on context compared to other submissions, we will move it.
---
How do I know if our idea is original enough for submission? As far as I know, everyone is doing the same thing we are.
If your practice has made a measurable impact on your FCR, Csat or Esat performance, we encourage you to submit it. You might find out your contact center is more of a trailblazer than you knew and your ideas could help others!
---
What qualifies as a Best Practice? Does it have to be one specific thing we have implemented, or could it be a package of changes implemented together?
Both qualify for submission. Packaged ideas could be bundled together under one category, or if appropriate, each could be broken out and entered in separate categories.
---
What happens if we win an award?
There are 15 Best Practice Awards categories and for each category SQM will recognize 1 organization. At SQM's 17th Annual Contact Center Industry Conference, held in Coeur d'Alene, ID, from May 17 to 19, 2016 we will recognize the organizations that have won a Best Practice award. Best Practice Award winners must have at least one person from their organization attend SQM's award conference. The winner for each Best Practice will be asked to present at SQM's conference. If you win a Best Practice Award from SQM, you agree to allow SQM to publish an edited version of your submission story on SQM's website and through email marketing blasts, press releases, SQM's book, whitepapers, webinars and other marketing material.
---
The deadline to submit Best Practice Awards nomination stories is January 8, 2016!
Organizations can submit best practices for any or all categories and both SQM clients and non-SQM clients are eligible for Best Practice Awards. For each category, SQM will recognize one organization and the winning organization for each category will receive a trophy award. Best Practice Awards winners will be recognized at SQM's 17th Annual Contact Center Industry Conference, held in Coeur d'Alene, Idaho, May 17th to 19th, 2016. Winners must have at least one person from their organization attend SQM's award conference and each winner will be asked to present at the SQM conference.