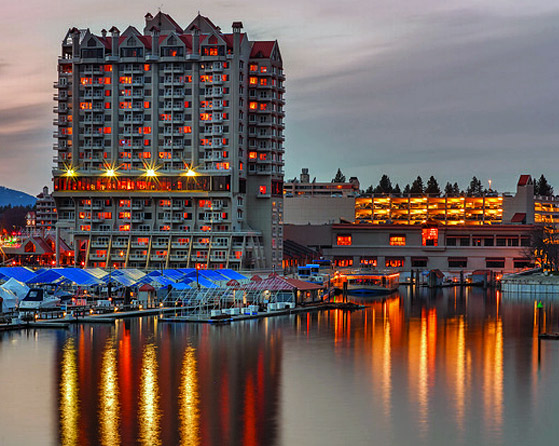 Welcome to The Coeur d'Alene Resort, a world renowned destination for vacation, business, romance and fun, overlooking a stunning alpine lake in a quaint, friendly downtown lakeside atmosphere. The Coeur d'Alene Resort is located on the north shore of Lake Coeur d'Alene, acclaimed by National Geographic as one of the most beautiful lakes in the world. In the years since its founding in 1986, The Resort has grown into top travel site for visitors from near and far, and are proud to be considered part of Pacific Northwest history. In addition to the world-famous golf course featuring the world's only floating green, amenities at the resort include The Coeur d'Alene Resort Spa, convention facilities, a marina, a fitness center and pools, shops, and various restaurants and nightlife—all featuring excellent service, incredible views, and an emphasis on the beautiful natural surroundings.
---
Hotel & Event Location:
The Coeur d'Alene Resort
115 S. 2nd Street
Coeur d'Alene, Idaho
83814
---
Reservation Information:
The Coeur d'Alene Resort is located 38 miles (approximately 45 minutes) from the Spokane International Airport. Rooms for the conference are available at a special promotional rate
---
Hotel Amenities:
CDA Resort's 17 story tower rises above downtown at the edge of Lake Coeur d'Alene

Each room is upscale, well-appointed designed with your enjoyment in mind

Complimentary WIFI internet access

Fitness facility with indoor and outdoor pool

Room services, 6:00 AM – 11:00 PM

Concierge staff will help you enjoy everything Coeur d'Alene has to offer
---

The Resort
At The Coeur d'Alene Resort, our lakefront and lake view rooms and suites have been engineered inside and out with your comfort in mind. All of our rooms feature superior soundproofing, individual ventilation units, elevated beds, sofas, spacious bathrooms, widescreen ultra HD television displays, media players, USB charging outlets, high-speed internet access, and reading chairs. Each room is designed to maximize the spectacular views of Lake Coeur d'Alene and surrounding mountains while providing guests with an upscale residential atmosphere.
---

Spa Treatments
Escape to a world of relaxation, inspired by the natural elements of the Pacific Northwest. At The Coeur d'Alene Resort Spa, your journey into peace and tranquility is yours to create. Browse our complete menu of services, treatments and packages to plan and book your own perfect day at the Spa. Choose between more than a dozen different massage treatments providing various kinds of relaxation and pain relief.
---

Floating Green
It's one of the best-known icons in golf – the Famous Floating Green on the 14th hole. Arrive by water taxi, greeted by your personal forecaddie. The lake is a gorgeous backdrop – as well as a formidable challenge. The expertly groomed course compliments your game. The superb attention to service makes you a VIP, every time you play. The experts at Golf Digest, Golf Magazine and Conde Nast Traveler agree – this is one of the world's best golf experiences.
---

Wineries & Craft Breweries
Coeur d'Alene has several wineries and craft breweries for you to visit and discover a way of life that includes the making of wine and craft beer. You will find some of the most delightful tasting wine, and robust craft beers, but most of all – you will find the people and scenery beyond compare. Over a dozen within a 15 minute walk from the Coeur d'Alene Resort.