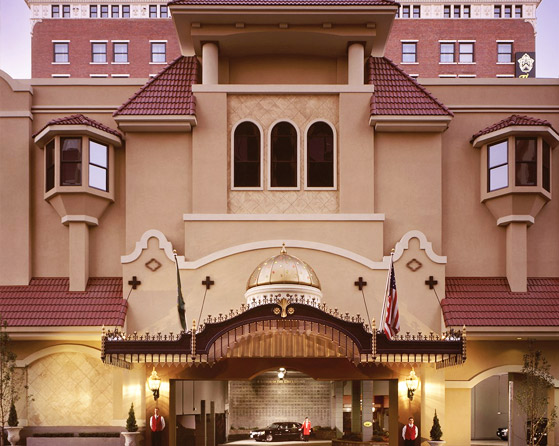 "Washington's grandest hotel. Whether it's the soaring architecture, award-winning amenities, rich history, or simply its proximity to nearby Spokane attractions, The Historic Davenport Hotel has welcomed film stars, explorers, writers, politicians and other luminaries for more than 100 years."

---
Hotel & Event Location:
The Historic Davenport Hotel
Autograph Collection
10 South Post Street
Spokane, WA 99201
---
Reservation Information:
---
Reservation Details:
Reserve your room today and take advantage of the special room rate of $169 US. Hotel reservations must be received by Monday, April 8, 2019.
Hotel room rates are subject to applicable state and local taxes (currently 12.1%) in effect at the time of check-out. All reservations must be accompanied by a first night room deposit or guaranteed with a major credit card. A Tourism Promotion and Assessment fee of $2.00 per room, per night and a Destination Amenity Fee of $10.00, per room, per night will be applied.
The Davenport Grand Hotel is located 7 miles (approximately 15 – 20 minutes) from the Spokane International Airport.

---
Room Amenities:
The famed "Davenport Bed" with custom-made down pillow top mattress wrapped in fine Frette Italian linens
Large marble walk-in showers and/or luxurious soaking tubs
Original oil-on-canvas paintings
Hand-carved mahogany furniture
Luxurious bath and personal care products from L'Occitane of France
High-definition flat-screen televisions with in-room movies and music
In-room safe, iron and ironing board, makeup mirror, and hair dryer
Three telephones with voicemail and private direct-line capability
Executive desk
In-Room Coffee maker / tea service
---

The Historic Davenport Hotel
The Historic Davenport Hotel offers guests beautifully appointed rooms with either a luxurious queen-size bed or a spacious king-size bed. All beds are custom-made and dressed in fine Frette linens. Grand rooms like the Spanish Renaissance lobby or the Hall of Doges, Spokane's oldest and most exquisite ballroom, draw tourists and architectural aficionados alike. Such extraordinary features have helped The Historic Davenport Hotel earn a prized spot on the National Register of Historic Places. During the hotel's renovation in 2000, the hand-painted frescoes, ornate woodwork and European-inspired marble were all meticulously restored, including the genuine gold leaf around the lobby hearth and the year-round lit fireplace – both hallmarks of Davenport hospitality since the hotel opened its doors a century ago.
---

Spa & Relaxation
Escape to a place where beauty and relaxation are more than just skin deep. The Davenport Spa and Salon is your mid-city oasis of serenity and well-being. Enter the tranquility of the Grecian lobby and immediately feel the accumulated stress of daily life begin to dissipate. Let the trained hands of our expert staff pamper your body, soothe your mind and re-energize your soul. Their wellness spa offers the chance to surrender to relaxation, rejuvenate and take advantage of a necessary indulgence during your stay.
---

Golf
Rolling hills and groomed grasses make for an unforgettable golfing experience that is enjoyable for all skill levels. The Spokane region is home to 33 of the nation's finest public and private golf courses. Spokane courses—ranked in the top 100 by Golf Digest—feature fairways surrounded by the region's stunning natural beauty and every amenity the modern golfer could ask for.
---

Wineries & Craft Breweries
Spokane has several wineries and craft breweries for you to visit and discover a way of life that includes the making of wine and craft beer. You will find some of the most delightful tasting wine, and robust craft beers, but most of all – you will find the people and scenery beyond compare.
---

Whitewater Rafting
If you are looking to enjoy an amazing day of roller coaster waves and splash landings, then river rafting is the adventure for you! Enjoy some of the best whitewater rafting in North America, just minutes away from downtown Spokane.
---

Ziplining
Join us for ziplining high above the trees to experience the thrill of a lifetime! Take in the panoramic views of the Spokane valley while you glide through the air above the tree tops of Spokane. Enjoy the adventure at your own pace while taking in the magnificent surroundings of nature.
---

Kayaking
Spokane is a destination for water adventure enthusiasts, so grab your paddle and start exploring the great outdoors near Spokane! This center of the Intermountain Northwest is a hub for paddlers of every type.
---

Dramatic Waterfalls Skyride
Take a spectacular ride in a gondola over the thundering waters of Spokane River, just outside the heart of downtown Spokane. Take advantage of a truly unique day by floating over the powerful Spokane River to see natures powerful rapids flowing upwards of 31,000 cubic feet per second, with over 200,000 gallons of water per square foot. This is an adventure you will not want to miss!