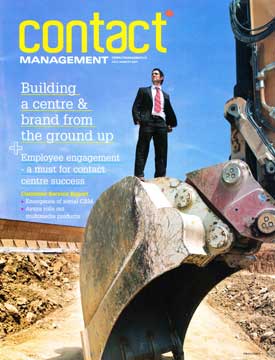 Why Firms Get High FCR Scores Part 3
As published in the July/August 2011 Issue of Contact Management Magazine written by Ron Glen.

Call centre executives with firms that have recorded exceptional First Call Resolution (FCR) rates disclose the secrets behind their success with this important customer satisfaction metric. They are clients of SQM Group, which works with companies to improve FCR and other contact centre functions. Other organizations are covered in our survey of high FCR achievers in the March/April and May/June issues.

How are some contact centers able to raise and sustain high levels of First Call Resolution (FCR)?

Contact Management surveyed client firms of Service Quality Measurement (SQM) Group that have accomplished this feat to learn what they did. Following are the survey results from one of them.
Cogeco Cable
Cogeco Cable is a major cable telecommunications company with shares listed on the Toronto Stock Exchange. It builds on its cable distribution base offering analogue and digital television, high speed Internet and telephony services. It is the second largest cable system operator in Ontario, Quebec and Portugal in terms of basic cable service customers served.

Cogeco Cable focuses on customers' varied electronic communication needs by investing in state-of-the-art broadband network facilities, delivering a wide range of services over these facilities with speed and reliability at attractive prices. It strives to provide superior customer care and growing profitability.

Johanne Hinse, vice-president of customer services at Cogeco Cable, says what customers seek when they call the contact centre is a fulfillment of the principle of "easy to do business with" from personalized service and the desire to speak with a person and not a machine. It's exactly what Cogeco offers them.

Customers are looking for five basic things.
Choices on the way to do business with us. Direct contact with an agent In the call centre or go through the Web site (self care).
An easy and short IVR menu to be directed to the right people the first time.
Get agents who are able to listen, understand and take action. Customers don't want to have to talk to many people.
Get qualified agents who can answer their questions (same response from every agent) or solve their issues.
Realize FCR, which is an important factor of success.
"The main differentiator when a customer deals with Cogeco is the difference in customer service," says Hinse. "He wants to be important to every agent. We are customer centric so the customer is at the centre of our operations and this is really what they are looking for. Many of these customers tell us, everyday, that they will never change their supplier."

FCR rates for Cogeco have been increasing more than five percent year over year, she says. This was realized mostly within the technical support team. But there was also significant improvement in the sales queues.

"FCR is a constant work in progress," she says. 'We put a lot of time, work and energy into improving the actual processes by involving our employees. We came back to the basics of our operations to understand the major pain points for the customer and also for the agents."

Cogeco undertook an important analysis of the call reasons to find the non added-value calls, she says. It reviewed some processes by using the "Six Sigma" methodology, which yielded the opportunity to define measure-analyze-improve and control some parts of our operations.

She points out that small initiatives can lead to big results.

One question in the survey asked: Are there steps you have taken with your call centre agents either in their training or call executions that have contributed to the improvement?

The first thing Cogeco did was add a specific section on the company Intra Web to publish daily the SQM results to involve employees in the improvement process, she says. This also contributed to added competition between teams with every group wanting to be the best.

"I met all employees (frontline-supervisors-managers) to talk with them about FCR with concrete examples, references," says Hinse. "I gave them time to propose ideas. I put a section on the IntraWeb to give them opportunities to send me customers' feedback, recommendations or ideas for improvements. Within the process review we rebuilt most of the training to be more specific and made sure everyone had the same understanding.

"To achieve improvements you need to involve them in the process and communicate every step of the change. They are the big piece of the success and if you want to achieve your goal you need their buy-in."

Many processes had been changed or improved, she says. Most were associated with the technical support team where there were more transfers and multiple calls. Cogeco reviewed:
Call flow processes
Troubleshooting process
The Intra Web with merging, reorganizing and sorting
The IVR with added information concerning some steps that the customers may do that do not require assistance from an agent
"We used the Web more to communicate documentation for future references so the customer will not have to call later to have the same information. We reviewed all the IVR menus for steps that the customer needs to do before being transferred to an agent."

The improvements were not the result of any software changes, she says. They all came through calls analysis and process reviews.