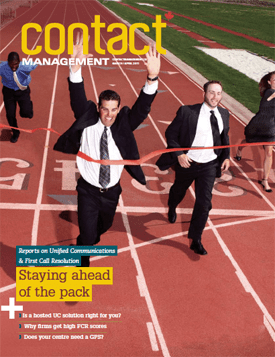 Why Firms Get High FCR Scores Part 1
As published in the March/April 2011 Issue of Contact Management Magazine written by Ron Glen.

Call center executives with firms that have recorded exceptional First Call Resolution (FCR) rates disclose the secrets behind their success with this important customer satisfaction metric. They are clients of SQM Group, which works with companies to improve FCR and other contact centre functions. More organizations will be covered in the second part of our survey of high FCR achievers in the May/June issue.

How are some contact centres able to raise and sustain high levels of First Call Resolution (FCR)?

Contact Management surveyed client firms of Service Quality Measurement (SQM) Group that have accomplished this feat to learn what they did. Following are interviews with three companies.
The Insurance Corporation of British Columbia
The Insurance Corporation of British Columbia (ICBC) is a provincial Crown corporation established in 1973 to provide universal auto insurance to B.C. motorists. It is also responsible for driver licensing, and vehicle licensing and registration.

ICBC maintains a claims contact centre that is manned entirely by agents who are claims adjusters. It operates 24/7 with every claim, minor or major, funneled to one of 268 adjusters, 104 of whom work full time.

"What distinguishes us as a contact centre is the majority of calls we receive occur because something negative has happened to somebody," says Ash Megalli, manager of contact centre operations. "It can run the gamut from an inconvenience like somebody vandalizing or scratching a car to the worst case scenario where there is a catastrophic claim like a fatality.

"Our adjusters don't know what kind of call they are going to get when they are logged on and ready to go. It can range from a relatively simple straight forward claim to a very serious fatality involving a lot of emotion."

All car accidents, big or small, are stressful and emotional to people calling in the claims, says Sharon Craver, director of centralized claims for ICBC. It's vital the adjusters respond to these customers with empathy and efficiency.

When she first joined the call centre, customers were surveyed only once or twice a year, she says. They were done mainly to get an idea of how the centre was performing as a whole. Supervisors would plug into adjuster calls a couple of times a year and evaluate them in a very subjective manner.
Adjuster call surveys
Craver wanted more thorough analysis that extended down to the rep level. In 2007, she drove an initiative to create greater alignment to the customer with specific surveying of adjusters.

Each full-time employee gets four surveys done a month of the customers they interacted with. The ratios are slightly less for part-time adjusters.

SQM Group conducts the phone surveys within one to three days of people placing a call to the centre. All surveys are done randomly, but no survey is taken of any customers involved in a fatality.

The surveys provided a piece of the puzzle. But while some customers might have been pleased with their treatment, the call still wasn't positive if the adjuster failed to convey the right information.

In that same year, the call centre introduced call quality monitoring using software from Nice Systems. It reveals how the adjusters are fielding the calls for technical accuracy and efficiency.

"When you get the two components together, the voice of the customer and the quality monitoring, then you get more of a holistic view of the customer experience," says Craver.
FCR rates jump
The effect of both approaches on FCR rates was dramatic. In 2007, the centre's FCR rate was 75 percent. In 2008 it jumped to 83 percent with ICBC being recognized that year with most improved FCR by SQM Group. In 2009 and 2010 FCR consistently hit 86 percent.

Initially ICBC was set up simply to book appointments for field offices referred to as claims centres, says Megalli. Agents would take the details of the incident and book a time for an adjuster at a claim centre to handle and resolve. This practice was still in effect until the early 1990s.

Now with adjusters taking the calls, the centre handles 71 percent of all claims from start to finish. This comprises 53 percent of material damage claims and 18 percent of personal injury claims. More complex claims are moved to claims centre offices.

"We handle 53 percent of the material damage claims from end to end," says Craver. "We adjust the claim, determine who is at fault, make sure the car gets fixed and then we make any payments out on the claim. All this is done through the call centre.

"Nearly all claims are reported through us. So the FCR is on all claims per se. But for actually handling the claim and processing it right through to the very end, 53 percent of the material damage claims stay with us."
Overcoming resistance
There was some resistance to the introduction of call quality monitoring and customer surveying because it conjured up an Orwellian Big Brother spectre for some adjusters, says Craver. But the intent was to use them for coaching and training and management has stayed true to that commitment.

"Now when employees listen to the calls and get the feedback from the customers, they really take that to heart. They are harder on themselves than we are on them."

Kari Price, operations manager at the claims contact centre, explains staff were consulted well in advance of the implementation of the call monitoring system and asked for their feedback and involvement. This helped demystify the move and brought more staff onboard.

Both the customer surveys and call quality monitoring were tried out first in a few pilot groups, says Craver. This stimulated staff discussions and more positive reactions so the moves were not seen as threatening when rolled out across the board.
Quality management team
More Lately the ICBC centre formed a quality management team headed by Price that includes one full-time and two part-time supervisors. They are dedicated to working with adjusters and other supervisors in enhancing call quality and driving top results in FCR and customer satisfaction.

"We have a very large leadership team here so to be able to have a quality team provide a consistent approach to reviewing calls and providing feedback to staff has been very helpful," says Price. "The quality team can also identify trends when they are listening to calls that we can act upon or create strategies on things we want to address."

Employee morale has risen appreciably. Soon after the two approaches incorporated in 2007, SQM did a staff survey of the claims centre that saw employee satisfaction soar 13 percent. Craver credits the fact employees better understand their accountability and how they are being evaluated, which makes them more comfortable in their roles.

Another SQM customer survey taken soon after 2007 found customers who were very satisfied climbed from 68 to 82 percent. This was a poll on overall customer satisfaction with the figure of very satisfied customers now at 84 percent.

SQM also probes customer satisfaction with call centre reps or adjusters in the case of ICBC. In this regard, the claims centre ended 2010 with an 87 percent approval score.
Blue Cross Blue Shield of Michigan
Blue Cross Blue Shield of Michigan (BCBSM) serves that state as a dental and healthcare insurance provider. It has fulfilled a unique non-profit mission for longer than 70 years.

Amy Frenzel is vice-president of service operations. She says when members phone a BCBSM centre, they are calling for claim determinations, benefit education, eligibility, and billings among other matters.

In November 2009, FCR for BCBSM measured 60 percent. By the fall of 2010, it had climbed to 70 percent. Frenzel describes it as a proud accomplishment that comes with the recognition that more work needs to be done.

She credits the improvement to a combination of agent education, training, monitoring, incentives and a change in how the Blue Cross Blue Shield Association will evaluate Plan performance. It is moving away from transactional goals toward member satisfaction goals, starting in 2011.

In April 2010, a servicing lead was assigned to develop a project charter, assign team members, monitor results and communicate updates monthly. She says this has helped maintain focus on FCR in the midst of all other activities that occur in the service centres.

All service centre leaders from team leader to vice-president have specific FCR goals in 2011.

"FCR is a component of one of the company's long term goals," she says. "This has taken FCR from the call centre to the organization and heightens the sense of accountability and ownership to reach beyond just the servicing team."

Specific steps to upgrade customer service rep (CSR) FCR abilities included revising or developing scripts. Specific leader only sessions were conducted on how to coach CSRs on FCR.
Service centre blitzes
"We began supplementing the roll out of new best practices with 'blitzes' in service centres where the coaches were available all day to listen to live calls and coach the CSR on what they did well, and how they could improve on the next call," says Frenzel.

New hire training encompasses the FCR philosophy, she says. Training materials have been updated, and the internal quality program modified to include the voice of the customer.

Processes were updated with a focus on "taking the customer out of the middle," she says. As an example, CSRs now place internal or external calls to collect the information necessary to respond to the inquiry.

"In addition, our CSRs end every call by offering a summary of the information provided so the caller can ask clarifying questions, and the CSRs specifically ask if the reason for the inquiry was resolved for the caller," she says. "We have also changed our quality monitoring processes to include evaluation of the CSRs' ability to close on first contact."

As far as adding or upgrading software to help improve FCR, she says the company is exploring multiple options to enhance servicing capabilities over the next few years as strategies unfold.
Scotiabank Calgary
Steve Lukey is vice-president & director of the Calgary customer contact centre of Scotiabank. He says calls range widely from a basic balance inquiry on a savings account to complex credit and interest inquiries. Customers want more than just 'good service.' They want to be engaged and feel someone understands their unique situation.

"Our bankers see themselves as valuable partners to branch staff, "he says. "Creating a connection with the customer that registers positively in the customer's mind is vital to our long term success."

For 2009 the Calgary centre registered an FCR score of 73 percent. For 2010 it went up to 78 percent for a net increase of five percent. Lukey says being in the top SQM client group in FCR improvement has been a source of great pride since it means customers are very well served.

He attributes the improvement to an evolution in the way each customer interaction is approached rather than a focus specifically on FCR as a key measure of success.

"It's been great to see that our FCR each month for 2010 stayed within a range of approximately ± five percent. This tells us we aren't sacrificing our commitment to the customer in the face of any number of different challenges our customer service officers face."
CARE model followed
Lukey contends there's a big difference between providing good service and creating customer loyalty. The bank has developed a service program that has helped deliver higher levels of personal and professional service to customers, and yields higher levels of enjoyment for all who serve its customers. Dubbed as CARE (Committed, Adaptable, Responsive and Empathetic), the new model focuses on going beyond 'customer satisfaction.'

"Our CARE model allows us the flexibility to more effectively deliver on our mission: 'World Class Care…Every Customer, Every Time'," he says. "The CARE philosophy is designed to create a culture of emotionally intelligent employees who can deliver memorable experiences to our customers, in every interaction."

The idea behind this mission statement is to consistently treat each customer as a unique individual with a unique set of needs, he says. This caused a rethinking of methods of recruiting, training, coaching, and measuring success.

"Again it comes back to consistency; we want to make sure each client receives world class CARE each time they speak to one of our representatives," he says. "By delivering a consistent message across all our sites (Halifax, Toronto, Cornwall, and Calgary) we're endeavoring to ensure our customers have that consistent service delivery that reflects our culture."

After the development of the CARE model, the goal was to provide all employees with a sophisticated training program that appropriately integrated and embedded the CARE principles, he says. The aim was also to create corresponding Emotional Intelligence competencies into the culture and translate its delivery to customers.

"We engaged a third party vendor specializing in transformational training programs, who worked with us to develop a customized and tailored approach to our training and coaching needs. A big part of our early success has been due to the way we introduced the new model, by providing initial training to our managers and then having them deliver the training to their teams."

The bank launched a new employee Web site in November 2010 called Daily News, which allows for interactive communication with staff, he says. The bank also provides several online resources to employees to allow for quick response times to any questions they need help with.

"We've made a commitment to keep growing these online resources in order for our staff to more quickly attend to client needs."