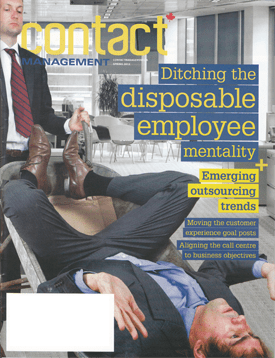 SQM Group Issues Five Special Awards
As published in the Spring 2012 Issue of Contact Management Magazine.
Service Quality Measurement (SQM) Group, which works with companies to improve call centre operating costs, customer service and retention, handed out a number of special individual awards at its Award of Excellence gala during its conference last November in Toronto. Three call centre executives were cited as First Call Resolution (FCR) champions and two others received call centre leadership awards.
One FCR champion was Tom Brennan, quality assurance manager at Marriott Systems support centre. He was credited with driving the momentum for customer satisfaction and quality programs at Marriott through his leadership, devotion and passion for voice of customer data with SQM. He was described as the face of customer satisfaction and quality within the Marriott IT organization and a true advocate of both SQM and the customer satisfaction/quality industry.
Brennan single handedly led the lifecycle of the SQM program at Marriott, from building the business case, selling the strategy, negotiating the contracts, and implementing SQM best practices for six strong years. Because of his belief in SQM and being the voice of the SQM methodology, he has been able to keep the program alive despite difficult economic conditions during the last few years which put the Marriott and SQM investment at risk. Achievements cited under his leadership included world class certification from 2006-2011 and highest customer satisfaction in the help desk sector from 2006-2011.
Giselle Verdi, director of customer service for Horizon Blue Cross Blue Shield of New Jersey, was also named an FCR champion. She is the director for State Health Benefit Plan, servicing the state employees for New Jersey. She accounts for about 25 percent of calls coming in to Horizon and oversees about 150 employees. Horizon has a unionized workforce and a high proportion of outsourced calls.
FCR was 68 percent in November 2010 and by the following September it improved to 74 percent. Her leadership focused on how it can be done rather than reasons why it could not be done. She started by making herself thoroughly accountable to FCR.
She achieved the results by investing in FCR training, partnering with support areas, and providing additional call handling time. She introduced a number of positive approaches including the FCR Team Challenge, first contact communication workgroup, a weekly FCR workgroup meeting, and a masterlist workgroup.
Sylvie Duquette, director of customer service for Rogers Communications, was another FCR champion. She is director for enterprise service delivery, the Rogers contact centre that manages telecommunication services for medium and large business customers.
Under her guidance there has been growth in team size, geographically from coast to coast, and more importantly in service culture. She has been a key leader in developing Rogers Business Care service model and last year, under her guidance, her large business team achieved 91 percent world class nationally.
She was cited as putting customers and employees first and looking at every situation from their point of view. Together they find innovative solutions to eliminate issues and consistently improve the customer experience and FCR. She brings a sense of fun and genuine caring into the workplace while still asking the tough questions of her people.
Receiving a leadership award was Carole Waite, senior vice-president of service delivery and integration, Blue Cross Blue Shield of Massachusetts. She joined Blue Cross of Massachusetts as a member services rep while attending night school at northeastern University. "I loved that job so much" she recalls.
Years later as SVP for service and operations, she's still as passionate, although her role and responsibilities have changed. She insists her mission remains the same as the day she started.
"It's still about people who need our help at a crucial time in their lives and we can never ever forget that. When you help people the way we do, it's real and it matters."
Her leadership and inspiration has been the driving force in the entire corporation being of one mindset, focusing on customers. Her vision and guidance led to the corporate-wide delivery of a concierge service which has now been accepted as a best practice throughout the Blue Cross Blue Shield world and the wider call centre world.
Her influence and respect within the Blue Cross world helped spearhead the inclusion of FCR as a formal part of MTM. With Waite, the corporation truly lives the mission: "Putting our members first."
She is described as having the ability to invigorate, educate, and inspire, whether it is with peers, in the community, or in the corporate environment. She has served in many community projects – in particular the Resource Partnership providing people with disabilities with employment opportunities.
Kevin Fedun, vice-president of customer care with Enmax Encompass, also earned a leadership award. He tackled the challenges in his organization from the process perspective first, which is the hard way to gain CSAT and FCR improvements. He began to support rep level surveying shortly after taking the reins at Enmax.
He is present for every quarterly review and monthly SQM meeting and led his team to the FCR Improvement Award in 2010 with an astonishing 12 point improvement and has since replicated that achievement again in 2011 for a 24 percent FCR improvement in just two years.
He is meeting his next challenge of employee satisfaction head on and has embraced studies for his front of the house call centre, middle office and back office fulfillment teams. He inspires his team with dedication, humour, and his connection to the day-to-day operations. As well, he continually encourages leadership qualities in others and provides opportunities for his team to succeed.