SQM Awarded Prospector Award by the Coeur d'Alene Convention Center and Visitors Bureau
Press Release August 5, 2014
Service Quality Measurement (SQM) Group is celebrating being the first recipient to be recognized with the Prospector Award by the Coeur d'Alene Convention Center and Visitors Bureau.
SQM US, Inc. has been recognized as the first recipient to receive the Prospector Award from the Coeur d'Alene Convention Center and Visitors Bureau.
Katherine Coppock, bureau manager, launched the Prospector Award Program and said, "This is a way of encouraging members of our community to bring groups, corporate events, and convention business to Coeur d'Alene, and rewarding them when they do." The launch started with SQM opening up their new research center in Coeur d'Alene just over a year ago. Since then, SQM worked with the Coeur d'Alene Resort to host their annual CX Conference and Awards Gala bringing over 400 leaders and representatives from Fortune 500 companies across North America to the region.
The General Manager of the Coeur d'Alene Resort, Bill Reagan, commented, "Some of our best leads can come from our community. From family reunions to major business functions, we are incentivizing people to bring group meetings to Coeur d'Alene."
Dr. Lara Pow, President of SQM was elated to win this award saying, "It is such an honor to be the first organization recognized as the recipient of the Prospector Award by the Coeur d'Alene Convention Center and Visitors Bureau." Pow added, "Although we are worldly in our client base, we are also locally focused in our growth and support of the community."
Since 1996, SQM's primary purpose has been helping organizations improve their customer and employee experience performance by being a specialist for conducting CX research, consulting to improve CX and awarding and certifying organizations and individuals who have demonstrated CX excellence. SQM provides quality jobs with room to grow, along with competitive salaries and benefits for their employees. Although SQM could outsource many of their entry-level positions, they choose to support the local community with jobs, which provides a quality product to their clients.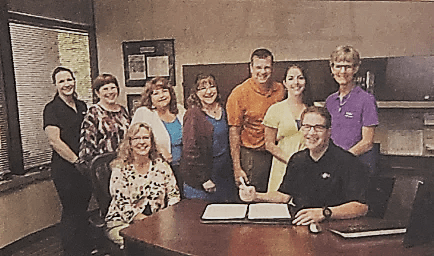 Standing from Left: Daniela Avants, SQM; Kathy Larson, CDA Resort; Terri Austin, SQM; Joanie Young, SQM; Bill Reagan, CDA Resort; Katherine Coppock, CDA Convention & Visitors Bureau; Lisa Desmarais, SQM;

Seated from Left: Pam Havens, SQM; and Mike Desmarais, President & Founder, SQM.