SQM Conference Speakers & Facilitators
Mike Desmarais
Chief Executive Officer and Founder
Mike Desmarais is the Chief Executive Officer and Founder of SQM Group. Mike has over 25 years of contact center service quality measurement, benchmarking, and consulting experience. As a consultant, Mike has experience working with leading North American contact centers on improving their one contact resolution, first contact resolution, operating costs, employee and customer satisfaction performance. Mike has developed 15 best practices that are fundamental to providing world class contact center customer service. He uses his best practice knowledge to assess contact center operations and to pinpoint the 3-5 pivotal changes that will drive real and significant customer experience improvement. Mike has been a pioneer and visionary for contact channels' voice of customer measurement of first call resolution, one contact resolution, seamless resolution, and customer protection metrics. Mike has written four thought-provoking contact center books, World Class Call Center, First Call Resolution and FCR Best Practices and most recently One Contact Resolution. Mike has conducted best practice case studies with organizations such as American Express, FedEx, Canadian Tire, and VSP Insurance. In addition, Mike is a popular contact center industry thought leader with over 10,000 LinkedIn followers and is one of the top 10 most influential contributors in the contact center industry based on a recent Fonolo poll. Mike is a sought after speaker for contact center conferences and has a world class satisfaction rating for speaking at those events.
Guest Speakers
Adam Fraser
Sales Advisor
Scotia iTRADE
Adam Fraser has been the Senior Sales Advisor at Scotia iTRADE for just over a year. Adam has a Bachelor of Commerce from Queen's University and over 10 years of experience in the Financial Services industry. Having previously worked as a Financial Advisor, Adam joined Scotia iTRADE over 5 years ago where he has held multiple Business Development and Coaching roles. Adam's customer experience focus, coupled with his extensive sales experience has helped him act as a Sales Effectiveness lead. His objectives include developing client-centric sales and service processes and sustaining them through the creation of coaching, training and performance management strategies.
Angelia Colinger
Senior Technical Writer
Genworth
Angelia Colinger has worked in the call center industry for 14 years. She began her career at Genworth, 10 years ago, as a Transaction Management Representative for Licensing & Commissions and then became a Trainer in the same business area. As a trainer, she was also responsible for creating and maintaining SOPs and discovered she had a passion for Technical Writing. After being a Trainer for four years, Angelia became a Senior Technical Writer for Customer Service. Her experience as a Processor and Trainer gave her not only the insight and the ability to write informative, easy to follow, and accurate Standard Operating Procedures, but also the business acumen to understand call center operations procedural priorities.
Anne Palmerine
Associate Vice President, Customer Engagement and Enrollment Services
UPMC Health Plan
Anne Palmerine is the Associate Vice President of Customer Engagement and Enrollment Services for UPMC Health Plan. Anne has led UPMC Health Plan in Customer Service for the past fourteen years, including Enrollment and Retail. Accomplishments have included implementation of a highly esteemed Health Care Concierge program, implementation of Genesys call center technology, driving first call resolution and service recovery, integration of an omnichannel experience, and achieving JD Power Call Center Certification in 2009, 2011, 2012 and 2014. Achievements have included from ICMI, 2015 Best Large Contact Center, from Stevie Awards, 2015 Contact Center of the Year (Over 100 Seats) and from IQPC, Best in Class Contact Center (Over 200 Seats). Anne has managed in customer service call centers for the past 24 years with a focus on customer retention, growth, and sales. She has a bachelor's degree from West Virginia University and an MBA from the University of Pittsburgh.
David Wilson
Director of Operations, Service Delivery
Capital One Canada
David Wilson is an accomplished Customer Service Specialist and Entrepreneur with a long career in global business operations, project management, and elevating the customer experience. Working in both public and private sectors, he has held diverse leadership roles consistently exceeding KPI benchmarks, elevating customer satisfaction, and driving continual process improvement through the use of technology and implementation of industry best practices. Success as both an entrepreneur and business leader can be attributed to understanding the needs of my customers and aligning technology and business strategies to provide unique solutions and service offerings. In his role with Capital One today, he engages diverse stakeholders, vendors and business partners to ensure the necessary resources to deploy an effective channel strategy for global network delivery involving more than 1600 agents across digital, voice, and social media platforms. He is dedicated to excellence in employee engagement motivating my teams through coaching, professional development, individual recognition, and by personal example. In addition to his substantial professional experience, his credentials include a Bachelor's degree in Music, an NPS2 certification, certifications as a Scrum Product Manager, Product Owner, and Net Promoter Associate and professional development in procurement, experience mapping, and design thinking.
Dorothy Goodwin
QA Manager
Prime Therapeutics
Dorothy Goodwin is the Manager of Quality for Prime Therapeutics. She is a Contact Center Professional who has over 25 years of Contact Center Management experience. She is an MBA Graduate from Dallas Baptist University who has a proven track record for improving Contact Center quality metrics. Dorothy is an effective communicator and leader, who use her leadership skills to help people create and execute quality plans that deliver real business benefits. Over the past 5 years Dorothy has been able to help Prime Therapeutics improve their quality monitoring processes and staff performance, to improve their First Call Resolution, CSR Satisfaction and Contact Center Satisfaction.
Holly Abbott
Director, Customer Experience & Corporate Communication
Millennium1 Solutions
Holly Abbott is the Director, Customer Experience & Corporate Communication for Millennium1 Solutions. She has over 19 years of client service and executional experience across various industry verticals in the BPO space. She is known for her ability to develop customized experiential measurement systems that meet unique client requirements and has contributed to multiple performance, VoC, and efficiency gains for her client partners and was recognized by SQM with an FCR Champion award in 2016. She will be sharing details of Millennium1 Solutions' Best Practice Award winning approach to Continuous Improvement.
Janalee Willett
Call Center Supervisor and Ulysses Master Coach
BlueCross BlueShield of Vermont
Janalee Willett has been with BlueCross BlueShield of Vermont for 17 years. During this time she has held various roles in the call center, from call center representative, quality assurance and training specialist, to her current role as call center supervisor and Ulysses Master Coach. Janalee manages a world class certified call center and has experience in process improvement, employee coaching and development, classroom facilitation and developing an engaged, motivated and highly functioning workforce. She is passionate about ensuring exceptional customer experiences and challenges the BCBSVT customer service representatives to continue to raise the service excellence bar. Janalee lead the Ulysses Learning initiative at BCBSVT. As the Ulysses Master Coach, Janalee is responsible for supporting and fostering the coaching standards for the overall service organization and supports the individual coaching needs of team leaders and managers. She provides strategic insight and ongoing support of our coaching and development model. Janalee's leadership has assisted the BlueCross BlueShield of Vermont's call center in achieving SQM world class certification for three consecutive years, has been a top performing Blue Plan for FCR results for two years, and was awarded the best performing small to midsize contact center in 2015. Janalee was a 2014 SQM finalist for Supervisor of the Year and the 2015 BCBSVT Employee of the Year.
Michael Riley
Director, Business Solutions
Scotia iTRADE
Michael Riley is the Director of Business Solutions for Scotia iTRADE; Canada's home for active traders and do-it-yourself investors. He has almost 20 years of financial services experience with an in-depth knowledge of contact centers, securities related products & services, industry practices & regulations and the technologies that support this ever-evolving business. He began his career with Manulife servicing small to medium sized US plan sponsors of 401(k) plans and then transitioned to BMO Nesbitt Burns as an Investment Associate in a fast-paced full-service brokerage. For over a dozen years he has worked for Scotiabank's discount brokerage in various roles closely tied to the contact center environment. This included the integration of three brokerages into the rebranding and launch of Scotia iTRADE after the bank's purchase of TradeFreedom in 2007 and e*Trade Canada in 2008. Over the course of this journey he has been responsible for contact center budgeting and capacity planning, designed and rolled out several IVR call menus for sales & service teams and introduced a new Email & Click to Chat applications to keep pace with changing customer contact preferences. Michael has overseen their trade execution department, helped migrate and relocate several contact center locations and recently rolled out a new Workforce Management solution and speech analytics project. In addition to his duties around contact center operations he also currently oversees the brokerage's analytics and reporting functions and contributes to several strategic initiatives like Scotia iTRADE's Omni-channel strategy.
Patsy Bertoia
Managing Director, Customer Experience & Global Trade Services
FedEx Express Canada
Patsy Bertoia's primary responsibility is to ensure every experience a customer has with FedEx is outstanding. As Managing Director of FedEx Express Canada's three customer contact centres and Global Trade Services teams, Bertoia and her team of 900 service and advisory professionals help connect Canadian businesses with Canadians and the world every day.
Stephanie Eubank
Senior Technical Writer
Genworth
Stephanie Eubank started as a technical writing intern at Genworth in March of 2015 while she completed her Master of Arts in Strategic Communication. She accepted a position as a Senior Technical Writer at Genworth in April of 2016. In her short career, so far, she has used her passion for assisting phone representatives and processors and her knowledge of communication to create and manage Standard Operating Procedures. Her favorite aspect of her job is knowing that the documentation enables Genworth employees to do their jobs well, meeting customers at their point of need.
Steven Holt
Training Supervisor
VSP Vision Care
Steven Holt is the training supervisor for VSP's Customer Care division where he oversees training for its 600 seat call center. Last year his training team was recognized for its immersive training design for VSP's call center (SQM Best Practice 2015). Steven has been a part of the VSP organization for over 18 years in a variety of roles beginning with Human Resources and for the last five years has been a leader in the call center and claims business areas.
Vicki Perryman
Vice President of Global Customer Experience
eBay's Global Customer Operations (former)
Vicki Perryman is a results-oriented, high energy executive successful at building global organizations and transforming business performance in fast changing environments. She appreciates and enjoys driving creative customer experience strategies that support business profitability, growth, scale, and employee engagement.
As eBay's Vice President of Global Customer Experience, Vicki led eBay's Global Customer Operations organization, spanning seven functions across strategy, planning, and daily operations throughout North America, Europe, and Asia Pacific. She was with eBay for five years through late 2016.
SQM Conference & Awards Ceremony Entertainment
May 2nd, 2017
Young'uns
Voted "Best of the Okanagan" 2014, The Young'uns have been a staple of the area for many years. The Okanagan's most versatile band is better than ever this year with many new songs and mash-ups that will keep you going all set long. Formed in 1989, the Young'uns are a group of veteran musicians that have worked the valley for many years.
---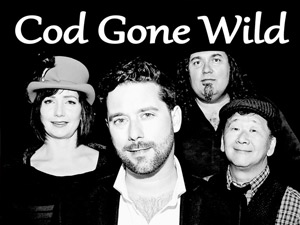 May 3rd 2017
Cod Gone Wild
What do you get when you combine a tenderhearted singer songwriter from Newfoundland, a larger than life Albertan drummer raised in Saudi Arabia, an internationally renowned fiddling BC beauty, and an effortlessly cool Japanese Canadian bass player? None other than Cod Gone Wild.
---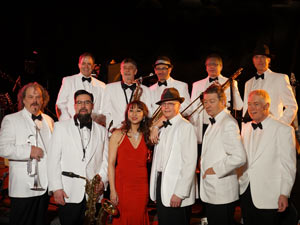 May 4th 2017
The Legendary Lake Monsters
10 guys, one girl, 6 horns, a Hammond B-3, one guitar, bass, drums, and harmonies from heaven. Think Gloria Estefan meets Amy Winehouse walking into a club to jam with the Tower of Power boys, Carlos is playing guitar with Prince, all this is happening in Chicago in a time warp. That's the Legendary Lake Monsters from Vernon, British Columbia.
3 years together and counting, over 300 years of accumulated experience in the music business. Songs that spans decades and genres, from jazz and latin to pop and hard rock, playing the big stages of the Funtastic Music Festival (Vernon 2013. 2014), Peachfest Music Festival (Penticton 2014, 2015), Canada Day (Kelowna 2015), Kamloops Music in the Park (2014).